The Plumed Speedsters — Pacific Coast Range Mountain Quail
The Upland Almanac
|
Autumn 2020
It happens with a crack of a stick while walking in on a distant point; a covey explodes both left and right into the thicker stands of young Douglas firs.
I touch off a shot down a darkened corridor between the trees, unsure whether a quail drops. But the telltale feathers lingering in the still forest air give hope of a bird in hand and a bird for Parker to retrieve.
Something learned along the way of my own journey into mountain quail hunting addiction is that mountain quail can happen anytime. Any upland hunter venturing into mountain quail territory will frequently be surprised by wild covey flushes the first time they erupt from the side of some ridge in the Coast Range. Mountain quail won't hold well for a dog until the covey is broken up, and then the singles hold for stylish points. Take just only a few so the covey doesn't take a huge hit.
Some years ago I relocated from New England, serendipitously settling in Corvallis, Oregon, all within a 30-minute drive of wild quail hunting opportunities. Although the pheasants that once abounded even within our city limits have disappeared, the mountain quail are a constant. Sure, like other game birds, populations are cyclical, and a harsh winter or unusually wet spring can affect mountain quail numbers. However, mountain quail can be reliably found in habitat that — unlike the haunts of the ubiquitous California quail — is usually far from development.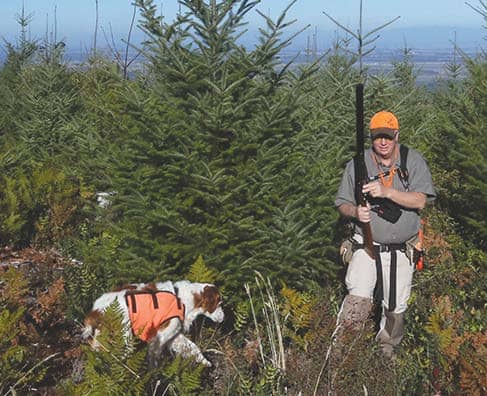 My first experience with mountain quail began early one September. Oregon was still new to me, so I regularly set out on evening adventures to explore the area. Every time out in the woods ended in a new story. More and more, these exploits led me west toward the Pacific. There were so many roads leading off the main highway that beckoned for exploration. Where do these roads lead? Could there be a lonely wooded pond filled with wild cutthroat trout … or a hidden grouse covert?
I turned off the highway onto a steep climb up a gravel logging road, not knowing what sporting adventures lay in wait. Several miles into the drive, the view through the windshield filled with a massive open slope, dotted with waist-high trees and overgrown bramble clumps. While driving the Jeep, I crept along and scanned the slope for signs of wildlife. A quail like I've never seen before, with a regal straight plume on top of its head and distinct side stripes, scurried across the road. Another eight quail popped from the roadside ferns following the larger lead quail. Making a mental note of this location, I drove several more miles into the woods before encountering a ditch cut straight across the road, blocking any further road travel.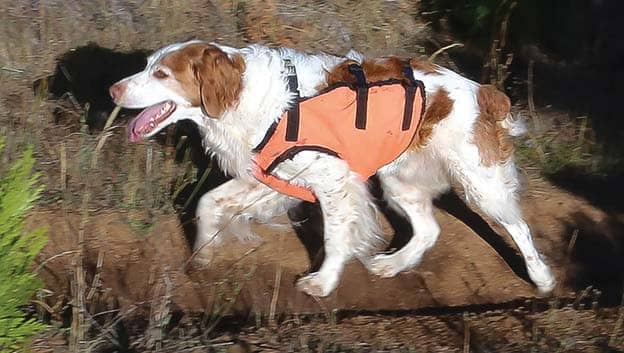 That was interesting.
I climbed across this trench and wandered several hundred yards before finding what turned out to be the remnants of a dead-end logging road through a forested piece of land. The road ended along a knife-edge ridge, just barely the width of the road. The slope dropped off into another forest, this one much thicker and darker than anything I had walked through that evening. At eye level, the sun was dropping fast toward the Pacific, which was almost in sight from this vantage.
You can read up to 3 premium stories before you subscribe to Magzter GOLD
Log in, if you are already a subscriber
Get unlimited access to thousands of curated premium stories, newspapers and 5,000+ magazines
READ THE ENTIRE ISSUE
Autumn 2020