Public Access, Personal Success: Tips and Stories
The Upland Almanac
|
Autumn 2020
Use it or lose it.
A friend pointed this out recently as yet another reason to spend time and effort exploring the public land we citizens own and private land enrolled in states' walk-in hunting access programs.
But there are plenty of other reasons to check out such areas including price (free), availability (millions of acres) and prime habitat (sometimes).
So how do you exploit these treasure troves to ensure your success? Here are a handful of tips on making the most of publicly accessible land and some reasons to try them.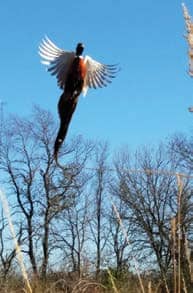 Plan Ahead
Most states publish both hard copy booklets and online versions of their maps around August, once all the rental deals with landowners are consummated. Google "walk-in hunting" and the state you are interested in, and you'll likely find a link to the information. Many states also publish updates just before hunting seasons open, so be sure to double-check.
Spend considerable time studying those maps to select your base of operations and consider selecting it based on the concentration of nearby walk-in areas. Study Google Earth, too, and you'll have a better feel for the lay of the land, terrain, crops and cover. Book your lodging early: Many areas have few, if any, hotels or RV parks.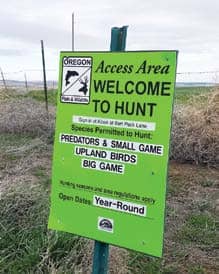 Make Contact
Call the agency that administers your chosen area and talk with the local biologist or game warden. They might clue you into the better areas, time of year to hunt each and current conditions. The earlier you call, the more likely you are to reach an unharried, cooperative, potential friend in the agency. Ditto for chambers of commerce and visitors' bureaus.
We were at a four-way stop in Beadle County, South Dakota, me waving the other guy through. Even though he had the right of way, he waved me through. We waved back and forth for a bit, then I shut off the engine and went over to chat. He asked where I was headed, and I showed him the next colored square on the map — a walk-in spot a half-mile distant.
He asked why I was headed so far away when the parcel kitty-corner to us was full of incredible habitat. I told him it was privately owned. He told me he was the owner! We hunted the afternoon — him, me, our dogs, his son and friend — on that beautiful mélange of shelterbelts, CRP land, shrubs and thickets.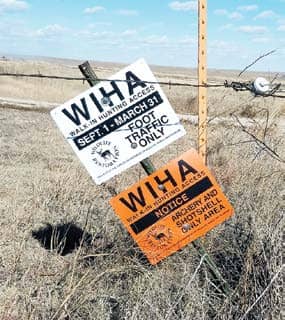 Do the Paperwork
You can read up to 3 premium stories before you subscribe to Magzter GOLD
Log in, if you are already a subscriber
Get unlimited access to thousands of curated premium stories, newspapers and 5,000+ magazines
READ THE ENTIRE ISSUE
Autumn 2020