ARTIST PROFILE: Bill Harrison
The Upland Almanac
|
Winter 2020
Every picture tells a story. Just as a writer reconstructs life through narrative, an artist tells his stories by interpreting life through lines, brushstrokes and textures.
In that sense, a Bill Harrison portrait is like a classic novel. The subject matter is felt more than seen; hidden in plain sight between the smudges, lines and dots made by his Wolff carbon pencil. Viewers of a Harrison portrait don't just see a hunting dog; they feel an adrenaline rush through the dog's eyes as a grouse bursts from an aspen stand.
Harrison describes his depictions of hunting dogs and wildlife as "realistic, but not photo-realistic; expressive, but not self-expressive.
"My fascination with art has always been with the process of making something look like I want it to look, not with conveying any kind of message or self-expression," he says. "I don't have anything balled up inside of me looking for a way to express itself. I just like the technical challenge of art."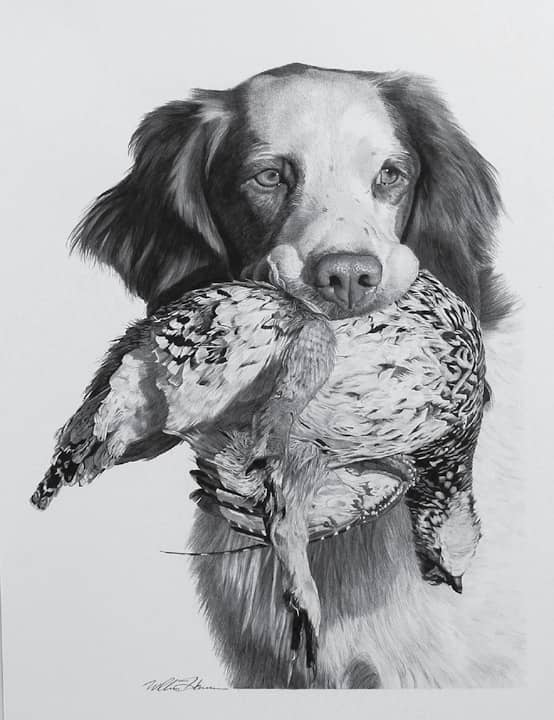 Even the most realistic photographs can't match the intensity of a great realistic drawing because photographs are limited to what the camera lens sees. With his pencil, Harrison transcends such limitations, bending reality to suit his purpose.
The Wolff carbon pencil preferred by Harrison combines the sharp lines of a graphite pencil with the rich, black lines of a charcoal pencil. When he draws the pencil across 300-pound hot press paper — heavily textured paper with a thickness between heavy cardboard and light poster board — tiny white spots appear where the pencil doesn't reach fully into the paper's tiny pocks and crevasses. Harrison painstakingly goes back and fills in some of those spots to achieve the desired texture and precise level of detail.
Given Harrison's attention to detail, the use of a fingertip or dirty, kneaded eraser to blend or smear the carefully drawn lines seems counterintuitive. However, close examination of his drawings reveals the calculated precision of his messiness. The contrast between smudges and precise lines or dots help direct the viewer's eye to features Harrison chooses to emphasize.
To maximize the contrast, Harrison takes extra care to prevent unintended smears or smudges. He uses a combination of frisket film — a self-adhering, lightweight, clear plastic film most often used by airbrush artists — and Mylar to cover and protect the parts of the drawing he's not working on.
"I'm always looking for the trick or approach to bring out the texture, the essence and the lighting of what I'm trying to draw," he says.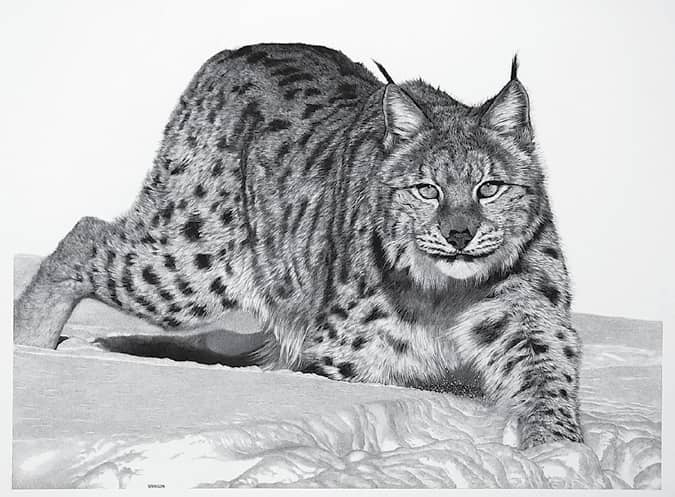 You can read up to 3 premium stories before you subscribe to Magzter GOLD
Log in, if you are already a subscriber
Get unlimited access to thousands of curated premium stories, newspapers and 5,000+ magazines
READ THE ENTIRE ISSUE
Winter 2020