Lead shot vs steel: The Field's guide to the ballistics
The Field|July 2020
Lead has been used for centuries to deliver a clean kill. What must a gun know before deciding on its replacement?
The organisations that represent live-quarry shooting have said that they want to move away from the use of lead shot over the next five years. Quite an ambition, and something some gun and cartridge manufacturers have been working on for years. But is it attainable within the limits of science and today's guns?
Hitting a bird with enough energy to produce a clean kill is the core skill of every shot. In the game shooting world, lead has been the projectile of choice for centuries. It is dense, soft and cheap, and a perfect material to transfer energy from gun to target. But, as we now know, its chemistry has a harmful effect in living organisms. That evidence obliges us to look for alternatives to reduce the overall effect on our environment. So, what else is available to do the job?
To produce that clean kill, we need to fire enough shot with enough energy to provide coverage and penetration. That combination of pattern and lethal energy transfer is the collective responsibility of gunmaker, ammunition manufacturer and shot. Almost all our guns have been designed around lead shot as the primary projectile but that doesn't mean we can't use other materials, if we provide coverage and penetration.
So, what are the options? Physics reminds us that kinetic energy is reliant on velocity and mass.
Velocity depends on the gun and propellant accelerating the shot load along the barrel. For that we need pressure and that brings us to our first challenge. Modern guns, with modern steels, can be manufactured to work at very high pressures. The superior service pressure to which they are designed is 1050 bar (~15,000psi). Older guns are only designed for standard nitro pressures of 740bar (~10,000 psi). There are also proof limits for some ammunition on velocity and momentum; but more of that later.
Mass is dependent on density and size. The denser the material the better, and lead scores well. Looking for alternatives we want to get close to lead's density or we need to increase the size of the shot. The bigger the shot, however, the quicker it loses its energy travelling through the air.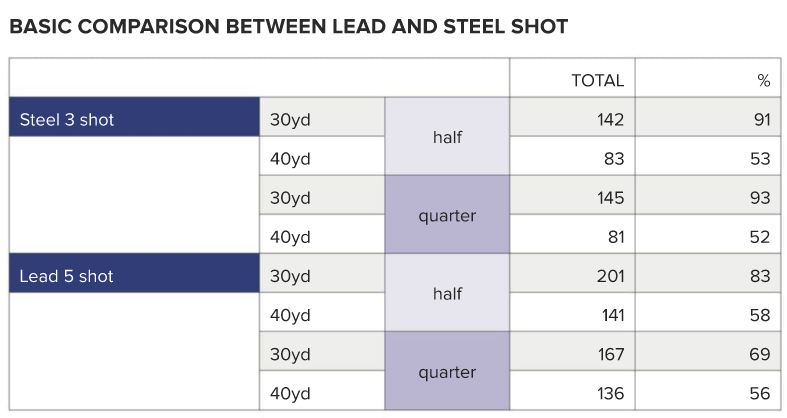 LEAD ALTERNATIVES
Right next to lead in the periodic table is bismuth. It has 85% the density of lead and is non-toxic. Cleverly alloyed with small amounts of other metals, it loses its inherent brittleness and becomes a worthy candidate as an alternative. The problem is that it is rarer than lead and therefore more expensive.
Tungsten, another non-toxic metal, has great density (170% over lead) but is expensive and very hard. It can be mixed as a powder with polymers to create shot with a similar density to lead. This has been effectively used as an alternative for many years, but prices are still high.
Which brings us to iron (or 'steel'). In the world of cannon artillery, iron shot replaced lead hundreds of years ago. It has great strength, is freely available in nature and is non-toxic in living systems. Perfect? Well, there are some challenges. First is its density – only 70% that of lead. To achieve the right kinetic energy we need bigger shot. Bigger shot means fewer pellets per ounce and that affects our pattern density. Bigger shot also means it loses its energy quicker at range – where we need it to do its work. Secondly, although the shot used is made from 'soft iron' it is far harder than lead. In the gun we need to protect the barrel walls from the iron shot by using a cup wad. It also deforms less than lead shot so doesn't 'squeeze' as well through the chokes. That said, as the pellets stay spherical, they do fly better and pattern well with less choke constriction.
You can read up to 3 premium stories before you subscribe to Magzter GOLD
Log in, if you are already a subscriber
Get unlimited access to thousands of curated premium stories and 5,000+ magazines
READ THE ENTIRE ISSUE
July 2020