Hunting Boots To Last A Lifetime
Bespoke boots are a significant investment, however, they offer protection, comfort and unsurpassable style
Among a rider's possessions there is none that serves or looks so well as a pristine pair of boots. In most disciplines, riding footwear has evolved in form and function alongside modern manufacturing and fashion but choice hunting ensemble has remained largely unchanged since the early 19th century. Straight cut, English leather boots are considered the most ergonomic and aesthetically accurate for the job.
Correct hunting order is black or brown boots for autumn hunting, black boots with blue and black coats and topped boots with a red coat for hunting proper. While turnout is passably interpreted with popular Spanish cut, zip-backed boots and straight-cut, box-calf boots, such as Regent's Pro Cotswold, which offer an economical style, neither fully match a traditional, heavyweight hunting boot when faced with the rigour of multiple seasons in the field.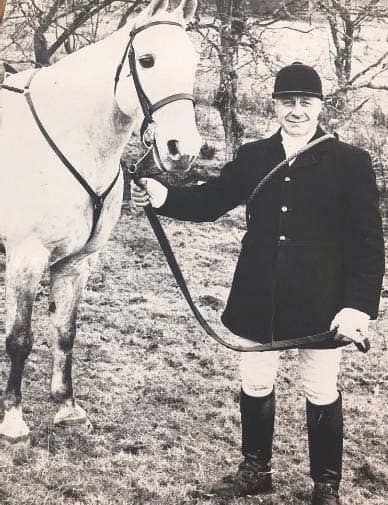 A true hunting boot is made to measure out of heavy-duty wax calf, the surface of which can be restored with each wear. Also known as reverse calf, the side of the hide on the outside is from the 'inside' of the cow and the fibres are 'fluffy'. By rubbing polish hard into the fibres, in a process called boning, a flat surface is engineered. If it scratches you can 'bone' polish into the split fibres to restore the leather and shine. Former Bicester huntsman Patrick Martin learned how to bone a glass shine 'bliffing' in the King's Troop. "The principle we had to learn was you weren't bliffing leather you were bliffing the polish on the leather.
You bone the polish to get the shine." Ideally, one would use the shank of a red deer but any hard, curved surface works. For the boning enthusiast, cow ribs have a smooth curve and deer ribs fashioned to a point can be used for working polish into the stitching and welts.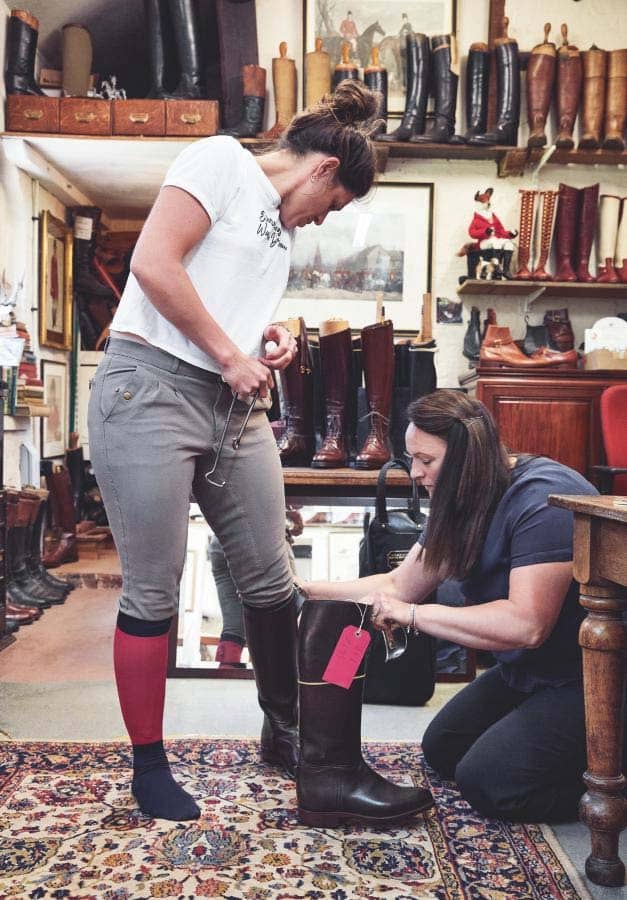 After routinely polishing his daughters' hunting boots, farmer Mark Eyers' talent for a shine developed into a side business, The Boot Man, restoring vintage boots. Eyers created a method of refurbishment that treats and rehydrates the leather of even very old boots. "Not wanting to get rid of a pair of boots is something I come across almost daily. People get enormously attached." If needed, he sends the boots to be stitched or altered, then to his cobbler before selling or returning them. He has observed a growing market for the fastidiously traditional. A client brought him a pair of nearly new Maxwell's acquired for just £200 recently. "One of the things that occupies his mind greatly is tabs on the side. One is missing and the other one has been eaten by rats. He wants them replaced and he is very, very firm about that."
New, made-to-measure boots range from punchy to more-than-your-hunter cost prices. However, properly cared for, with trees, they can last a lifetime. Henry Maxwell and Foster & Son will set you back £8,000 and John Lobbs £9,598.80, plus £3,114 for trees. Favourites within the hunting community are Davies, Horace Batten and Schnieder. Specialists in riding boots, with not insignificant yet more attainable prices, their boots will have seen the best sport of recent generations.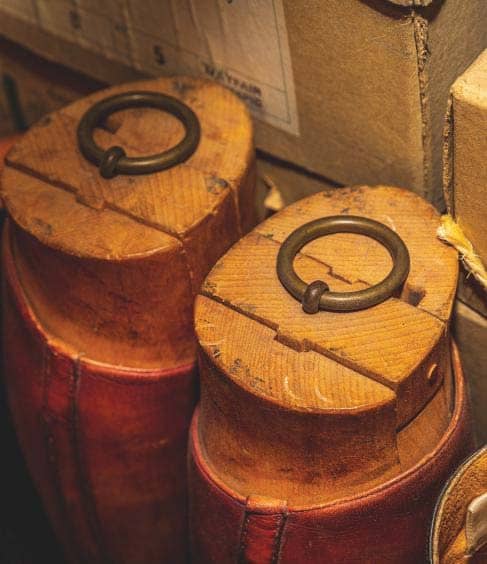 You can read up to 3 premium stories before you subscribe to Magzter GOLD
Log in, if you are already a subscriber
Get unlimited access to thousands of curated premium stories, newspapers and 5,000+ magazines
READ THE ENTIRE ISSUE
October 2020