How to get your 'back-sight' right
It's almost impossible to shoot consistently well unless your gun fits and accommodates your eye dominance. So how do we ensure that all is correct?
When you fire a rifle (or a pistol) it's a given that the sights should be adjusted correctly. A shotgun, however, does not normally have a rear sight but you effectively create one as the face comes into contact with the stock comb. If the stock fit is wrong, it is like moving the rear sight of a rifle or pistol up, down or sideways – it will affect shot placement profoundly at the target. With a shotgun, other factors may impact your sighting, most notably your eye dominance and mounting technique. They all interact and may alter where the shot charge ends up.
Addressing gun fit in isolation is never enough; 'dry fitting' a gun in a shop is inevitably incomplete. There is always a need for further testing, ideally at both pattern plate and clay targets. Even if your eye is looking straight along the rib (as it should for most people) and the basic physical fit of gun to shooter seems ok, undiagnosed eye-dominance issues can cause you to shoot to one side of the mark. Similarly, a poor gun mount may cause various errors of impact as well as making it difficult to access and remedy gun fit properly. They are all connected. They need to be understood and dealt with together.
Many never get their shotgun 'back sight' right and struggle on regardless, often not knowing there is a problem and accepting habitually average performance. I see it frequently with people who love their inherited gun but have a different build to the person for whom it was originally built. So, accepting these three key components – gun fit, eye dominance and mounting technique – as fundamental to getting the back sight right, which should be addressed first? Probably eye dominance. Until you know what yours is, you cannot move reliably forward. I would say mounting comes next, because it is hard to fit a gun well to someone who has not learnt to mount consistently. Finally, with solid foundations on the vision and basic technique fronts, fit may be refined. Subtle changes may significantly, even radically, improve performance.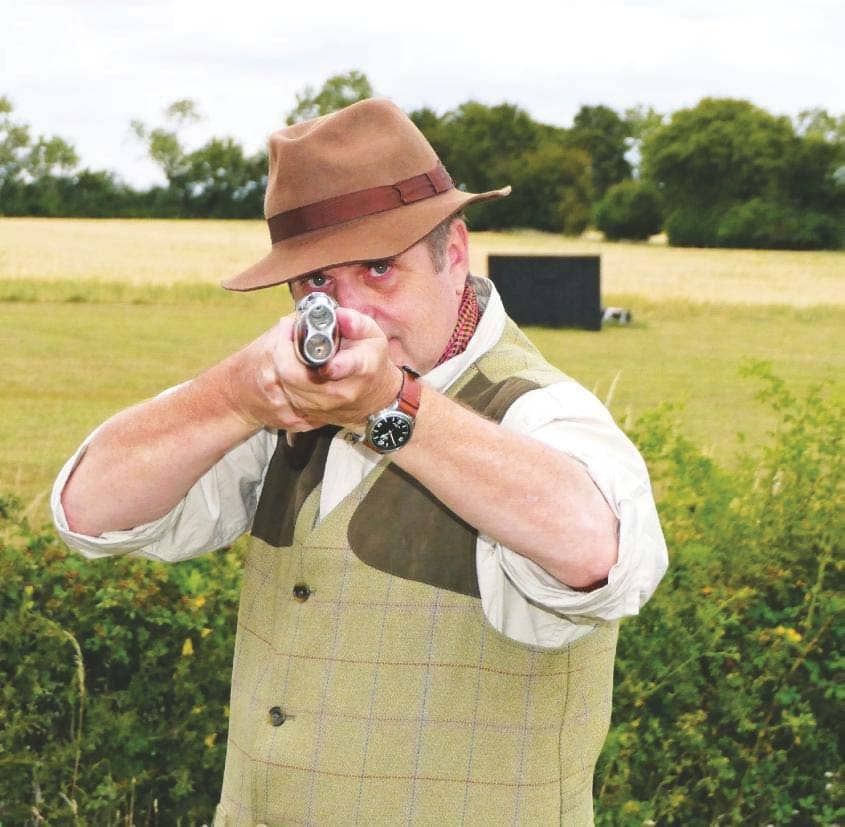 THE EYES HAVE IT
How should you test for eye dominance? Carefully. Seek professional assistance if required. It is easy to misdiagnose eye dominance or miss some of its subtleties. Eye dominance is certainly not just a question of 'right or left' – there are all sorts of individual variations. I now have no less than six categories: right; left; central vision (where neither eye is dominant); predominant right or left; and indeterminate vision, where both eyes may fight for control.
TWO SIMPLE EYE DOMINANCE TESTS
Pointing: this is easiest with an accomplice. Stand about 10 feet apart (farther if there is space), both square on. Facing each other, ask the testee: "Are you right- or left-handed? Do you have any tendency to be ambidextrous?" Those who are ambidextrous frequently do not have absolute dominance in one eye. So, if the answer to the question is yes, it is a warning to be heeded.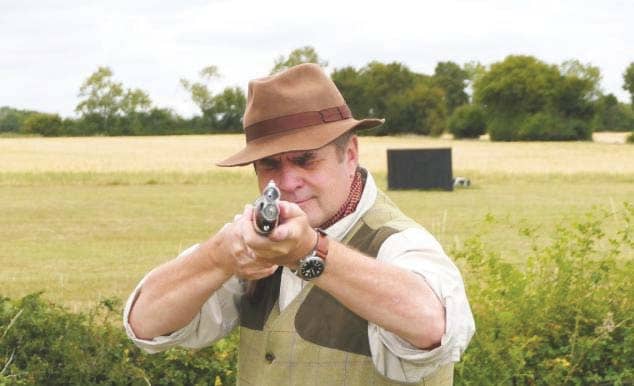 Commence testing: point at the friend with your hand, or visa versa if they are the testee. The pointer/testee must keep both eyes open initially. They should point with their declared stronger hand first, beginning with the extended arm/hand/index finger pointing straight down. To create a 'target' for the testee – a defined spot for them to point at, the tester should indicate a point just beneath their own right eye (or left if it is more natural – the tester need not keep both eyes open, of course).
Get the testee to point a couple of times without hesitation or too much deliberation. Don't let them think about it too much. Some people will come up cleanly with one eye clearly acting as master – you will immediately note their finger in line with their 'aiming' eye. Some will be more hesitant; some will correct subtly or grossly and some will evidently be suffering from considerable visual confusion (and may instinctively try to close an eye to eliminate it). Try testing with both hands. The result may be different.
You can read up to 3 premium stories before you subscribe to Magzter GOLD
Log in, if you are already a subscriber
Get unlimited access to thousands of curated premium stories, newspapers and 5,000+ magazines
READ THE ENTIRE ISSUE
October 2020