Forging ahead
Few village forges exist outside racing country or the shires; however, the fires are still burning bright for blacksmithing and farriery
Of all the tradesmen who were required to make a village self-sufficient the carpenter, cobbler, butcher, publican and shop keeper – the most important was the blacksmith. From the earliest periods there would have been one smith to every handful of people; he was without doubt the most indispensable member of the community and usually the strongest, too.
Under a spreading chestnut-tree
The village smithy stands,
The smith, a mighty man is he
With large and sinewy hands.
And the muscles of his brawny arms
Are strong as iron bands…
Week in, week out, from morn till night
You can hear his bellows blow;
You can hear him swing his heavy sledge,
With measured beat and slow,
Like a sexton ringing the village bell
When the evening sun is low.
From Henry Wadsworth Longfellow's The Village Blacksmith, 1841 (the smith in the poem was Longfellow's neighbour in Cambridge, Dexter Pratt).
A village blacksmith was a highly accomplished and versatile craftsman who would be able to forge metal into an incredibly diverse range of objects. He made all the edged tools required for the local farm and woodland work, such as axe heads, the blades for scythes, sickles, brushing hooks, billhooks and wedges for splitting wood, steel plough spuds and coulters, hammerheads, harrow drills. He would also make the whole complicated range of hoes, spades and shovels, of which there were nearly 200, from bottoming spades and tile scoops for ditching, to ferreting grafts, rutters and flauchters for cutting peat, and sod edgers and loys for lifting turf. He was also responsible for the metal work on agricultural and domestic horsedrawn vehicles and the hooks and lugs for shafts, swingle trees, bearer bands and bracing straps for carthorse harnesses. The blacksmith was usually an expert in wrought-iron work, too, turning out decorative gates and quantities of beautifully curved and matching iron palings for private houses and estates in the area. Increasingly during the 19th century, smiths would have adapted to making repairs to the new cultivating, reaping and thrashing machinery and early traction engines. In districts that were off the route of travelling tinkers, a blacksmith would use brazing to repair broken metal teapots, buckets, kettles and pans. The historical mainstay of any blacksmith's work, however, was shoeing horses.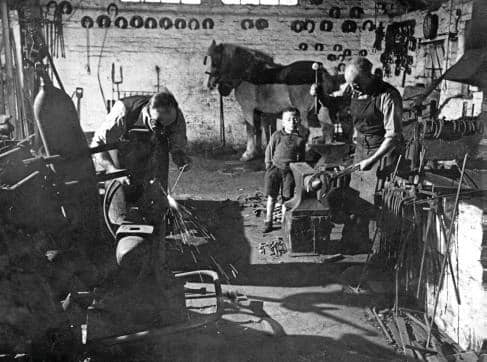 HOOF PROTECTION
You can read up to 3 premium stories before you subscribe to Magzter GOLD
Log in, if you are already a subscriber
Get unlimited access to thousands of curated premium stories, newspapers and 5,000+ magazines
READ THE ENTIRE ISSUE
October 2020