Zambezi Grande
The Complete Fly Fisherman
|
October/November 2019
An extraordinary experience in wildest Africa – TCFF visits a five-star venue on the banks of the mighty middle Zambezi in search of tigerfish and a true African wildlife adventure.
The Zambezi is Africa's fourth-longest river, originating in the Ikelenge district in the North-Western Province of Zambia from where it majestically flows through six countries until it finally reaches the Indian Ocean, 2700km away. It is a mighty river in all respects, with some sections rated grade 5, the highest possible rating for white-water rafting, while other sections have milder rapids, strong currents, mysterious deep pools and shallow, inviting sandbanks, creating an environment conducive to hosting a myriad of both land and water animal species. Our focus for this assignment was the middle Zambezi, and, more specifically, the lower two-thirds of this part of the river. Here the river is essentially a tailwater, flowing between Kariba and Cahora Bassa dams, both huge and built for generating hydroelectric power for Zambia, Mozambique and South Africa. The roughly lower two-thirds of this section of river is flanked by national parks on both banks; the true left bank, the Lower Zambezi National Park in Zambia, and, on the right, Mana Pools National Park in Zimbabwe. With parks on both sides one would expect a lot of game to roam the banks and this is indeed the case, making this section of the river fascinating, wild and, of course, a little dangerous.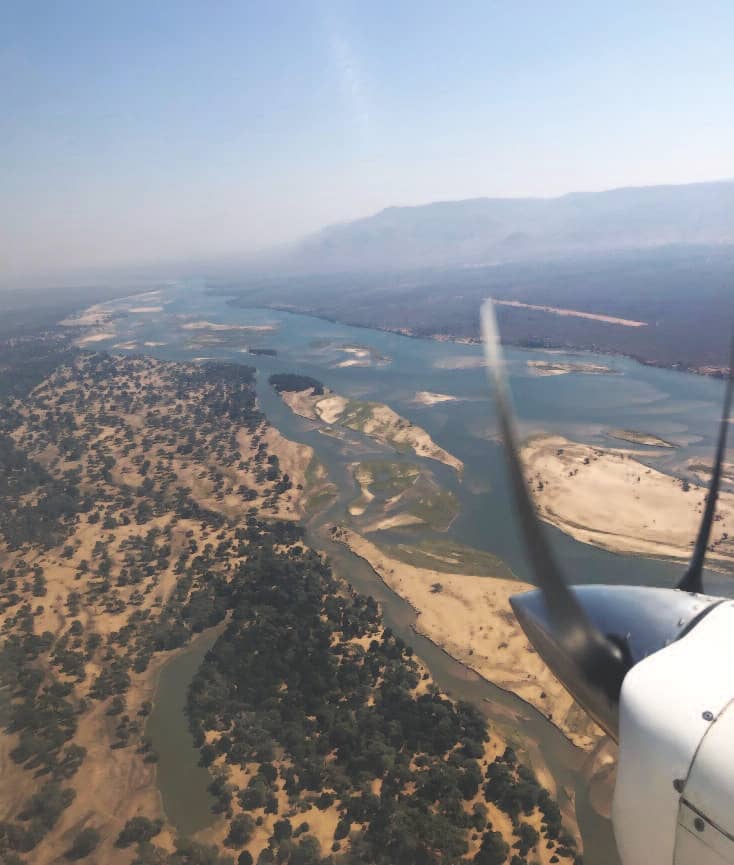 However, this is part and parcel of what one would expect when fishing for tigerfish in Africa, and, as you will learn later in this article, we were not disappointed. The parks are closed to netting or any kind of commercial fishing, so all things being equal, the tiger fishing in this section of river should be exactly what fly fishermen dream of – wild and virtually undisturbed.
Notwithstanding being battered by heavy winds, we experienced one of the smoothest landings we have ever had on our commercial flight into Lusaka. We were, however, a little apprehensive as to whether our chartered flight to Zambezi Grande, our final destination, would be able to take off in the 30-knot (56km/h) wind that was blowing up sandstorms like a devil breathing down the runway. Luckily our pilot appeared unperturbed, and with a friendly smile even offered to fly a little higher than normal to help alleviate the bumpy ride that we were anticipating. Twenty minutes later, crossing the mountain range on the Zimbabwean side he banked the Baron light aircraft, giving us a clear view of the river below. Vast, wide and dotted with sandbanks and islands covered in grass, I was not surprised that it looked low, given that the whole of the Zambezi was in the grip of a devastating drought. The pilot made landing on a tarred runway in a 30-knot wind seem easy, but from experience I knew it takes a lot of skill. We were in good spirits for the flight had been quite pleasant despite the high headwinds and turbulent conditions. The ten-minute drive to the lodge in an open Landcruiser was most enjoyable, and we kept an eye out for game.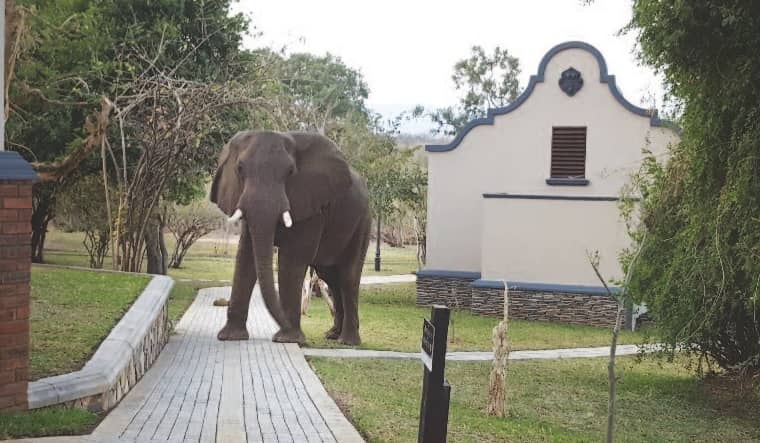 CLOSE ENCOUNTER OF THE FIRST KIND
Arriving at the lodge we were serenaded by the staff in true African style and after a welcoming drink sat down to map out the assignment with Alexandra Jonker and Obert Lusinga, the marketing and lodge managers respectively. Enquiring about the wildlife, we were told that the previous day a roving elephant had wandered into the grounds to feed on the vegetation in front of the lodge. There are no fences and the lodge borders a national park. This was no tame elephant but a wild animal that had decided to come and snack on the green foliage of the lodge grounds. It seemed to be quite a regular occurrence, according to the staff. We were informed that our suite (as do all the others) sported a hand-held siren that we could use if we ran into any wildlife that seemed to pose a threat, and that we would be escorted by the staff should we choose to venture outside our suite after dark. They would bring torches and presumably some kind of karma that would make us seem less appetising to the wild creatures that roam the night we joked, but being from Africa, we weren't really fazed, having seen and experienced plenty of wildlife, including elephants, back home.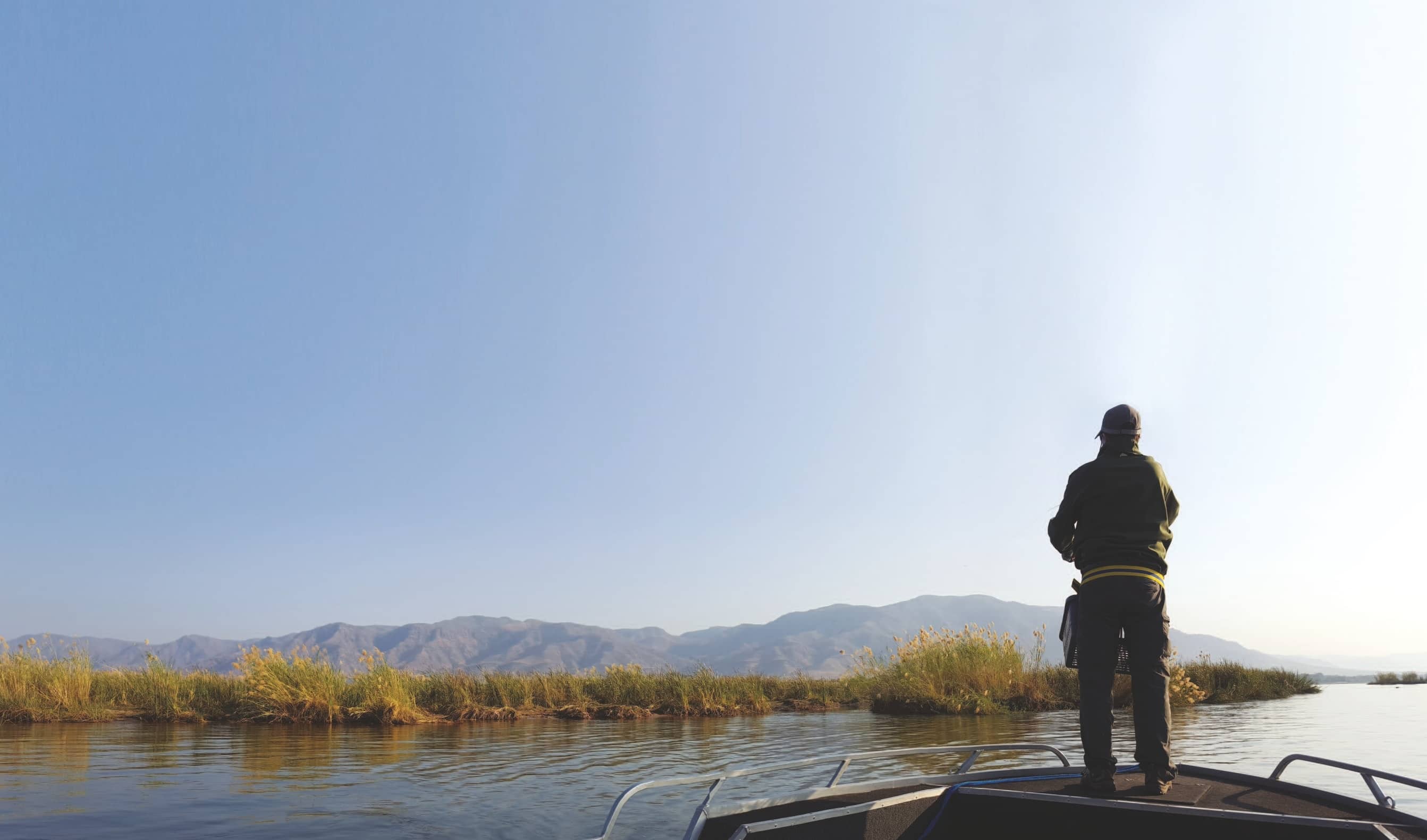 However, a short while later we were suitably reminded that when you are in the bush in a remote part of Africa, encounters with wildlife are going to be more common (and hair-raising) than you might expect, for the elephant had returned and was now standing a mere 10m away from where we were, eyeing us while wrapping his trunk around some juicy leaves growing on a young tree. After assessing us for a few minutes – while we stood dead still partly out of respect and partly because we were more than just a little awed – he decided we were no threat, turned his massive back and casually wandered up to our suite where he proceeded to rearrange the foliage in front of our porch in search of more food. Here he stayed for a good while, so we retreated to the bar for a drink or two to bolster courage and laugh about how relaxed the whole experience was. We've seen plenty of elephants before but never one this close up – a wonderful, if sobering, experience. After a great meal and some hearty chatter with our hosts and other guests, we retired to our suite accompanied by staff and found that the elephant had sought other pastures. A full moon had risen, casting a ghostly, silvery sheen on the now-quiet Zambezi, the silence broken sporadically by the rumbling, hypnotic snorting of hippos. Ah, the mighty Zambezi! How can you not love Africa?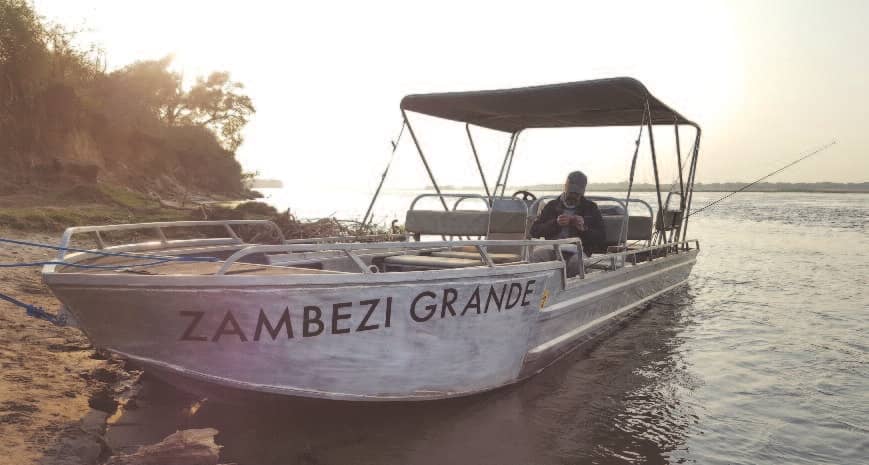 THE FIRST DAY
You can read up to 3 premium stories before you subscribe to Magzter GOLD
Log in, if you are already a subscriber
Get unlimited access to thousands of curated premium stories, newspapers and 5,000+ magazines
READ THE ENTIRE ISSUE
October/November 2019