Umngeni Interludes
The Complete Fly Fisherman
|
July/August/September 2020
Contributor Andrew Fowler pages through his fly fishing diary and shares some memorable days on his favourite river.
John Inglis Hall once wrote, "The fact is that anyone who reads about the Truim and sees it through my eyes must be very careful indeed not to be deceived. It occurs to me that it might be fairer if I pointed out right away its defects, for these, with considered care, I invariably conceal from myself, but I have come to notice that they are serious enough entirely to defeat many people who have been lured by my jack o'lantern enthusiasm to give it a try." *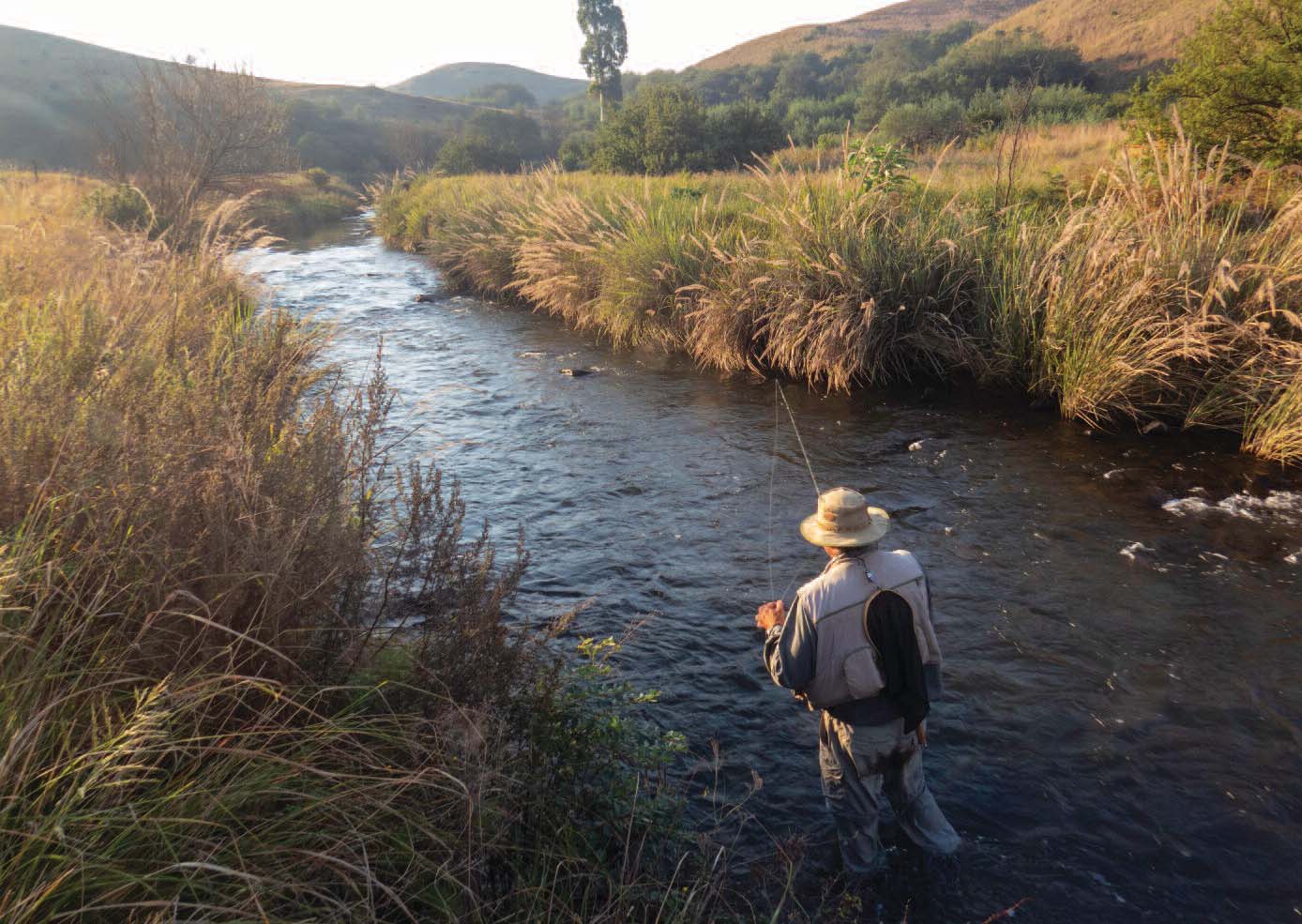 That, it seems, is a fair introduction to anything I write about my home river. You have been warned! Here follow some (true) stories from the uMngeni.
SATURDAY 14 MARCH 2020
Neil and I closed the latch on the gate at the entrance to Stoneycroft, and turned sharp right to intercept the river. Emerging from the nchi chi bushes, I shaded my eyes from the morning sun that cut in low over the hill on the far side of the river. It was a stark morning sunlight that lit the grass tops and the water droplets, which were flung sky- ward by the vibrant rapids in front of us. Neil did the same. We weren't just looking at the pretty river valley on a dewy morning, we were checking the water clarity. In the days leading up to this fishing day, I had been on the riverbanks and had observed coloured water – that is water which at times was undeniably muddy after rain, but at other times I moved upstream to fish a pool where I have taken 10 12- inch browns on a few occasions. Before I could reach it there was a whistle from the rapid below. I turned to see Neil holding aloft a small brown. That didn't take him long, I thought, and hurried on to get to my spot and get started. I left the tail of the pool on account of my laziness. It required me to clamber down a steep bank, closer to Neil's water than might be polite, and then fish from the far bank which was already shoulder-high in blackjacks. Besides, how many nymphs had I lost on the branches sunk into that deep, inviting water. So I went to the easy spot and threw a small weighted nymph into the run and trailed it over the drop-off from the bedrock shelf below the white water, and tossed it into the reverse eddy on the far side with a reach cast to control the drag.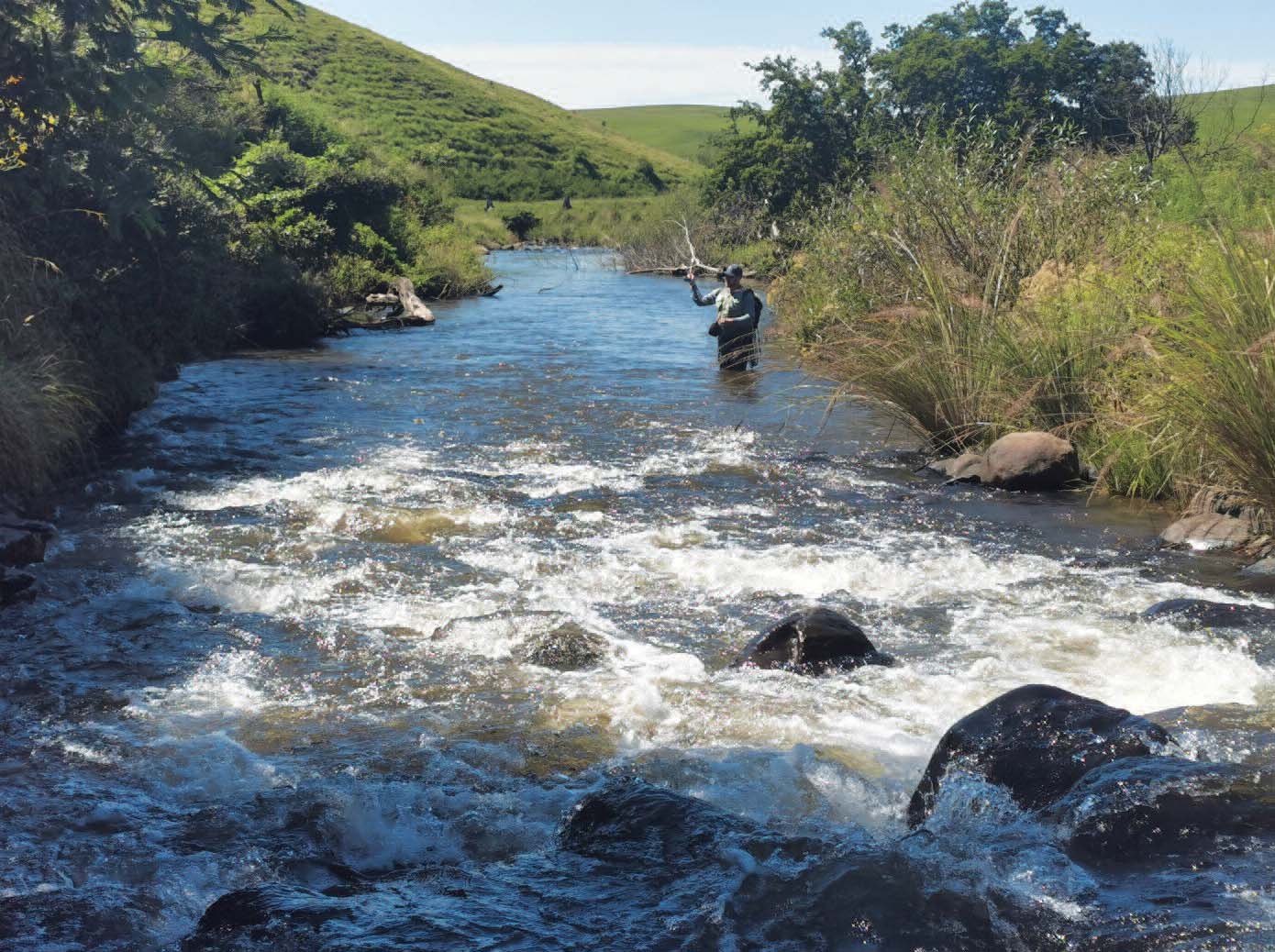 Bingo – a little 6-inch brown darted out and grabbed the fly. It was tiny but it was pretty, and less than ten minutes into the day I was onto a trout. I like a fishing day that starts that way; it tells me the fish are on the prod.
Above, Neil leapfrogged ahead of me and started in below the pool with the big logjam. I was OK with that as I have never taken a trout from that pool anyway, and besides, he had left me a deceptively deep little run where last year I stopped and photographed a 10-inch brown that Anton and I spotted feed- ing on nymphs. The water was higher this time, and on the pale yellow rock and gravel there was less of a fish-sighting advantage in these conditions, so I fished it blind but with the kind of confidence that comes from fishing a run where you have caught trout more than once before.
Later, a little further upstream, Neil had in fact left the top of that perfect pool for me, and had stepped into the fast chute water between the road drift and Perfect Pool. In my mind I questioned his wisdom in choosing such fast water that has a bedrock base, and I thought, "So little holding water." In the end, I broke the voodoo of Perfect Pool with a 7-inch brown, and I was to learn that Neil actually enticed a fish from that rocky fast water too!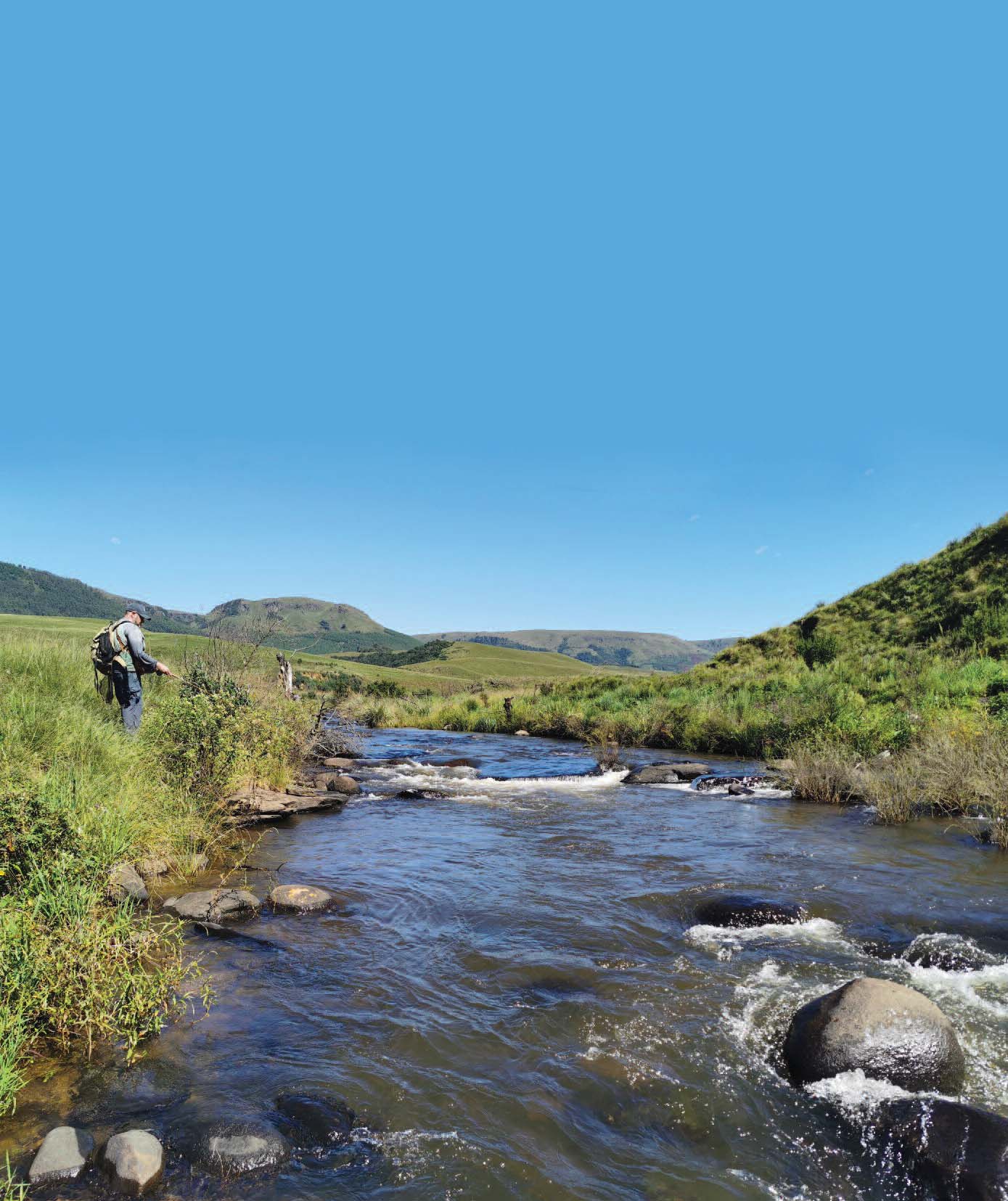 You can read up to 3 premium stories before you subscribe to Magzter GOLD
Log in, if you are already a subscriber
Get unlimited access to thousands of curated premium stories, newspapers and 5,000+ magazines
READ THE ENTIRE ISSUE
July/August/September 2020