UP CLOSE AND PERSONAL WITH MARK YELLAND
The Complete Fly Fisherman
|
December/January 2019/2020
TCFF chews the fat with guide and local fly fishing legend Mark Yelland and talk about his love for yellowfish.
TCFF: You are probably one of South Africa's best-known fly fishermen. Where did it all start?
MY: It all started in Krugersdorp on the Woes (West) Rand – I was exceptionally fortunate to have the Monument Dam just 100m from my home. The fishing bug caught me at a very young age, I guess around seven or eight, mainly bait fishing until my early teens when I started bass fishing. The fly fishing addiction would have started around 1980. My last year of schooling was at Damelin College in the then heart of Johannesburg in Bree Street. My guess is this is where things really went pear-shaped. You see, the door to Damelin was about a good cast length away from the famous Laxton's Hunting & Fishing store, and it was there that I met the fly fishing and fly-tying lunatic Angelo Komis. The rest, as they say, is history and what proceeded was a slippery downhill slide into fly fishing nirvana and yet another five-star education squandered on fly fishing. We could debate "squandered" at length.
TCFF: You fish for everything that has fins, in both fresh and salt water. When and where did the yellowfish bug take hold?
MY: The yellowfish bug took hold in the late Seventies when I was introduced to the smallmouth yellows of the Vaal River. We fished venues like Eendekuil, Benjoh (now Vaal de Sioleh) and Vaal Hackle. I count myself as exceptionally fortunate at having the privilege of meeting and fishing with some of the early pioneers of targeting yellows on fly, the likes of Theo van Niekerk (originator of the famous TVN fly) and Charl du Plessis, both of whom also had a lot to do with catching largies on fly. There is no doubt in my mind that this is where my lifelong love affair with the Vaal River started and I owe those who introduced me to the river and its yellows a huge debt of gratitude.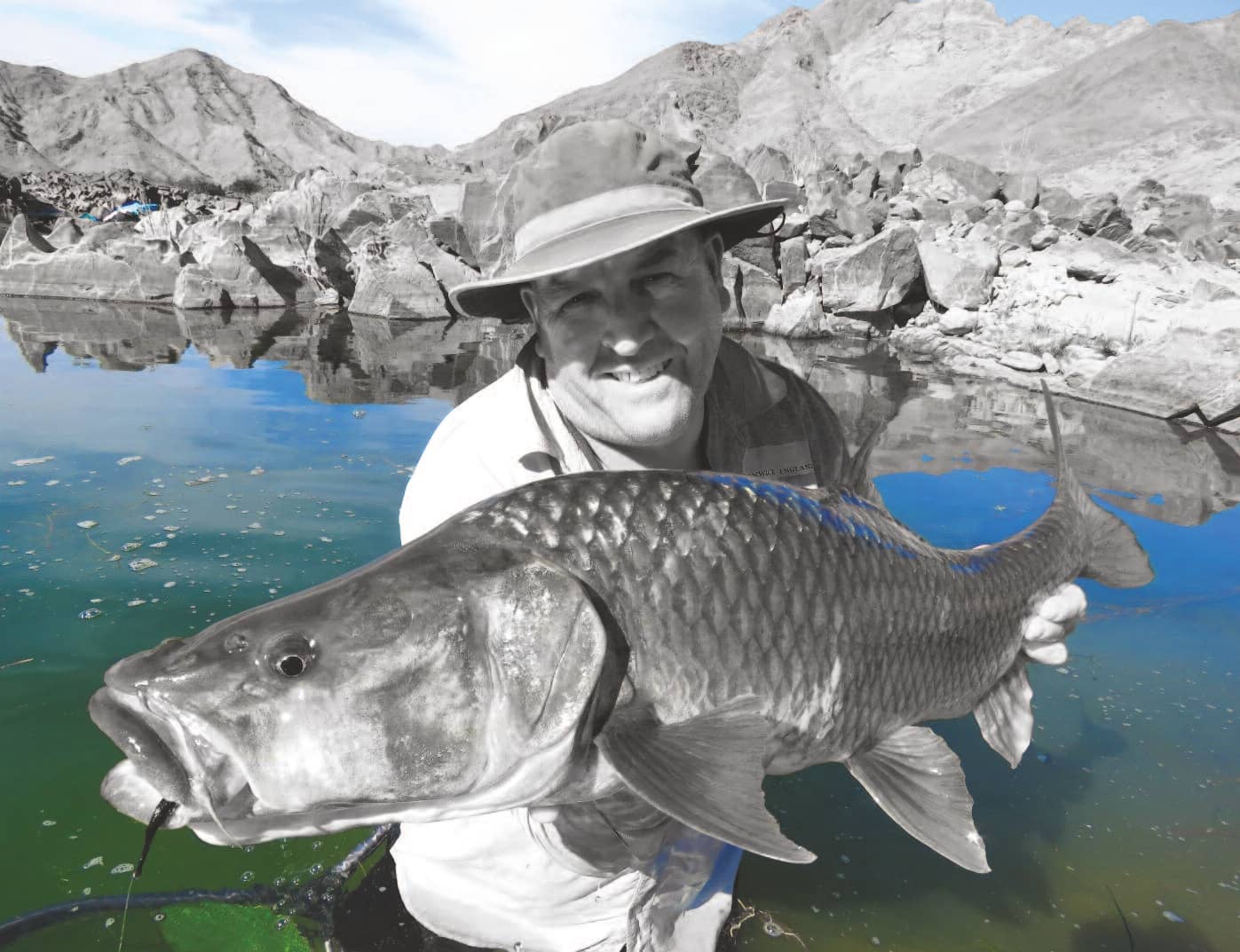 TCFF: We know you enjoy catching smallmouth on dry. Do you prefer it to nymphing and if so why?
MY: Catching smallies on dry is undoubtedly a burning passion of mine and dry fly fishing epitomises what fly fishing is all about. For me, there is very little to match a smallmouth yellow sipping a dry off the surface during a hatch. There is no doubt that I prefer it to nymphing; having spent many of my 38 years of fishing the Vaal wading and nymphing it is now really a personal preference. Also, having fished competitively and represented South Africa for ten years, I feel I have done my fair share of nymphing and as the tongue-in-cheek saying goes, "It only counts on dry."
TCFF: What is the best piece of advice you would give to someone fly fishing for smallmouth on dry for the first time?
MY: Make sure your casting is up to speed. Getting a lesson and hiring a guide will save you money and spare you many years of frustration.
You can read up to 3 premium stories before you subscribe to Magzter GOLD
Log in, if you are already a subscriber
Get unlimited access to thousands of curated premium stories, newspapers and 5,000+ magazines
READ THE ENTIRE ISSUE
December/January 2019/2020