Trout In Retreat
The Complete Fly Fisherman
|
April/May 2019
You know the story of the canary in the coal mine? Contributor ANDREW FOWLER laments the degradation of our country's waterways and the culprits responsible.
A love of trout combined with an interest in history, a personal thermostat of European origin and a book-collecting addiction have come together to form in me a conservation ethic of a particular nature. These influences have also seen to it that I am experiencing a rising sense of alarm. It is a deep concern, which should arguably be shared by a great many more fly fishers than it perhaps is. Let me explain.
In the South African fly fishing literature you will find references to the survival and indeed success of trout in the following places: the Bushman's River near Estcourt, the Lions River, the Yarrow (Mpolweni), the Elands River below the main Underberg road, the Inzinga near Impendle. Also the Mkomazana at Willowbrook, the Umgeni below the Dargle Falls, the Little Mooi lower down near the Hlatikulu, the Nyamvubu and Walters Creek. Forgive me for the entirely KZN-based set of examples, but they are the waters I know. All of these places are no longer considered to be trout waters. Who remembers Rockley Lodge and Willowbrook? What of Trent Lodge, Moor Park and Carshalton? Gone. No longer in the logbooks or places-to-visit lists of trout fishermen.
GLOBAL WARMING
Why? The reasons are not complex, but they are significant in combination, even if some of them are arguable. First off is the notion of global warming. This might be controversial, but it has to be said that if you were to ask locals why there are no longer trout in the places listed above, the most common answer is likely to be, "Too warm." A hundred years ago, however, these areas were not too warm for trout, and there is recorded evidence that trout thrived in those places. If, for a moment, we park the notion of widespread global warming, let us consider what else might have made these places too warm, or in some other way, less suitable for trout.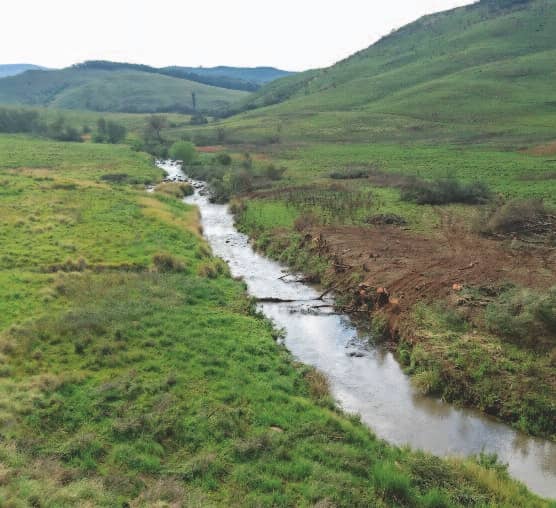 FORESTRY
Commercial forestry has to be a significant factor. I once met a very old man who was giving gold-panning demonstrations at Pilgrim's Rest. After his demonstration, my dad and I stayed back and chatted at length to this old-timer. He directed us to the museum, where he said we would find him pictured as a school child in an old black-and-white photo, "back row, third from the left". Further in the conversation we asked him what had changed and he said, "This stream," motioning to the pretty run behind us. "How so?" He went on to explain that as a child he remembered it being difficult to cross, even long after the summer rains had abated. It was much smaller now he noted, and when we asked why, he answered simply, with a wave of his hand towards the hills above, "The trees."
Forestry and its associated problem of runaway spread of alien trees such as gums and wattles has had an enormous impact on the flow rates of streams, together with the sustainability of flow in dry times. Both authorised and unauthorised forestry and uncontrolled spread of plantation species have been rife in catchment areas outside the greater Drakensberg World Heritage Site. International protocol abhors the cutting down of indigenous forests, whereas our foresters gain FSC accreditation and are seen as friendly to the environment by planting trees in areas previously covered in indigenous grassland. It is a case of the large and obvious icon of a tree being more valued by us humans over the lowly grass plant. It is what I refer to as "Cecil the Lion vs the grasshopper". Cecil wins every time.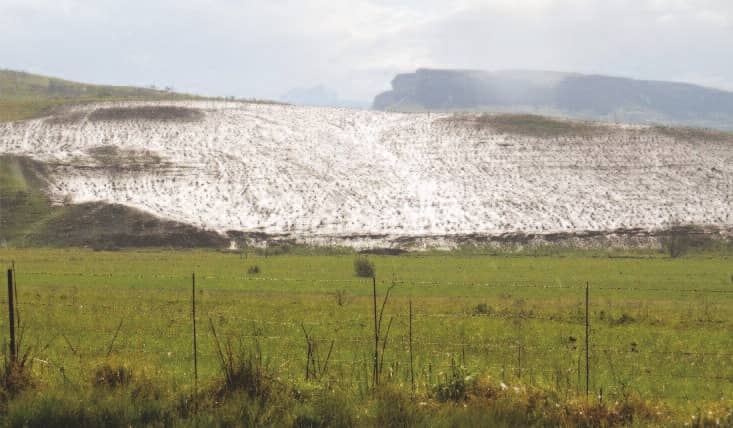 You can read up to 3 premium stories before you subscribe to Magzter GOLD
Log in, if you are already a subscriber
Get unlimited access to thousands of curated premium stories, newspapers and 5,000+ magazines
READ THE ENTIRE ISSUE
April/May 2019