The Maldives: POOR MAN'S GT PARADISE
The Complete Fly Fisherman|February/March 2020
Fly fishing for giant trevally is more popular – and more hyped – than ever before. The driving force behind this development has been the incredible fishing around some of the outer atolls of the Seychelles; names like Farquhar, Astove and, not least, Cosmoledo are right at the top of any GT fly fisher's dream destinations. But with a price tag running from well above $10,000, it's not for everyone. So, when you have GT on your mind, but your fishing budget doesn't quite match the price tag mentioned above, you need to look elsewhere. Christmas Island? Sudan? Or, for a growing number of especially European fly fishermen, the Maldives. Welcome to the poor man's world of GT on fly.
One January morning, somewhere in the northern part of the Maldives. The tide isn't moving yet, so you aren't expecting shots at the big game. Instead, you decide on walking the reef with your 9-wt in hand – 12-wt tucked away for now – looking for lightning-blue shapes moving in and out in the wash from the surf breaking over the shallow reef. A quick cast, followed by a fast retrieve, and any bluefin trevally getting sight of your little crab in the turbulent water equals a wholehearted attack, with all guards down, until it finally connects with your fly; the line comes tight and you're on for some action. Which, you tell yourself, is welcome after two days of catching nothing. Hooking something, yes – but catching? No. Not so far.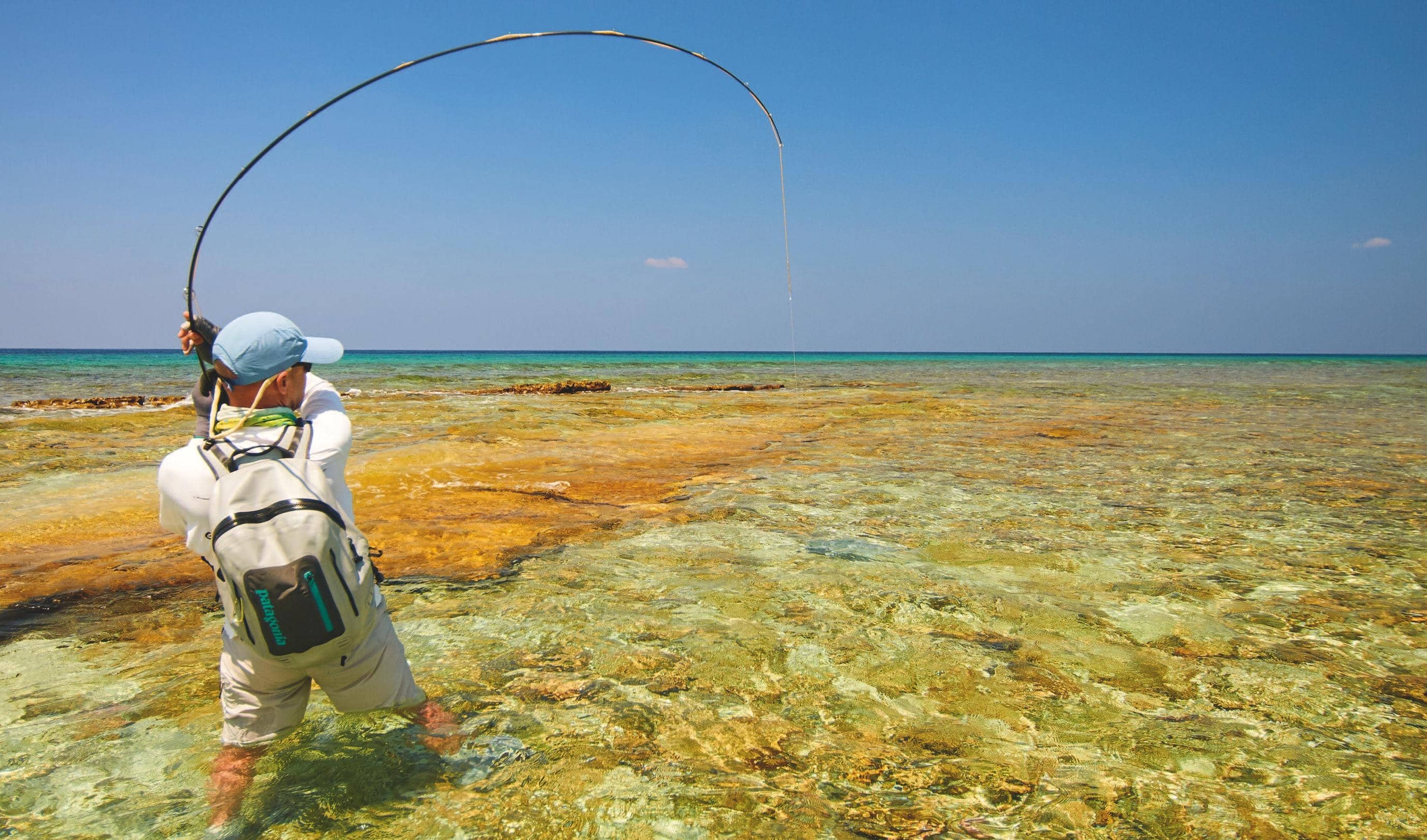 The big game here doesn't come easy. So, you amuse yourself with the bluefins. A trigger tails, its big, yellow and orange tail waving you closer with its irresistible come-and-get-me-if-you-can attitude. You can't. Before you are within casting range, a wave washes over the shallow reef, and the trigger disappears with the water pulling back to sea. Never mind, the bluefins are still around, and soon afterwards you hook another one. The third this morning. Splendid sport on the light gear, and you would have enjoyed it even more if that voice in the back of your head could, just for a moment, stop reminding you what you are really here for: big game. B-I-G game. Caranx ignobilis. Aka giant trevally. GT among friends.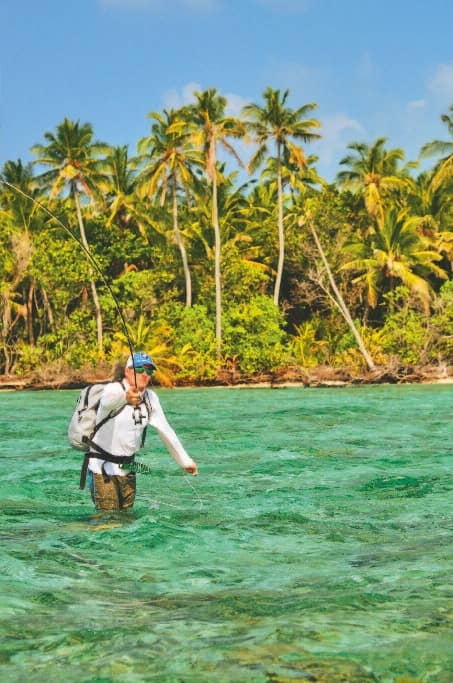 "The fight is over, the GT won, you lost. The fish, that is, not the memory. As you make your way to dry land, bleeding lightly from the bruises on your legs, you feel more alive than you have done in a long time."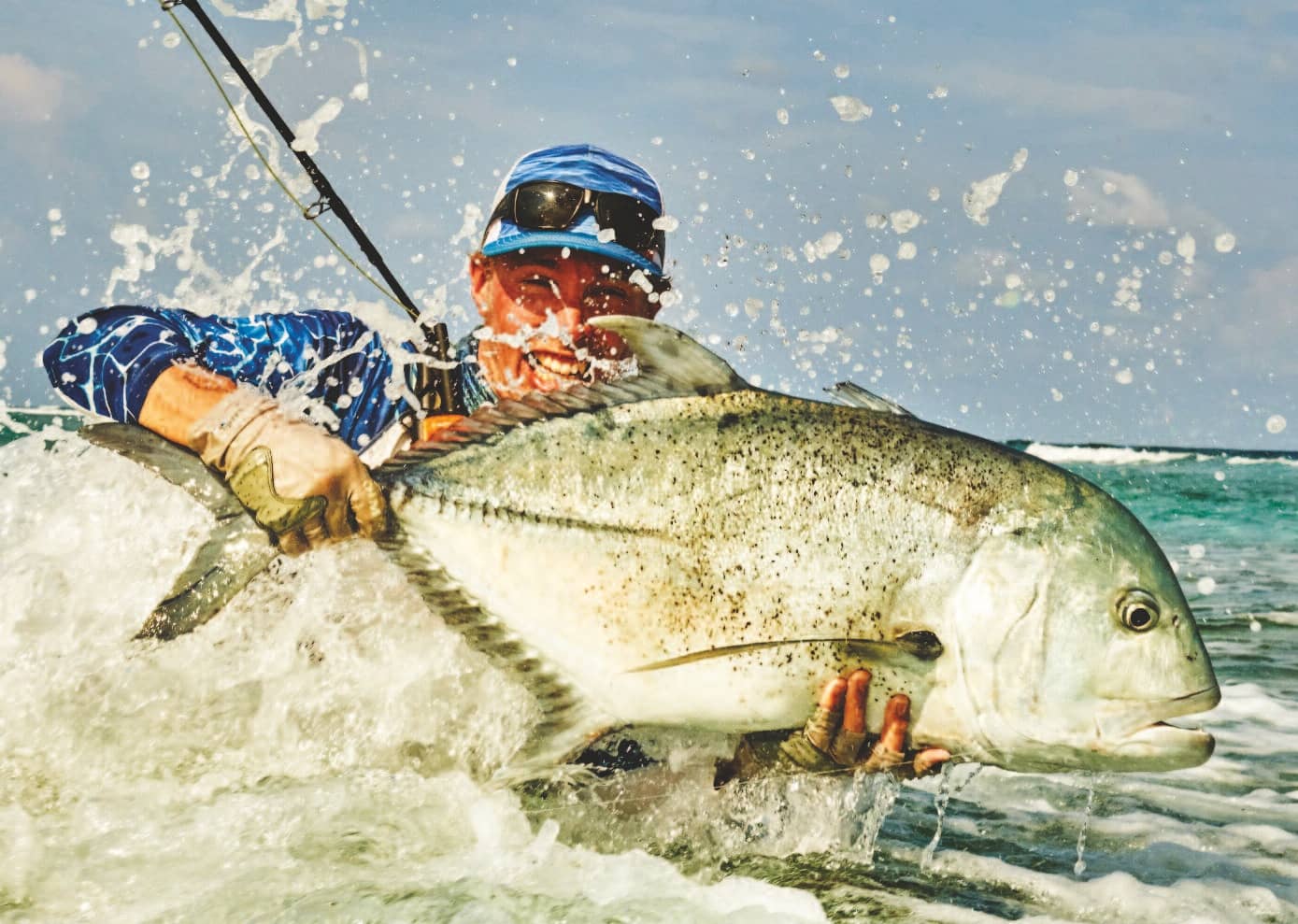 Judging by yesterday's tide there is still at least another hour until the water starts to drop. Not that you need less water on the reef but you just need the water to move. The moving water will get the baitfish a bit out of balance, making them vulnerable; it will make the surf break harder, creating better hunting opportunities – all in all, it might just give you another shot at the big game you are really here for. For now, the gentle surf is still creating ideal conditions for green parrotfish and luminescent bluefins to swim the shallow parts of the reef. They first ignore your fly, the latter hammers it, so you decide to walk back and fish the most productive part, once more. There is still time. You are allowed to have some fun.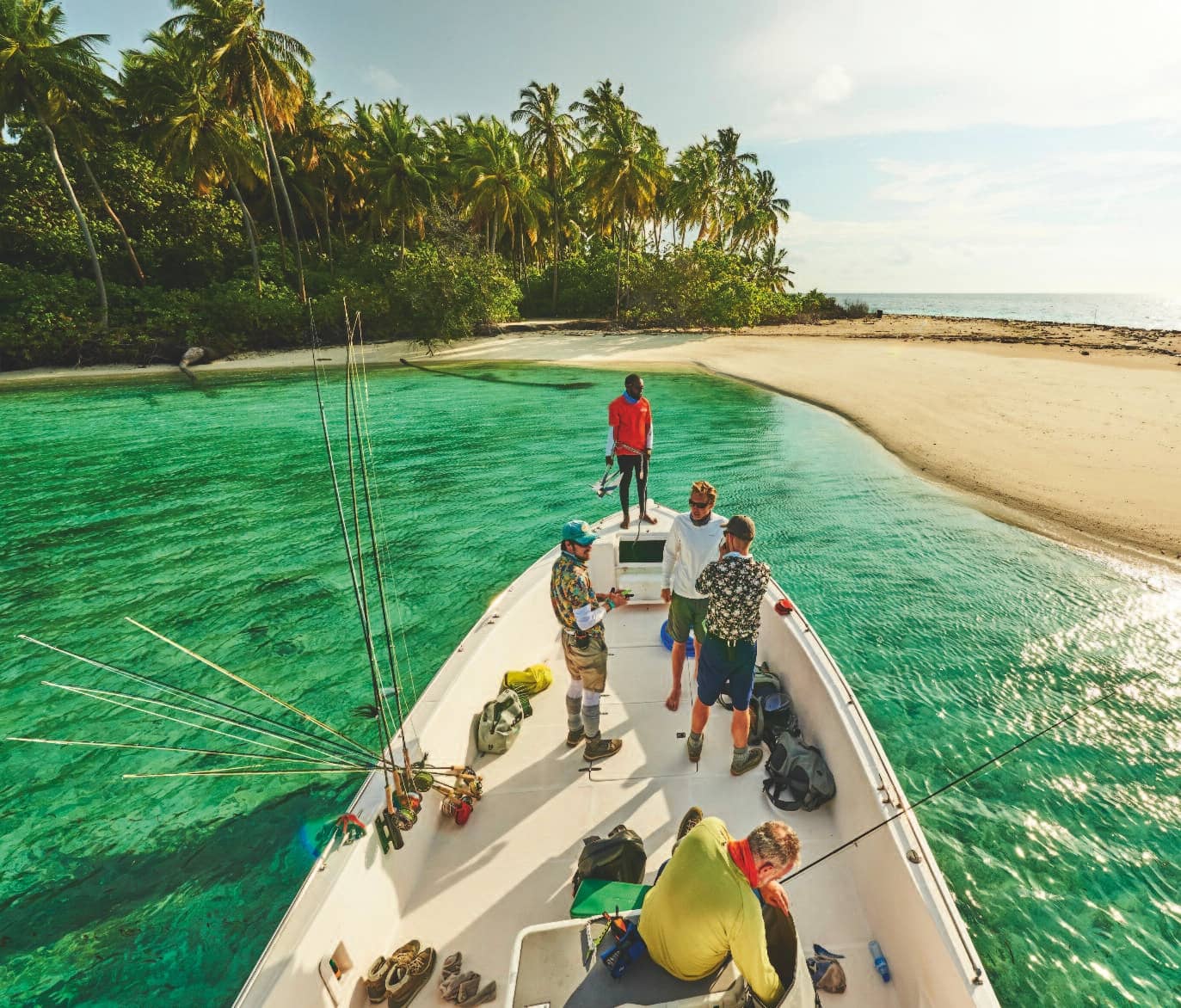 You're on six hooked bluefins – four landed, two lost – and on the last bit of shallow reef, having a great time. You tell yourself that you could do this all day long. Then it happens, and from that very second you couldn't care less about bluefins, triggers, parrotfish or whatever the surf washes in. Out of the corner of your eye, you see something moving in the surf. You turn your head and you find yourself staring at a big GT swimming in the wave of the breaking surf as clearly on display as new arrivals in a shop window. Approximately 193 seconds later, you find yourself positioned on a piece of rock, 10m from the breaking surf. The 9-wt is tucked away, 12-wt in hand, fly line hanging in coils in the Flexi Stripper, sunglasses with annoying salt water drops on the lenses and soaked up to the chest from making it onto the rock. Not that you care; getting a shot at big game is what is on your mind. Nothing else.
You can read up to 3 premium stories before you subscribe to Magzter GOLD
Log in, if you are already a subscriber
Get unlimited access to thousands of curated premium stories and 5,000+ magazines
READ THE ENTIRE ISSUE
February/March 2020