The Magic Threads Of Semperfli
The Complete Fly Fisherman
|
October/November 2019
Success isn't something that simply comes your way. It is earned through putting in the long miles, learning hard lessons, and having the passion and persistence to succeed. TCFF's International Field Editor at Large HANS VAN KLINKEN puts the spotlight on one such company.
I met Ann and Andy Kitchener many years ago during one of the Spring Fly Fishing Shows in the UK which always got so well organised by Steve Thornton – a pity that show doesn't exist any more. During my breaks from giving demonstrations and classes, I like to walk around and meet up with old friends, make new ones and search for some new and interesting materials. At this particular show, Andy was presenting his range of Superfine Dubbing together with several other unique products he'd invented. I've been working with Fly- Rite's Extra Fine Poly Dubbing all my life, and, because I use it for the majority of my dry fly bodies, it always makes mecurious to compare my favourite product with other dubbing materials. The large amount of dubbing in Ann and Andy's booth intrigued me so much that I struck up a conversation with them and, after a lengthy discussion about dubbing properties, Andy showed me some of the other materials he had developed. It was the start of our amazing friendship.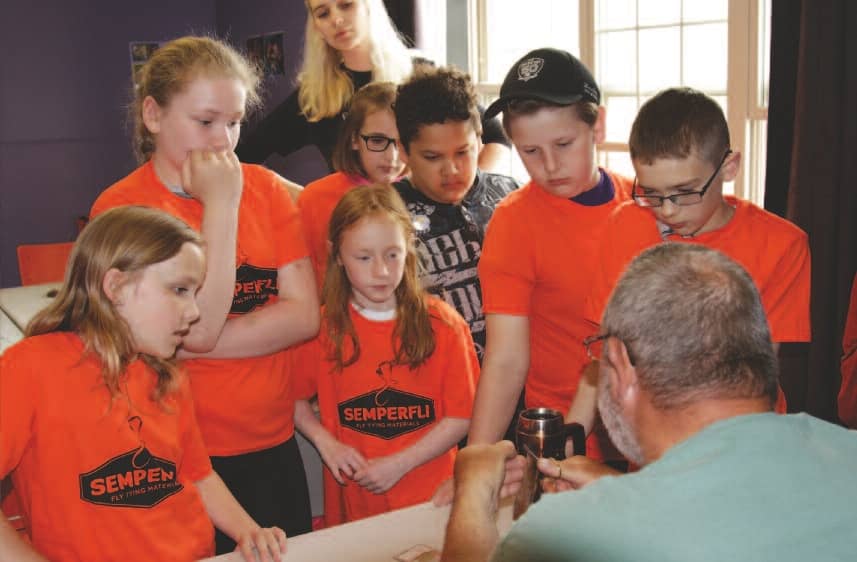 Due to the pressures of my work we lost contact for a few years. However, once I retired in 2012, I was able to spend more time writing, fly fishing, tying flies and visiting more international fly fishing shows again. My two main goals of retirement were to write more, to promote fly fishing, and to increase my fly fishing and fly-tying workshops with kids to try to keep them away from computers, Nintendo and PlayStations. Everything went smoothly for four years until my main sponsor for the kids' classes let me down. Although I funded a few classes from my own pocket and using my own materials, I sadly had to cancel all the other classes for the rest of the year. Barely two months later, I met up with Ann and Andy again while they were presenting some new materials in their Semperfli booth. Our friendship was quickly rekindled after a few meetings, and when I mentioned my dilemma with the sponsorship, Semperfli was happy to step in with serious support as the main sponsor for my children's classes.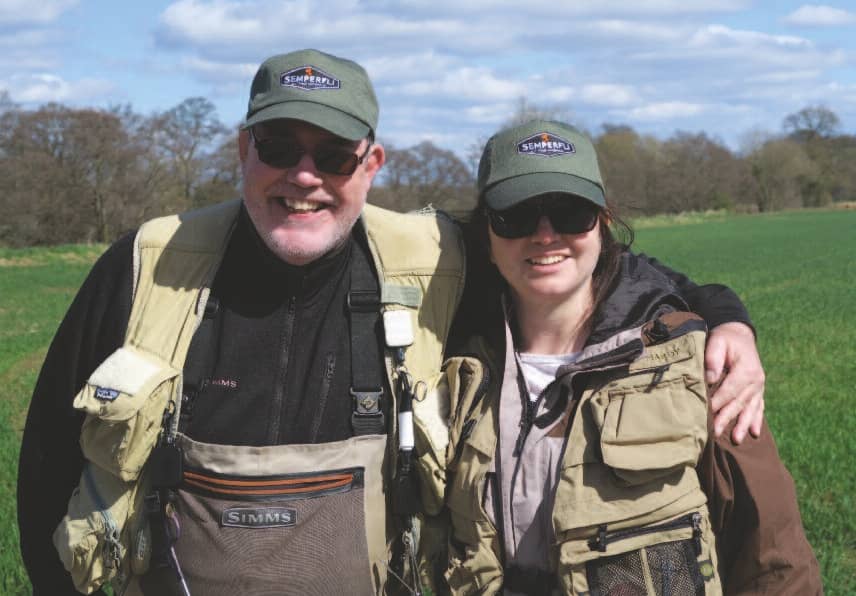 I have visited the company quite a few times over the years and I've seen Semperfli grow from a small family business to where it is today. I have been an ambassador for its products since 2015, and I know the company and the people behind it all well. In this article, I would like to give you an insider's view of these people behind the scenes, their passion for fly-tying and their magic materials.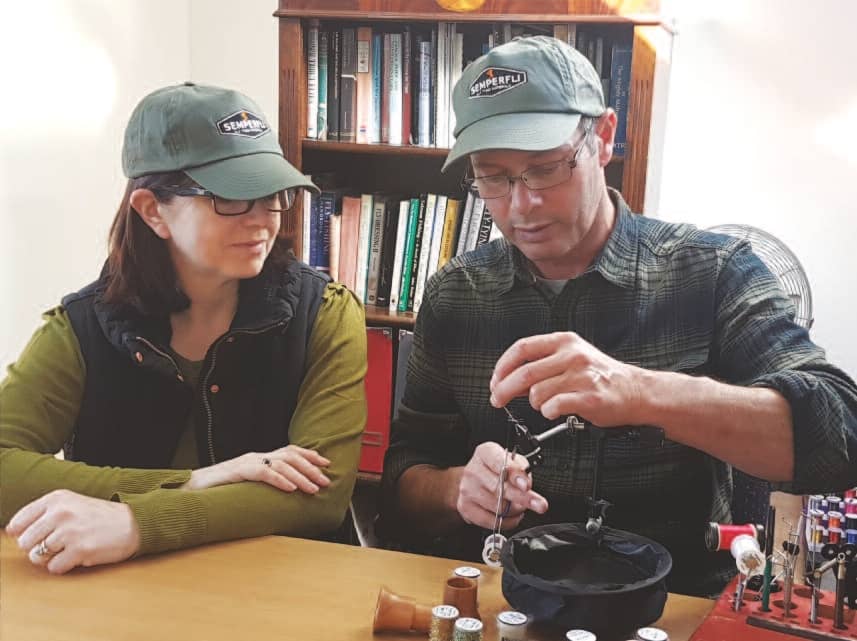 A TRUE FAMILY BUSINESS
A lot of people may be aware of the Latin saying semper fidelis (always faithful) and the abbreviation Semper Fi is the motto of the US Marine Corps. Semperfli chose the name to reflect their dedication to fly-tying. Based in the beautiful county of Yorkshire in the north of the UK since 2010, Semperfli is a manufacturer of fly-tying materials with a drive to establish a quality and innovative range of tying materials that are completely focussed and tailored specifically for the fly-tying market. Semperfli was founded on four cornerstones: quality, innovation, passion and customer service.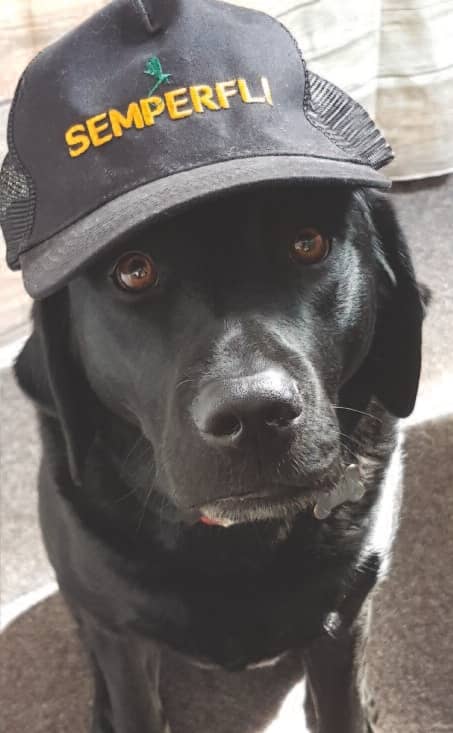 It is a family run business, led by Ann and Andy, their daughter Sarah and partner Thibault Mallier. Each family member has a key role in the company, each running their own divisions.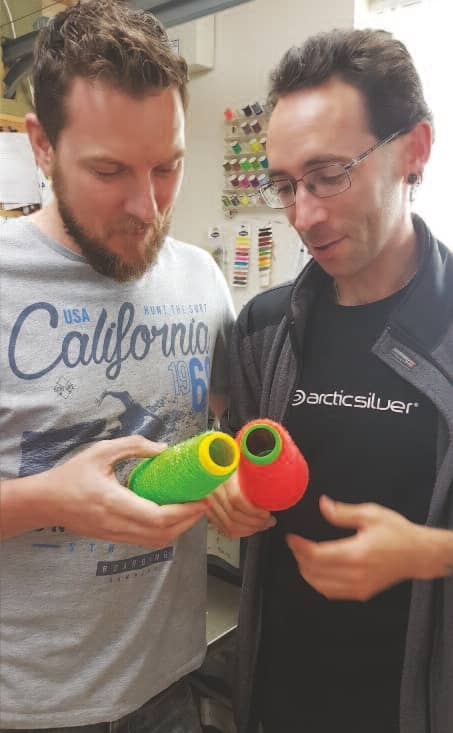 Ann, as CEO, heads up the company while being responsible for international sales and marketing. I have never seen anybody answering e-mails and letters faster than Ann. Speaking several languages, she is fantastic with social media and recruits and looks after Semperfli's dealers and distributors around the globe. She is passionate about customer care and is also a keen photographer.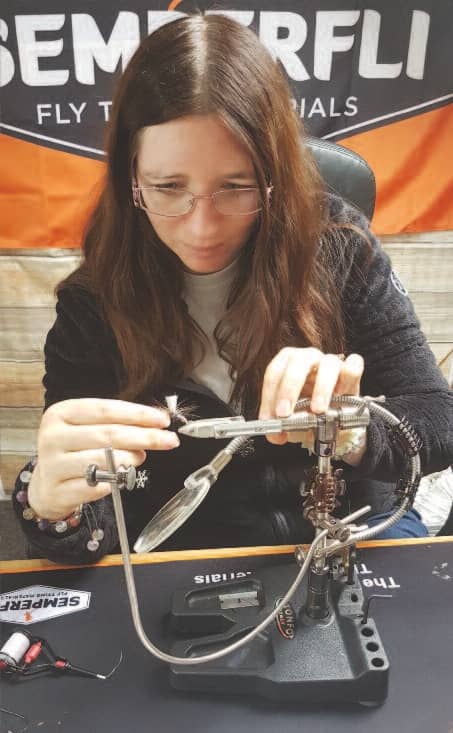 You can read up to 3 premium stories before you subscribe to Magzter GOLD
Log in, if you are already a subscriber
Get unlimited access to thousands of curated premium stories, newspapers and 5,000+ magazines
READ THE ENTIRE ISSUE
October/November 2019