Spring Creeks and Dry Flies - The Pinnacle Of The Pursuit?
The Complete Fly Fisherman
|
February/March 2020
Selective feeding is the name of the game on spring creeks, so be sure to bring your A game, says TCFF Editor PJ Jacobs. But then, sometimes even that may not be enough.
"It just doesn't get better than this" is the thought central to my mind as I take in our environment. Standing thigh deep in gin-clear water, we revel in the sight of the vivid greens, oranges and browns of the aquatic weed as it dances silently to the music of the current. Intimidating mountains tower to the north, their craggy peaks a startling white against a penetrating blue, the contours appearing deceptively soft because of the snow.
Today, the wind is but a whisper, a cool breeze swirling playfully on the surface while the current audibly pushes its way around the copious weedbeds that cover the creek from bank to bank. Peaceful as it certainly appears, it is rather, unsurprisingly, not a quiet environment. A hundred yards or so upstream a male paradise duck is loudly lamenting the fact that we have ventured onto his home turf, his sharp calls distinctly different to the female's low, almost throaty call. Noisy as hell, but love 'em or hate 'em, they like spring creeks as much as we do, so we do our best to share.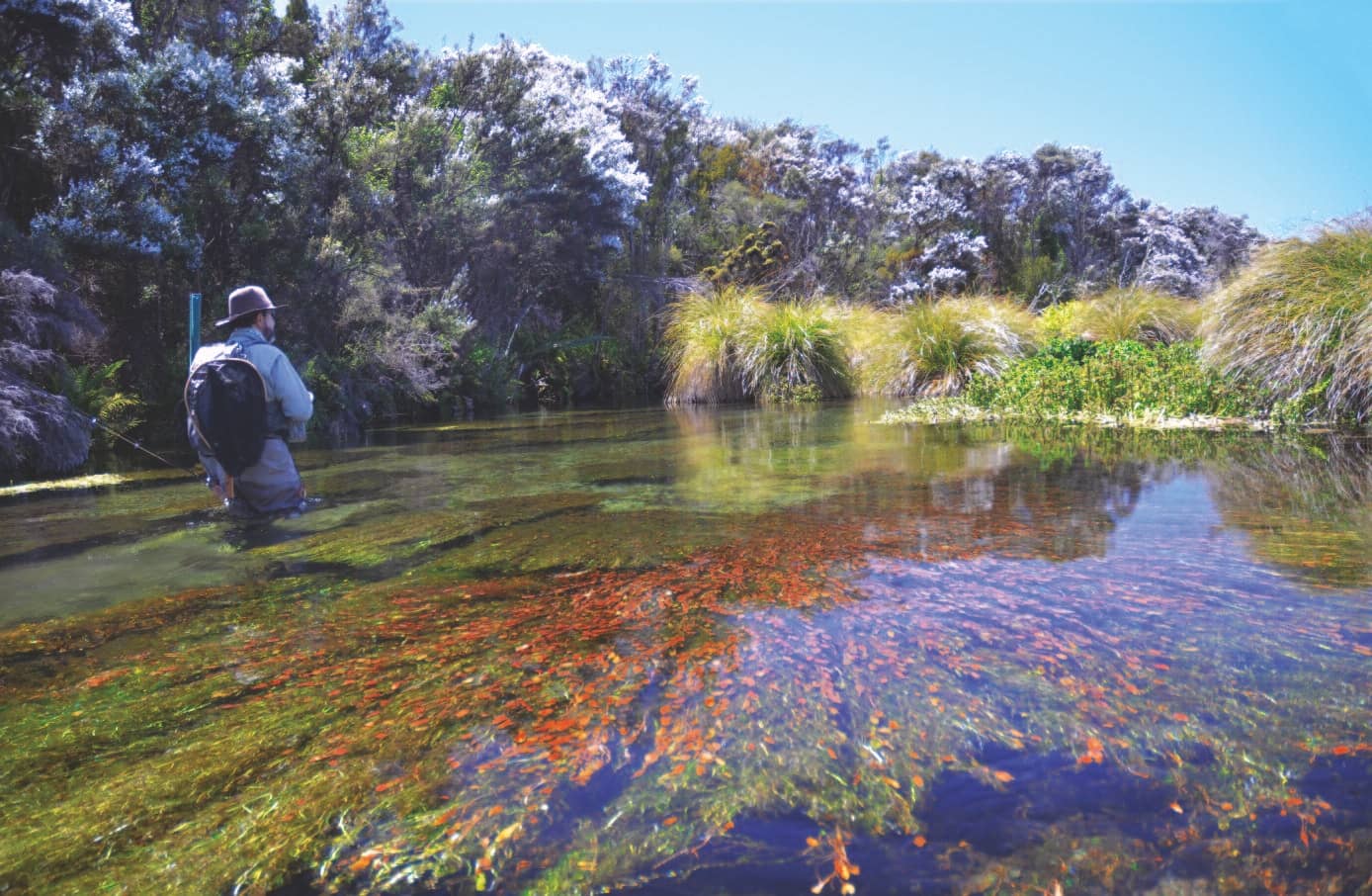 We spot a fish finning lazily in a small clearing, his belly hugging the streambed, the water only about 18 inches deep (I am assuming here the fish is male, as most large browns in this creek are). He is actively on the feed, no doubt, confirmed by the next moment as he languishes to his left. Tilting his pectorals backwards, he rises quietly and gracefully to just under the surface. The take is subtle, the rings of the rise swallowed almost immediately by a hungry current. The brown returns to his lie, his relaxed body slowly drifting from side to side, and I feel a quickening of the pulse. What's he eating, I wonder, almost aloud. I also make a mental note that this is no small fish...
You can read up to 3 premium stories before you subscribe to Magzter GOLD
Log in, if you are already a subscriber
Get unlimited access to thousands of curated premium stories, newspapers and 5,000+ magazines
READ THE ENTIRE ISSUE
February/March 2020