Q&A With Frontier Fly Fishing's Tom Lewin
The Complete Fly Fisherman
|
December/January 2019/2020
TCFF Editor PJ JACOBS chats to Tom Lein, part owner of one of South Africa's oldest dedicated fly fishing tackle stores, about its roots, vision and take on the local industry.
TCFF: Tom, you've been around the block in this industry for about as long as I have. From which store did you make your first fly fishing purchase, and when?
TL: In 1978 I bought a fibreglass rod (no line rating), an Abu Diplomat reel and a fly line for R140 from a shop called Field and Stream in downtown Johannesburg. I'd saved my pocket money for months and I really had no idea what I was buying or how I was going fish with it. All I knew was that I was going to be a fly fisherman.
TCFF: The Fly Fisherman was, as far as I can recall, our first dedicated fly fishing tackle store. What was your experience in dealing with them way back then?
TL: In the mid-80s, I spent three years at university in Pietermaritzburg. The Fly Fisherman was in Harwin's Arcade then – a rather small, dingy shop stuffed full of the most wonderful fly fishing gear I'd ever seen. The shop had real atmosphere and I was in total awe of Hugh Huntley and Tom Sutcliffe (both of whom would pop into the shop from time to time), and of course Roger Baert. I remember being so impressed with their enthusiasm and knowledge.
TCFF: Given the shop's popularity, were you surprised when they eventually closed down?
TL: The Fly Fisherman was the only game in town. They had a little newsletter-type catalogue, A5 and photocopied, which they would post to their customers. I couldn't wait to receive it! So way back then they were ahead of the curve, reaching out to customers outside the shop environment. They had good brands too and knowledgeable, respected guys behind the business. They should have cleaned up and shut out any potential competition forever, but they became set in their ways and didn't evolve the business. They lost relevance and opened the door for other competitors.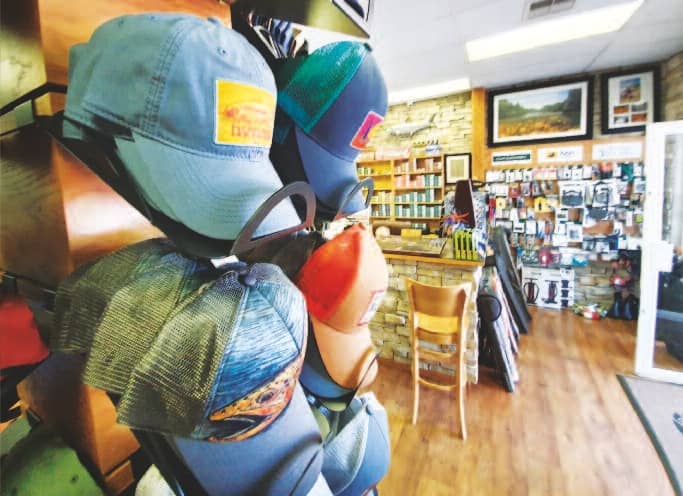 TCFF: What did you do for a living before you started Frontier Fly Fishing?
TL: I worked for some big international advertising agencies and then spent six years running my own full-service advertising agency with two partners, one of whom is my wife today! I have aneconomics degree and my area of expertise is strategic marketing.
TCFF: What made you decide to open up a dedicated tackle shop?
TL: Dean Riphagen and I were on another extended trip (six weeks) to New Zealand. We were both "between jobs" as they say. One day, sitting on the banks of the Oreti River, the subject of fly shops came up. We were both so frustrated that the brands we liked were simply not available in the fly shops back home. There was no professionalism, just a bunch of keen fly fishermen who didn't have a better alternative, doing what they knew. It was a real mom-and-pop store environment. There was a gap to do it better, really take it to the next level. I remember the discussion continued that evening in a little South Island pub and by the time we turned in that night, we had decided to open a truly world-class fly shop. It was heady stuff and very exciting!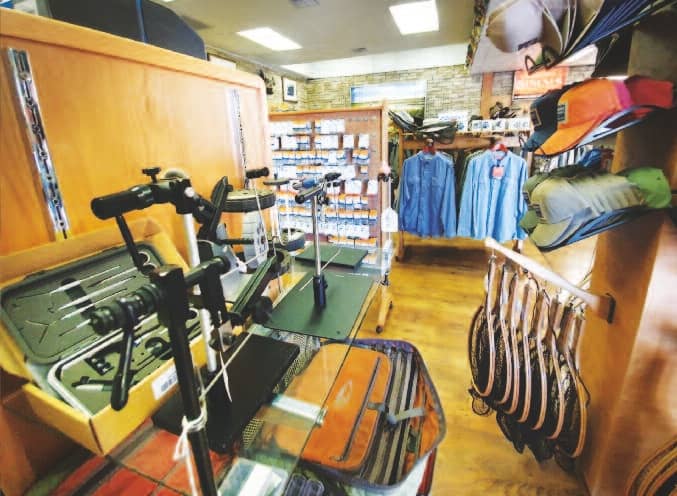 TCFF: Dean is well known to the local industry through his books. You and he have been friends and fishing buddies for a long time so it came as no surprise when you partnered up to start Frontier Fly Fishing. What are your respective roles in the business?
TL: I met Dean in 1988 and we have been best mates ever since. We've shared houses, tents, offices and countless fishing spots. We're more than friends or business partners; I think brothers would better describe it. That said, we couldn't be more different. And I'm convinced that that is what makes our partnership the formidable one it is. We bring different, complementary skills to the table, but our vision and goal is crystal clear to both of us. Deano handles the importation of our goods, their costing, supplier orders, pretty much all the stuff related to our wholesale business. I stay focussed on the financial and marketing issues.
You can read up to 3 premium stories before you subscribe to Magzter GOLD
Log in, if you are already a subscriber
Get unlimited access to thousands of curated premium stories, newspapers and 5,000+ magazines
READ THE ENTIRE ISSUE
December/January 2019/2020