Fly Fishing For Trophy Pike: Phelps Lake
The Complete Fly Fisherman
|
October/November 2019
The Canadian wilderness is a place where you can still experience untouched pike fishing – a unique and compelling escape for those who dream of catching a veritable trophy pike.
If there is a carbon-dioxide hell, that's probably where I'll be going after this trip. I have already covered three flights in order to get to the city of Saskatoon in the Canadian province of Saskatchewan. Early tomorrow morning, another three flights await before I'm ready for the final leg of the journey: a flight that departs from the barren outpost of Stony Rapids in the northwestern corner of Saskatchewan, and one that involves an old de Havilland Turbo Otter hydroplane – a Canadian-manufactured plane that had its heyday in the post-World War II era. After two days of arduous travelling, the propeller-driven air freighter will touch down on Phelps Lake's vast surface and moor at Wolf Bay Lodge in the middle of the Canadian wilderness.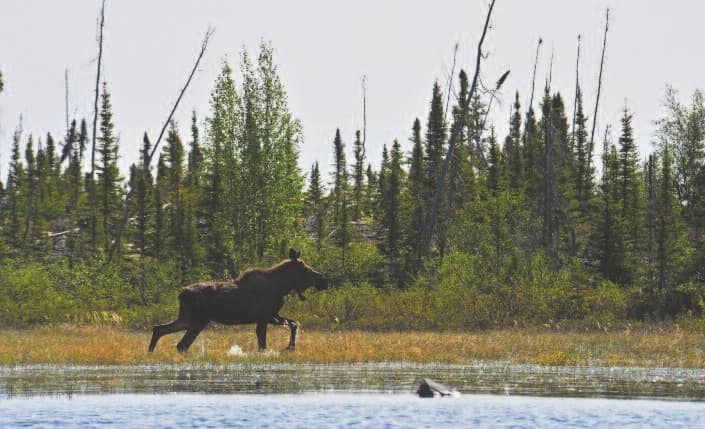 On our way, out of the dead airspace above Saskatchewan, I can see how we're slowly transcending the realm of civilisation and disappearing into what appears to be a massive void way beyond. Symmetrical and lush green pastures, neatly outlined by fences and bordering gravel roads, are gradually relieved by vast woodlands, the monotony of which is only broken sporadically by the flickering waters of ancient, glacial lakes and quietly meandering rivers. Once on the hydroplane with a course set for Phelps Lake, there is nothing but wilderness as far as the eye can see.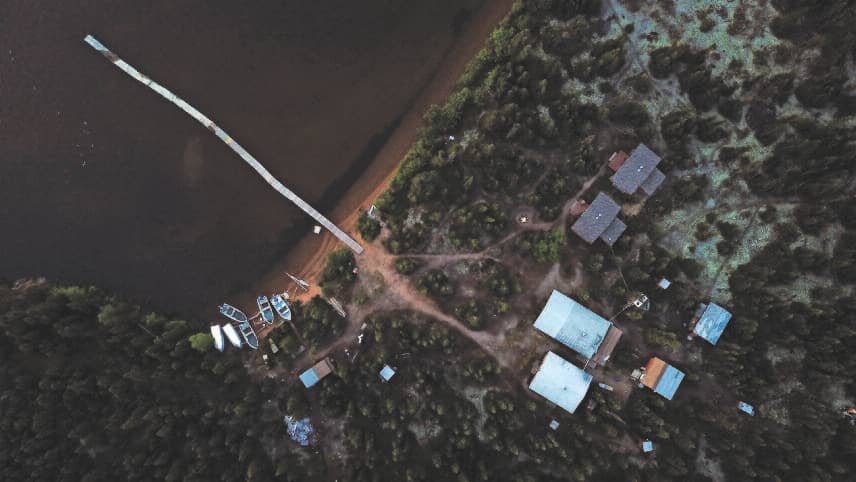 THE PIKE HUNT IS ON!
Two hours later, Phelps Lake manifests itself below us, silently resting deep in the terrain with all its chaotic branches, shallow bays and jagged islands in stark contrast to the stoicism of its surface. It's an early summer's day in the middle of June. A high-pressure system has killed all winds and, when we finally land, it's like touching down on a big mirror. After saying hello to Wolf Bay Lodge owner Brent Osika who greets us at the landing bridge, things unfold quickly. My brother Anders and I have half a day's worth of fishing ahead of us and soon we find ourselves in a Linder skiff with Merasty B Jason, one of the experienced local guides. The skiff cuts across the flat water with surgical precision. It navigates at high speed through narrow passages, wide-open expanses and big bays. And, being surrounded by nothing but forest, I soon lose all sense of orientation and locality. It's an intoxicating feeling and it is further amplified when, after a 20-minute boat ride, we arrive at a big, shallow bay, the engine is cut and a deafening silence descends upon us.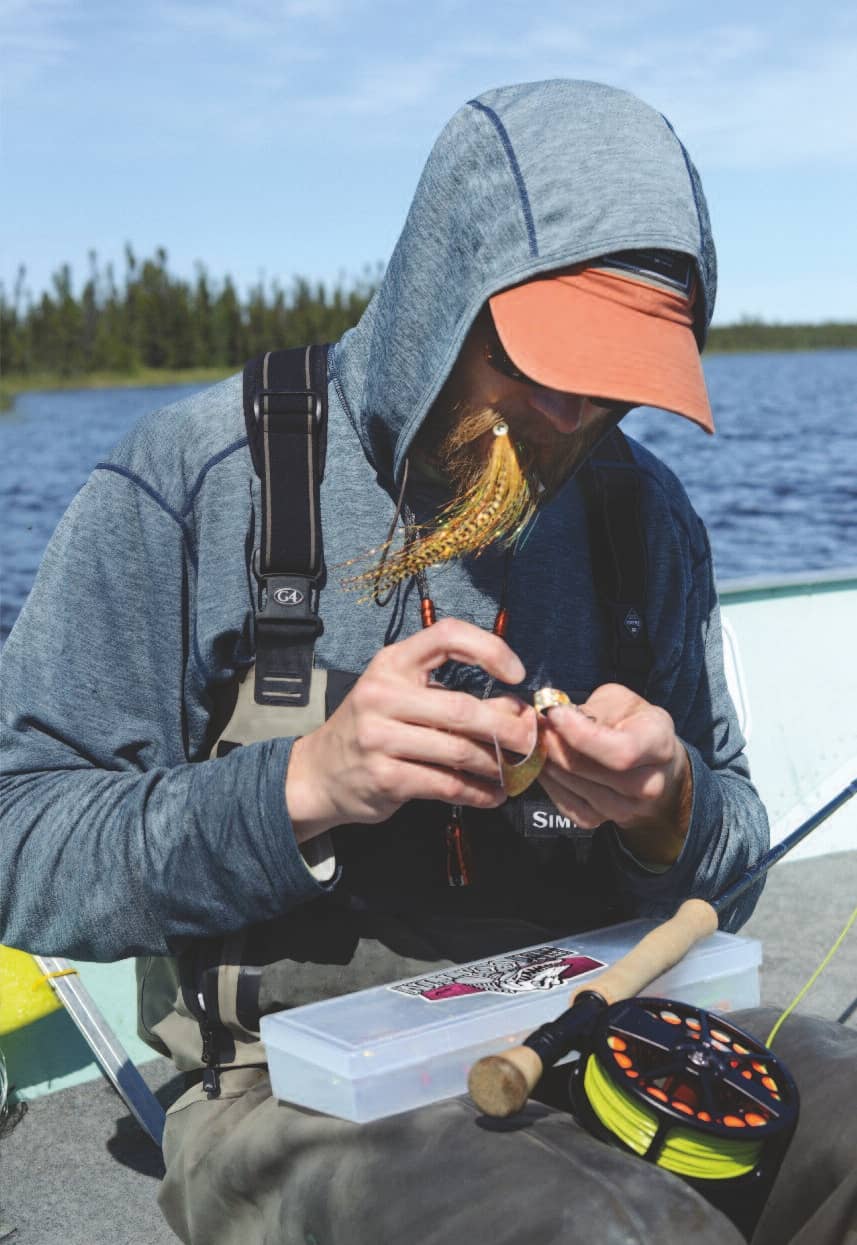 The pike are still in the shallows. The spawning – and a long, ice-cold winter – is but a dimming memory and the fish are hungry. Now, as Jason explains, it's simply a matter of finding the fish. They tend to school up in the many bays; the shallow ones with dark, muddy bottoms where the water gets warmed by the sun and baitfish are fairly abundant.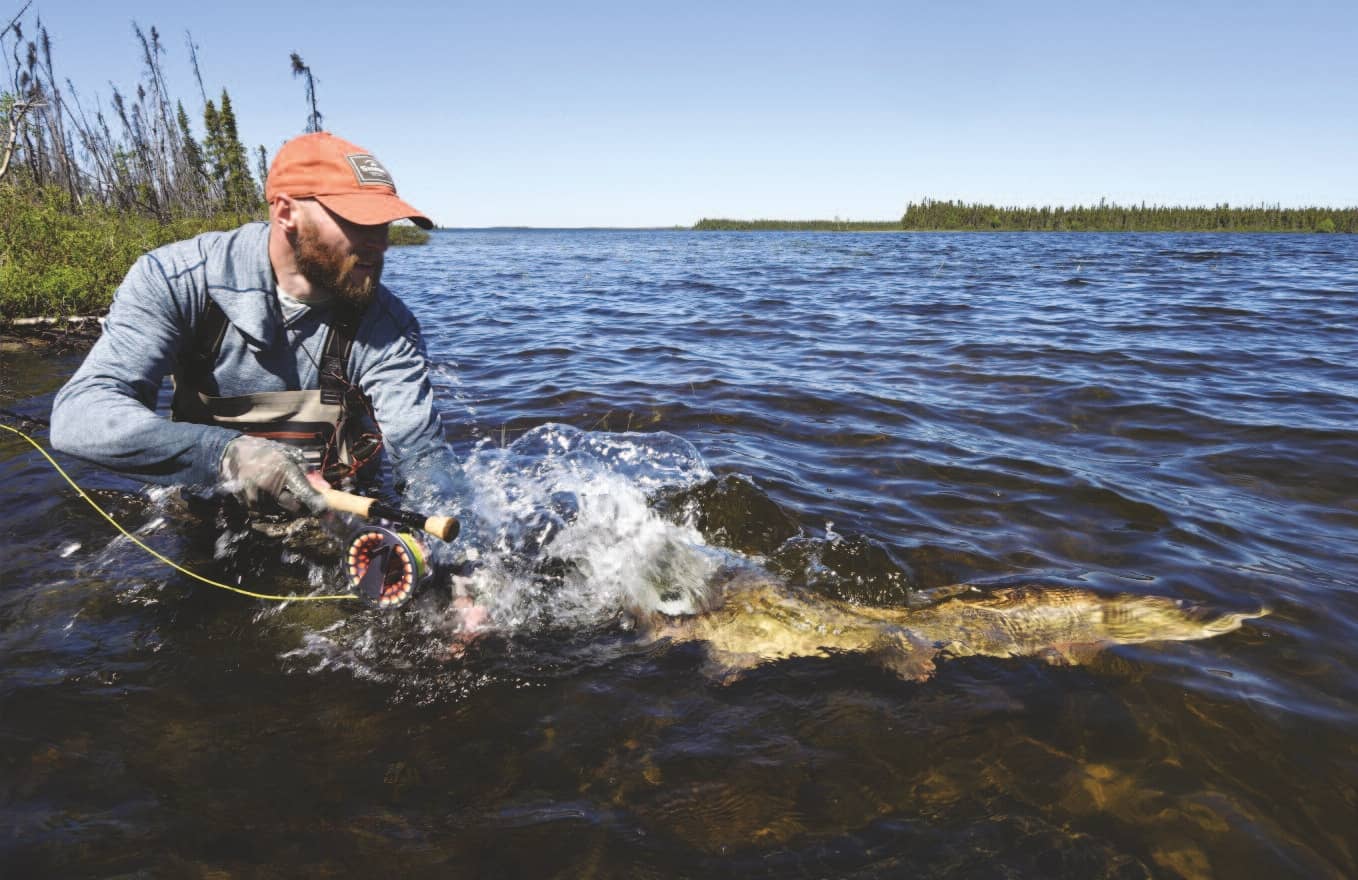 You can read up to 3 premium stories before you subscribe to Magzter GOLD
Log in, if you are already a subscriber
Get unlimited access to thousands of curated premium stories, newspapers and 5,000+ magazines
READ THE ENTIRE ISSUE
October/November 2019