Fishing The Griffith's Gnat
The Complete Fly Fisherman
|
April/May 2019
Trout guru, acclaimed fly fishing author, instructor and film maker GARY BORGER lauds the qualities of the Griffith's Gnat and how this evergreen fly has evolved.
It was the summer of 1936, and George Griffith was fishing Michigan's Manistee River, without success. Fish dimpled the surface, but all of George's flies went totally unnoticed. Suddenly a voice behind him called out, "I can tie ya a fly that'll catch them fish." George turned quickly to see a man who had just walked down from the lodge in the background. "Well, go ahead," George said. A few minutes later, the man reappeared with the progenitor of the now famed Griffith's Gnat. The fly had a red tail, peacock body palmered with a grizzly hackle, split wings and more hackle wound at the head. It worked.
I won't say that George was a lazy flytyer; really he was more inventive and perhaps a bit curious. At home he began to experiment with the fly. First he removed the red tail, and found that the fish liked the fly just as well. One step saved in the tying process. Next, the fly lost its wings, and then the front hackle, and still it worked just fine. In fact it worked even better, having been reduced to nothing but a peacock herl body palmered with a grizzly hackle.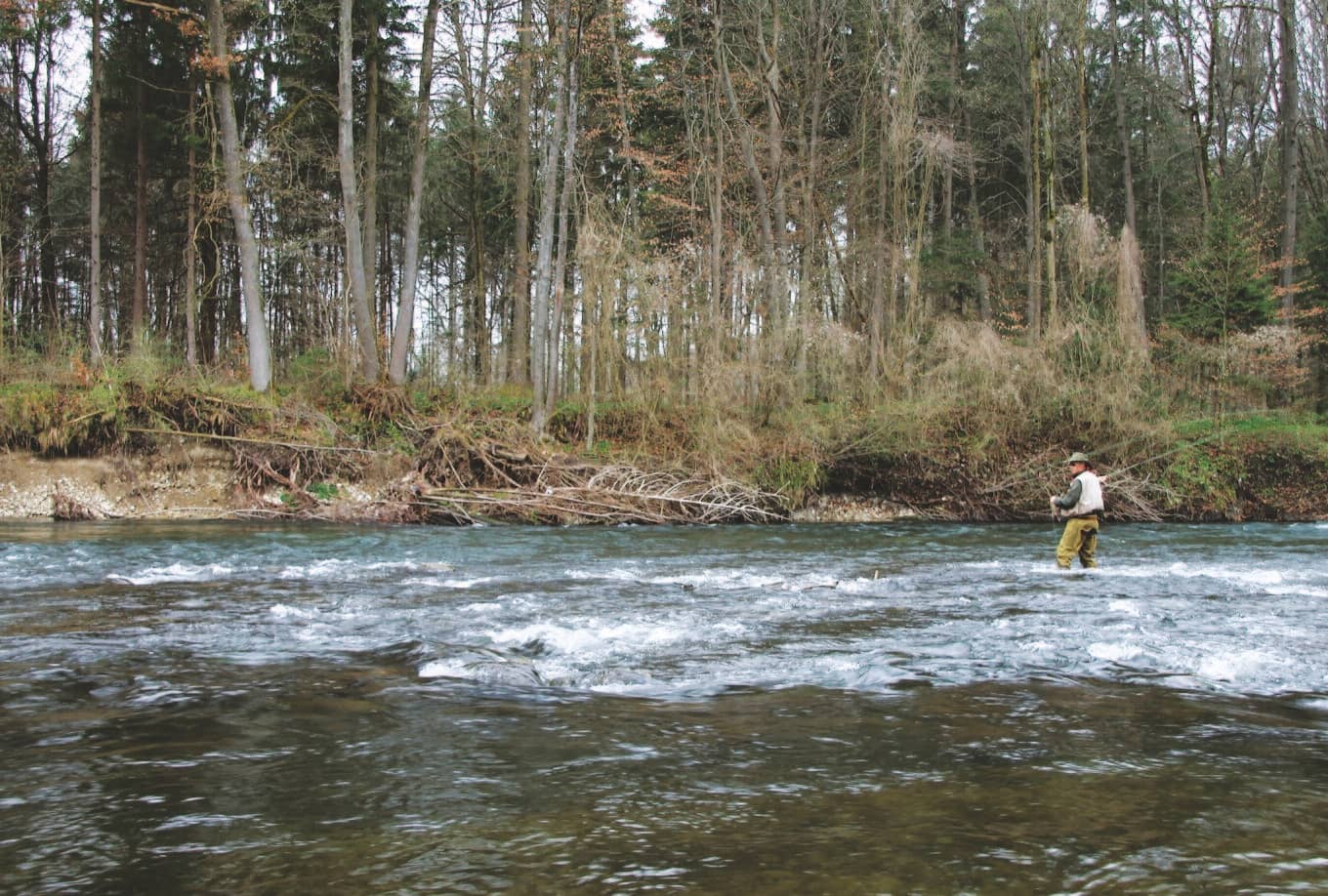 "What size do you like the most?"
I asked George.
"Size 16," came his reply.
"Me too," I acknowledged.
We were fishing Michigan's Au Sable River. Or should I say, I was fishing, and George, at 85, was poling me in his Au Sable river boat. He insisted on guiding me, and so I told him I'd fish the Gnat all day in his honour. It was fun, drifting through the curves, ducking to avoid the leaning cedars whose lower branches swept the currents, flicking the little imitation back into the darkness under the tilted trees to see a brookie or small brown rise suddenly and swiftly to grab the floating fly. Before we headed out for the day's drift, George had told me his price for the trip would be a dozen Griffith's Gnats tied at his bench. I sat and gladly dressed the flies for him, wondering how many years had passed since he tied any Gnats for himself. He named a host of well-known anglers that had graced his tying bench and delivered him a dozen #16 Gnats. I felt honoured to be counted among them.
The Griffith's Gnat, though serendipitously designed, has turned out to be the best, worldwide, all-round imitation of an adult midge or clump of adult midges. Size 16, it seems, is the best all-round adult/clump size. One time, however, my son Jason and I were fishing Armstrong Spring Creek in the Paradise Valley, south of Livingston, Montana, and the emerging midges were so numerous they literally formed inch-thick mats along the shoreline. Big clumps would break off and raft downstream. The trout rose and sucked in the big clumps. I knotted on a #12 Griffith's Gnat and began taking every trout that I saw rise to the clumps. I handed some of the mega-Gnats to Jason, and he, too, began hooking fish after fish.
Midges clump when they mate. A single female will draw the attention of several to many males, and the tightly mingling insects will float downstream, much to the delight of the trout. For tiny midges, the #16 is a good representative of a clump of mating insects. When the midges are larger, a size 16 nicely mimics single adults. And since midges hatch in all fresh water systems globally and will hatch as long as there is open water, it behoves the fly fisher to carry several sizes and several colours in the box.
"It's an impossible fish," Mike Allen told me.
"It's back under a fallen tree and just above a five-strand, barbed-wire fence that crosses the stream.
You can read up to 3 premium stories before you subscribe to Magzter GOLD
Log in, if you are already a subscriber
Get unlimited access to thousands of curated premium stories, newspapers and 5,000+ magazines
READ THE ENTIRE ISSUE
April/May 2019