Make hay while the sun shines
Sporting Gun
|
September 2020
Tom Sykes experiments with a new tactic to shoot from a hide constructed to look like a bale
I love to experiment with different tactics and attempt to gain the advantage over intelligent quarry, it is one of the great joys of fieldsports. Convincing any wild quarry to come within range of a shotgun can be a challenge, and rightly so or the game of cat and mouse would tire quickly. Concealment is a major factor of fieldcraft that applies throughout many shooting disciplines. The ability to remain undetected in the heart of the target's territory by blending into the chosen environment is often the key to success.
A great tactic for fooling corvids is to diverge from the typical approach of setting the hide on field boundaries. Taking the fight to the quarry by setting an ambush in the middle of the field can be a great way to hit the birds where they feel more confident. This theory works with all manner of quarry and is the reason why American's are very fond of utilising layout blinds when in pursuit of wildfowl. Although I have had success in the past from my layout blinds, they can be awkward to shoot from and I am always looking for the next game plan to add to the corvid control playbook.
Tip-off
The estate shepherd phoned to give me a tip-off that the crows were becoming a problem on the sheep feeders once again. After heading to the estate to investigate further, I discovered an abundance of crows congregating in a grass field that still had the hay bales scattered throughout. There seemed to more birds in this area than on the feeders in the neighbouring fields and that it would possibly be the better location to deal with the problem corvids. This is part of the reason why I like to do my own reconnaissance where possible after receiving information about bird activity, rather than solely relying on other people's sightings.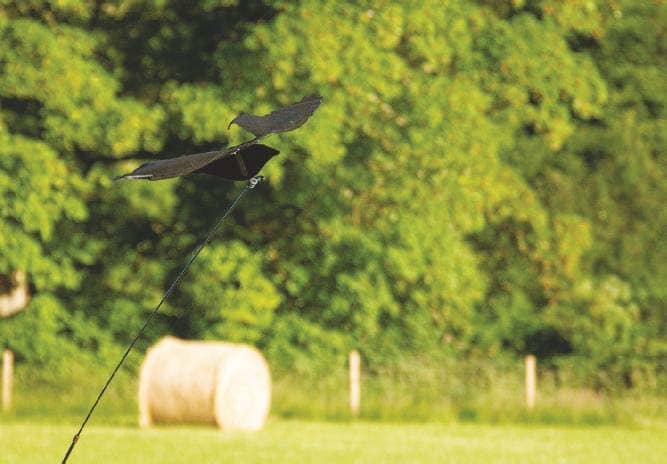 You can read up to 3 premium stories before you subscribe to Magzter GOLD
Log in, if you are already a subscriber
Get unlimited access to thousands of curated premium stories, newspapers and 5,000+ magazines
READ THE ENTIRE ISSUE
September 2020