What A Load Of Pollacks!
Shooting Times & Country|June 17, 2020
A beautiful afternoon, a deserted harbour and a little boat — all you need to catch a pollack for supper is a bit of luck, says Barry Stoffell
The wild larder provides those of us fortunate enough to browse it with a huge array of unforgettable meals. Most of these are inherently seasonal and — from the earliest edible greens, as the weather warms up, to the first jugged hare as the autumn nights turn cooler — they mark eagerly anticipated milestones on the kitchen calendar.
As game seasons close and spring gradually surrenders to summer, my thoughts turn from the land to the ocean and the opportunity of fresh fish. From the ever-reliable pollack to the glorious, thrashing arrival of the first mackerel, the Kenmare Bay provides a significant portion of our summer diet. As April melted into May and brought fine, settled weather, fishing was once again a real possibility.
Though the 'big' boat was still high and dry in a distant boatyard, we keep a 14ft plastic run around at a local pier less than a mile from the house. Mostly used for entertaining summer guests or exploring the rocky coastline, in good weather it is plenty steady enough to browse the closest fishing spots in the bay. By mid-May, I had decided it was high time to get pollack back on the menu.
Because it is plentiful and delicious, I am inordinately fond of the humble pollack (Pollachius pollachius). It's heartening to see how its popularity has risen deservedly over the past decade.
Too long a poor cousin of cod, pollack is not only equally tasty but has the added virtue of being altogether more sustainable.
Incoming tide
Being out on the water before the world wakes is undoubtedly one of the greatest joys of fishing, but this time I had decided to keep my powder dry and wait for the rising tide of the afternoon. Though it is possible to catch pollack here in falling water, I generally find the catch more reliable as the incoming tide brings fresh Atlantic water into the mouth of the bay.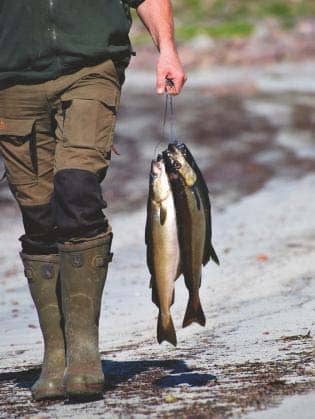 The weather gods were smiling on my endeavour and the sun shone fiercely as I drove to the small stone pier where the boat was moored. I found the harbour totally deserted, its surface peppered with empty moorings, each one a fluorescent reminder that 2020 was different. This time last year there were precious few buoys without a boat attached to them.
You can read up to 3 premium stories before you subscribe to Magzter GOLD
Log in, if you are already a subscriber
Get unlimited access to thousands of curated premium stories and 5,000+ magazines
READ THE ENTIRE ISSUE
June 17, 2020