Trolling in the deep
Shooting Times & Country
|
September 23, 2020
You need a stout heart and patience aplenty to land the Tyson Fury of the sea, as Nick Fisher discovers when he trolls the depths for big bass
Of all the fish in our British seas, nothing fights like a big bass. There are bigger fish, of course, but pound for pound bass are the feistiest. They are the Tyson Fury of the sea, hard-headed, muscle-bound, armor-plated, broad-tailed, tough, belligerent bastards.
A big pollack or cod of a similar weight might put up a good scrap but it's nothing compared with the bull-terrier tactics of the bass, whose dogged and persistent head-butting style will make a rod bend double and a reel scream time and time again as it lunges for the deep.
Bass have been plentiful in the south coast this year, plentiful but small. Bass are a slow-growing fish, taking on average about five years to reach sexual maturity. On many occasions this year, I've seen the skies littered with diving gannets and seagulls as they follow a vast shoal of slowly migrating 'schoolie' bass.
These shoals are encouraging signs of the bass stock bouncing back. But from an angling perspective, these small bass can be frustrating because they become obsessed by eating tiny fry of no more than an inch long, which are hard to imitate. And they travel in shoals of the same year class, which means all of them are below the minimum landing size.
Large bass tend to be much more solitary. A lone wolf that hunts on its own, often for large prey. Never underestimate the size of a large bass's mouth. Their jaws articulate and they are able to swallow a whole fish of up to almost a pound in one bite.
The biggest bass I've ever caught, I've caught when I wasn't bass fishing. Last year I had two weighing over 8lb, both caught on huge bottom-ledgered baits while fishing for tope and conger eels.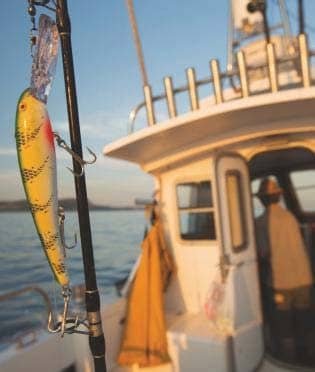 Opportunistic
So big bass eat big baits, dead or alive. Apart from being apex predators, they are opportunistic and omnivorous. They want maximum fat and protein for minimum effort. This is how they get big and stay big.
Most of my bass fishing is done drifting wrecks or reefs using rubber lures or occasionally with live mackerel. Live bait fishing is most effective when the bait is 20ft or more off the seabed.
You can read up to 3 premium stories before you subscribe to Magzter GOLD
Log in, if you are already a subscriber
Get unlimited access to thousands of curated premium stories, newspapers and 5,000+ magazines
READ THE ENTIRE ISSUE
September 23, 2020