Training the trainer
Whatever sport you take part in, you need to keep training. Ellena Swift decides to get some practice in
It always amazes me when people are surprised that I go for lessons myself. Gundog training is like any other discipline — you never stop learning. Sometimes when clients come for lessons they almost seem ashamed, as if it were an admission that they have failed. What they don't realise is that the best trainers in the world continue to seek help from other experts.
Anyone who competes in a sport involving dogs — field trials, agility, flyball or even heelwork to music — will know that dogs keep you humble. You can never profess to know it all nor be the perfect trainer. All we can do is strive to be better and continue to improve our dogs.
With this in mind I enlisted the help and guidance of some extremely experienced and knowledgeable trainers and organized a small walked-up day on our shoot at home.
Experienced trainers
We had six Guns shooting, three of whom were also handling and working their own dogs. One was the A-panel retriever judge and renowned trainer and handler Barry Cooper. He has an absolute wealth of experience and what he doesn't know isn't usually worth knowing.
The second expert was Andrew Rooney of Drumindoney Gundogs, who has trained several Irish field trial champions and represented Ireland in team competitions.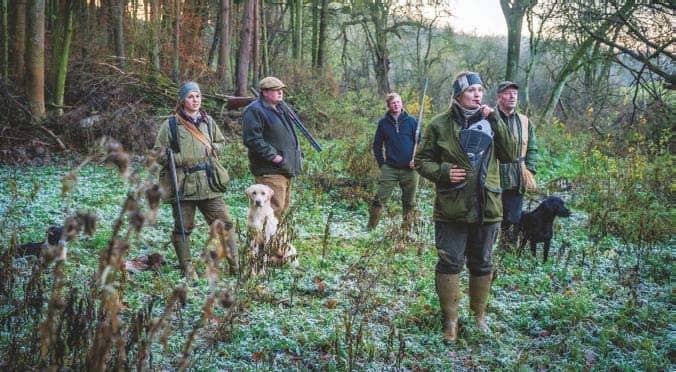 The final trainer was Nathan Laffy, who recently competed the youngest dog at the 2019 IGL Retriever Championship. Not only was this an achievement in itself but he also received a diploma of merit and was the Guns' choice. All three handlers can offer plenty of guidance and advice when it comes to my own dogs.
A common criticism of trialling dogs is that they do not work in a real shooting scenario. This was a real rough shooting day with a variety of dogs hunting ditches, hedges, briar, game cover and woodland to flush birds for the Guns.
It was wonderful not only to see trialling spaniels hunting in front, but also two field trial champion retrievers — one golden retriever and one Labrador. I also used my ever-reliable border collie, Laddie.
You can read upto 3 premium stories before you subscribe to Magzter GOLD
Log-in, if you are already a subscriber
Get unlimited access to thousands of curated premium stories and 5,000+ magazines
READ THE ENTIRE ISSUE
January 08, 2020