The sky's no limit
Shooting Times & Country
|
September 23, 2020
Few field sports are more impressive than falconry as practised by the Northumberland Crow Falconers
The hills of Northumberland have a wild and eerie charm. This is big country; landscapes run to the furthest horizon in a relay of rolling moors and broken, stony outcrops. It is the land of Kielder Forest and the Otterburn Ranges, crossed and rehashed by centuries of human history. The whole place reeks of Roman intervention and the bloody reign of the reivers, who fought an enduring conflict across the borderlands between Scotland and England. It is a suitably ghoulish and atmospheric location to act out an ancient tradition, and few fieldsports are more striking and impressive than falconry as practised by the Northumberland Crow Falconers.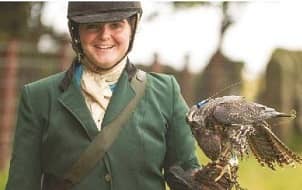 Enthusiastic riders
Shooting Times was invited to cover a day's sport in Northumberland with Dr Nick Fox OBE and his field of enthusiastic riders during an early-season day at the beginning of September. Of course the invitation was enthusiastically accepted, but I had little idea what to expect as I approached the meet along the A68, an undulating and impressively straight road once known as Dere Street, which linked York to Edinburgh in Roman times. Dark clouds had begun to gather overhead, and rain spattered the windscreen gloomily. I don't know much about falconry, but I have seen enough to realise that rain will gum up a bird's feathers, making life a great deal harder for both predator and prey. Things looked a little dull, but from signs of horse boxes and hoofprints, it was clear the meet was undeterred by the weather.

Oblivious
Turning off at a small, unassuming crossroads and following directions sent by email the previous evening, I was heading for the gunspurs above High Leam on a track which crumbled away to rushes, moss and an expanse of heather. A pair of carrion crows rose from the grass verges and glided in the flying rain to land along the top stones of a drystone wall. They seemed oblivious to the fact that they would soon become the focus of the day, and one of them eyed me beadily with an expression of bawdy confidence.
You can read up to 3 premium stories before you subscribe to Magzter GOLD
Log in, if you are already a subscriber
Get unlimited access to thousands of curated premium stories, newspapers and 5,000+ magazines
READ THE ENTIRE ISSUE
September 23, 2020