The secrets of successful duck flighting
Shooting Times & Country
|
September 23, 2020
Shooting a flightpond can be a hit and-miss affair, but Mike Swan has some tips to boost your chances
There is hardly a more exciting sound in the world of shooting than the rush of air through duck wings as they drop in at evening flight.
Every time I hear that tearing sound, my hackles rise and while waiting by a flight pond does not quite have the magic of a foreshore splash on a winter dusk, it's still a thrilling experience. These are wild birds, so you never know what you are going to see and a blank is always a possibility, but there is much that you can do to maximise your chances.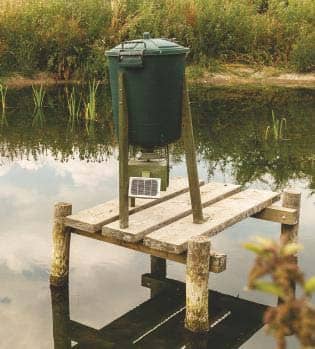 Look after your pond
Ponds are an ephemeral habitat and, in the natural course of things, they are virtually always trying to turn into swamp. Over time, silt builds up, water gets shallower, emergent vegetation colonises and eventually willows take over and turn the pond into a patch of wet woodland.
Keeping your pond open is crucial to attracting ducks, so always be ready to cut back invasive vegetation. If needs be, cut back tree cover alongside, too. Little saplings quickly turn into big trees, shading out the water and potentially making access hard for ducks. They will also deter wigeon, which like wide-open pools.
While the natural food in a small pond may feed a few birds, in most cases it runs out early in the season and you need to offer something extra to attract birds. Many things can be used and the old books talk of chucking rabbit guts into a pond. In my early days at GWCT, I was regaled with tales of ducks being fed rotting bananas requisitioned after a dock strike in Southampton. While these may work, they are not very eco-friendly, with a serious risk of polluting the pond and reducing its wildlife value.
You can read up to 3 premium stories before you subscribe to Magzter GOLD
Log in, if you are already a subscriber
Get unlimited access to thousands of curated premium stories, newspapers and 5,000+ magazines
READ THE ENTIRE ISSUE
September 23, 2020