The past is a grey area
Shooting Times & Country
|
September 09, 2020
The wild English partridge was once abundant and had a complex relationship with man that remains to this day, says Patrick Laurie
It takes a hard heart to ignore the sound of partridges in the dusk. You can hardly call it birdsong, but when greys chirrup and skirl in the gloom of an early autumn evening, the hair will stand up on your neck. Here is the eerie sound of history itself. Grey partridges have provided the soundtrack to life in rural communities for thousands of years, right across Europe from Ireland to the Russian steppe.
Greys flourished alongside early agriculture as ancient forests were cleared to make way for fields and open habitats. They've been living in our pockets ever since, booming in numbers that would have been impossible without the changes man has pressed upon the natural world.
Man has always enjoyed a two-way relationship with these birds and for every covey found pecking around a cornfield, one or two would end up roasting on a spit. Partridge bones are among the most common discoveries at archaeological sites. There are long catalogues of such findings from across Europe and the mind boggles at how some of these tiny and ambiguous fragments were ever accurately identified.
Studying a photograph of a partridge bone fragment discovered in a late Bronze Age midden in Poland, it looks more like a mouldy cornflake than anything you might recognise from a living bird. Fortunately, there is a range of scientific techniques that identify these minute scraps of bone beyond any reasonable doubt.
Partridge remains are found in midden sites dating from the Roman period and in Britain they persist all the way through the Dark Ages to the time of Vikings and the early Saxon monarchs. Anybody who has eaten a nicely roasted partridge will understand why our ancestors should have favoured the plump, abundant bird as a delicacy, but it is harder to find evidence that reveals how they were hunted and brought to the table.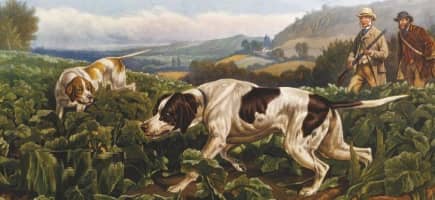 In the modern age of firearms, it is easy to forget about traditional hunting techniques. Over the past 10 years, snares have become a highly specialised tool for catching rabbits and foxes, but the original ones were some of our most ancient hunting tools. Simple, cheap and easy to make, there would have been a time when snares hung in the eaves of every hut and homestead in Britain.
You can read up to 3 premium stories before you subscribe to Magzter GOLD
Log in, if you are already a subscriber
Get unlimited access to thousands of curated premium stories, newspapers and 5,000+ magazines
READ THE ENTIRE ISSUE
September 09, 2020