The Stuff of Dreams
Shooting Times & Country|November 27, 2019
A November mixed day has it all, from testing conditions to sporting birds, good company and a peerless breakfast, says Simon Garnham
What would be your dream sporting day? The highest driven birds? A red deer stalked across Highlands peaks? Salmon caught on a fly?
It's the kind of question that can fuel many happy hours of debate over a good Scotch. I decided this winter to stop dreaming and start doing. This is the tale of my day.
Starting early in a pre-dawn gale, three friends and I met outside the village butcher's. Charlie Hutley is a farmer, Michael Scarfe and John English are engineers. They are keen and accomplished Shots. The excitement was palpable, even though the hour was decidedly anti-social. Through the Essex lanes we drove to link up with friend and keeper Liam Fearis, who was to be our host for the day.
After a strong coffee and a catch-up in Liam's comfortable shoot kitchen, he split us into pairs and we headed to the River Colne saltings.
Settled on the edge of Alresford creek in the shadow of All Saints Church, it wasn't long before Charlie and I were in action. A pair of mallard flew strongly with the gale behind them and I dropped the second of the two in the pre-dawn half light. It crash-landed behind Charlie with a satisfying thump.
Now more birds were on the move. On the coast, Michael and John started the morning with five shots in rapid succession. Liam had explained that they were likely to be among the wigeon and teal, while Charlie and I stood a better chance of mallard and geese. A week of northerly air streams promised wild migrants as well as a healthy population of native wildfowl.
As the blackness of night turned to silver grey, I peered intently into the gloom and the shapes of long-dead ghostly elms became slowly clearer. Somewhere, only a few hundred metres away, mallard burbled and called to one another. Behind, a shot from Charlie's ancient Belgian side-by-side sent a pack of perhaps a dozen teal bomb-bursting vertically into the teeth of the wind. They were too good for me and all escaped unscathed.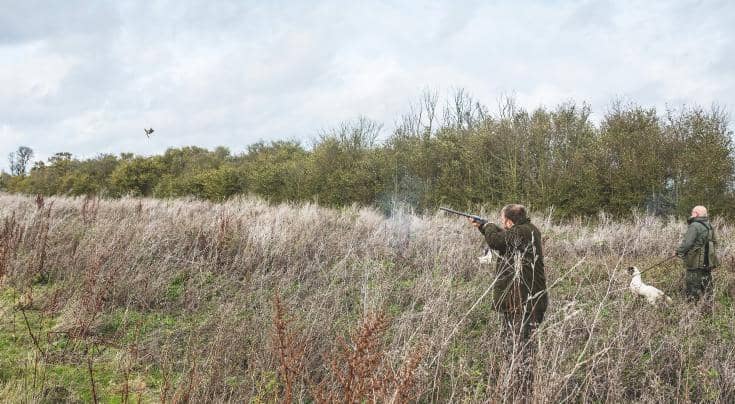 Mallard
A heron croaked and retched his displeasure. A light flickered into life in the window of the distant tide mill and another volley of shots from Michael and John suggested that they, too, were enjoying the flight. I sent Tess to search for the mallard that had fallen farther away than I had thought and Charlie broke cover to help put us in the right direction.
Liam rejoined us and his spaniels bounded into the hunt as a watery sun cast a pale glow in the eastern sky.
You can read up to 3 premium stories before you subscribe to Magzter GOLD
Log in, if you are already a subscriber
Get unlimited access to thousands of curated premium stories and 5,000+ magazines
READ THE ENTIRE ISSUE
November 27, 2019