Righting a terrible wrong
Shooting Times & Country|March 18, 2020
The value of hard-won hillcraft is brought into sharp focus when stalking a hind amid the snow-covered mountains of Cumbria almost ends in disaster.
Mountains, particularly snow-covered mountains, are so alien to those of us who hail from Suffolk that they tend to induce an open-mouthed, silent stare of incredulity. An identical reaction, I learned, is seen in Londoners too. Thus stood James Chiavarini and I, maws agape, craning our necks to the heavens as the peaks of Borrowdale, dusted with white, reared over us.
For the previous hour, we had driven back and forth along the A6, glassing the escarpments of the Bagot family's Forest Hall estate from a series of laybys while the oblivious outside world sped by in their lorries and cars. Jonathan Standing, our stalker and guide, had spotted a herd of red hinds grazing on the tops. He now wanted to see where they would head and lie up to chew the cud.
Early March is the time to cull the hinds. The herd of 17 were still fractious; two hinds boxed one another, their russet frames showing starkly against the drifted snow that lay thickly in shadowed gullies.
With a lifetime's experience of these hills, Jonathan made a call that now was the time to move to the valley bottom, leave our vehicles and start our long stalk to where he believed the hinds would make their couch. Snow buntings fussed behind us, unsettled by a group of workmen who were toiling on a mains water pipe — cold, punishing work in this cold and punishing place.
Fluting curlew made themselves heard over the roar of the swollen beck as we pulled on more layers of clothing prior to setting off into the tops. Jonathan opened the back of his truck to allow Irka to descend.
Irka is a stunning dog, a Hanoverian schweisshund, dark of head with a light brindle body. Her amber eyes disdained to look at James and I, caring only to eye the hill or ogle Jonathan. It would be difficult to say which she loved the more.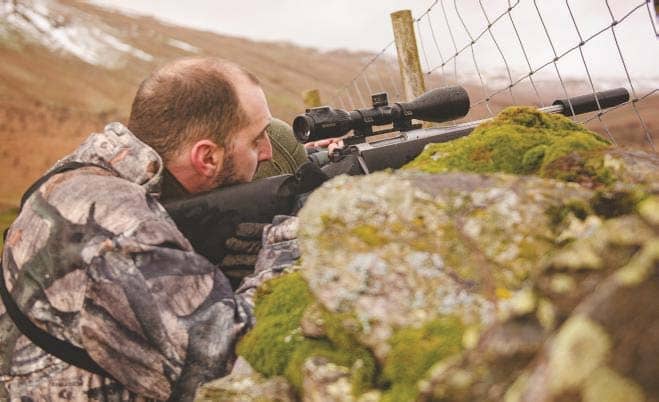 Blizzard
You can read upto 3 premium stories before you subscribe to Magzter GOLD
Log-in, if you are already a subscriber
Get unlimited access to thousands of curated premium stories and 5,000+ magazines
READ THE ENTIRE ISSUE
March 18, 2020