Muntjac Manoeuvres
Shooting Times & Country|June 24, 2020
Muntjac are much more likely to respond to the cry of a distressed family member than a potential mate
Every stalker knows that it is possible to call roe deer in the rut. Indeed, over many decades German hunters elevated almost to an art form the luring of randy roebucks to their doom by using no more than a beech leaf stretched between their two thumbs. Until recently, however, few people realized that the same trick could be played on the muntjac.
When you think about it, it is hardly surprising that a creature that evolved for millennia in the dense forests and thickets of South- East Asia responds to sound. We have all heard muntjac bark, sometimes for extended periods of 40 minutes or so, and it thus takes no great leap of understanding to appreciate that audible communication plays a crucial part in the life of these little deer.
So what sound can we make that will draw a muntjac out of the security of a deep thicket to a position in which we can lose offa well-aimed round at it? Rutting roebucks, as we know, will come to the imitation of the sound of a doe in oestrus. With the muntjac, however, it is not a sexual attraction but the protective instinct shown by an adult to a threatened youngster that can be used to bring both bucks and does to their untimely demise.
I have heard the sound for real only once. I was talking quietly along the edge of a favorite wood one spring morning when I heard, maybe 30 yards inside the wood, a plaintive squeak. As I lay flat on the ground so that I could not be seen, the squeak was repeated half-a-dozen times, with the space of about six seconds between squeaks. The same interval, in fact, as that which you might expect between the individual barks of a territorial buck. It was the sound of a muntjac fawn, presumably being challenged by a predator – most probably a fox.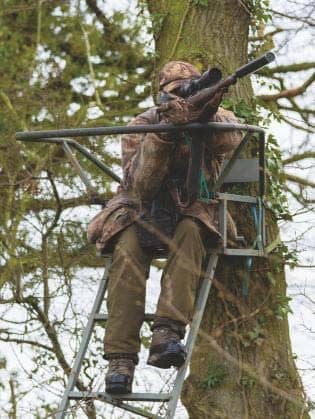 Following the fawn
You can read up to 3 premium stories before you subscribe to Magzter GOLD
Log in, if you are already a subscriber
Get unlimited access to thousands of curated premium stories and 5,000+ magazines
READ THE ENTIRE ISSUE
June 24, 2020