Marvel at the mayfly
Shooting Times & Country|May 27, 2020
It has been around for millions of years, yet we are still fascinated by the brief but brilliant life of the mayfly
It is a food supply to many species, gives pleasure to many others simply by being there, and, for the angler, its arrival is highly anticipated every year.
The mayfly is part of the family of ephemeroptera, which comprises around 3,000 species worldwide. Though our 'mayfly' is numerous, some of the hatches seen in other parts of the world put ours in the shade.
While the most famous member of the family in this country is the March brown, Rhithrogena germanica, the lifecycle of the family as a whole is similar and, as insects go, complicated. It may be because it is a very old order. There are specimens in amber, and other materials, dating back millions of years, that are similar to today's insects.
They are characterised by their upright wings, which on examination will show strong vein patterns throughout, vital for supplying the energy to enable the insect to fly. These wings, unlike those of modern flies, do not fold down onto the body but stay upright throughout the mayfly's life, which as an adult is rather short — in some cases minutes, in others but a few days — just long enough to mate and keep the species going.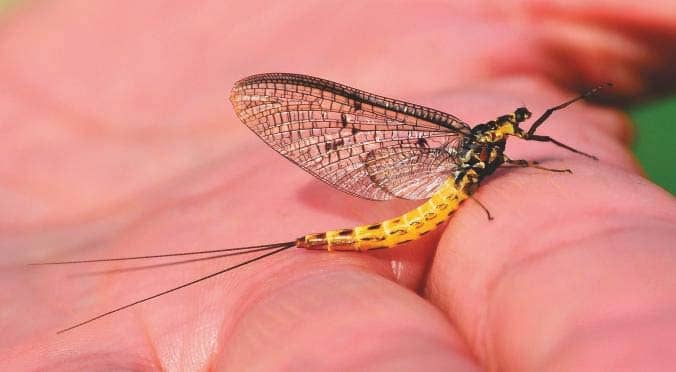 You can read up to 3 premium stories before you subscribe to Magzter GOLD
Log in, if you are already a subscriber
Get unlimited access to thousands of curated premium stories and 5,000+ magazines
READ THE ENTIRE ISSUE
May 27, 2020