Keeping an eye on you
Shooting Times & Country|May 13, 2020
How well can deer species see and why does the blaze orange of European hunters not expose them? Graham Downing investigates
Frost still clung to the grey carpet of oak leaves that clothed the forest floor. My breath hung around me in wreaths and you could cut the silence with a knife. I had been waiting on my stand in northern Alsace for perhaps an hour when I heard the doe, her delicate footfalls betrayed by the faint whisper of frosted leaves, which she kicked up as she headed straight towards me.
To human eyes I was lit up like a lighthouse. My regulation blaze camouflage gilet and bright-orange cap stood out like a beacon against those sombre winter oaks, but on she trotted, clearly more concerned about the beating line behind her than the fluorescent apparition now no more than 40 yards in front. Until, that is, I lifted my rifle. At that moment she turned through 90° and ran for dear life. But it was too late: my bullet struck her in the chest and she lurched forward a dozen yards before falling to the ground.
We British stalkers who sport the latest camouflage patterns often find it strange that our European friends, who for safety reasons wear blaze orange when hunting driven deer or wild boar, don't spook more deer than they shoot. The answer lies in the fact that a deer's eyes have evolved to work best with short-wavelength light. This means they can see blues, greens and UV light far better than they can perceive red and orange. While the science that confirmed this was conducted in the US on white-tailed deer, the principle seems to hold good for our European species, too. So while my blaze orange clothing ensured that I could be seen by my neighbouring Rifles, it did not alert the roe to my presence until I moved.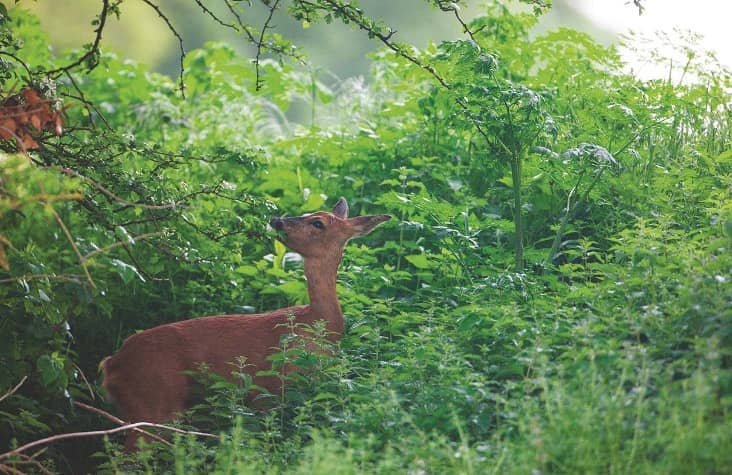 Movement, of course, is the crucial factor. I have lost count of the times that deer have quite obviously clocked me while I am out in the woods but have reacted more with curiosity than with terror. Provided that I remain motionless for long enough, they often revert to browsing or grazing, allowing me either to bring my rifle to bear or, if they are not on the day's menu, to slip away and avoid their alerting others of their kind to the threat posed by a prowling hunter.
You can read up to 3 premium stories before you subscribe to Magzter GOLD
Log in, if you are already a subscriber
Get unlimited access to thousands of curated premium stories and 5,000+ magazines
READ THE ENTIRE ISSUE
May 13, 2020