Hare restorer
Shooting Times & Country
|
August 05, 2020
The stress of an ever-changing habitat is taking its toll on the hare population, but there are things we can do to boost their numbers
Harvest time is a very stressful one for the brown hare. Even though there is no food shortage, hares can find this time of change hard to bear. One minute there are golden flowing acres of crops, the next the combine has shaved them away, and soon after cultivation and drilling bring great areas of bare earth.
Every year at this time, the GWCT receives reports of hares found dead but, on the investigation, they are usually found to be in the good physical condition and not emaciated or starved. However, it seems that the stresses of a rapidly changing world make them prone to disease flare-ups, and the hares' own personal type of coccidiosis has often been implicated in these sudden die-offs.
It always strikes me that hares live their lives on something of a knife-edge – they are such hyperactive animals. Even the hare 'frozen' in its form is fully alert and wound up like a coiled spring ready to burst into action if its strategy of not moving to avoid detection looks likely to fail.
Everyone loves hares, and I guess that their crazy springtime frolics are part of that. For a long time, boxing hares were assumed to be rival males, but we now know that the scrap is actually initiated by a female who is telling her suitor that he is pressing home his advances when she is not ready. This also explains why there can be three or more hares in a row when they follow one another closely; the female in front is being followed by two or more hopeful males.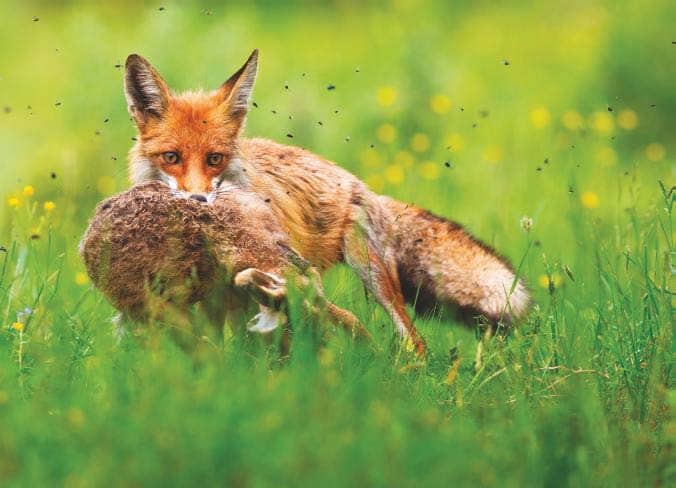 Mad March hares
You can read up to 3 premium stories before you subscribe to Magzter GOLD
Log in, if you are already a subscriber
Get unlimited access to thousands of curated premium stories, newspapers and 5,000+ magazines
READ THE ENTIRE ISSUE
August 05, 2020