Grouse — the ifs and butts
Shooting Times & Country|June 17, 2020
With the virus still lingering, there's a huge question mark over the season ahead but it could still be glorious, says Patrick Laurie
It is hard to imagine a more extraordinary year. It's been encouraging to find that our shooting community has taken the initiative in working through some difficult conditions imposed by the COVID-19 lockdown. Here in Galloway, several of our local low-ground shoots have decided to proceed as planned with the 2020-21 season, sensibly taking all precaution to ensure that Guns and beaters will be safe from the disease. Other shoots have cancelled their sporting schedules altogether. Only time will tell what the best course of action will be.
With the grouse shooting season fast approaching, many of the main factors that determine a successful season are already cast in stone. Used to working in isolation, many grouse keepers will have found it easy to adapt to a period of social distancing.
While many other workers found themselves furloughed, remote rural communities were often able to carry their work on as normal in the hills. The spring and early summer are important for the season ahead, and it's hard for keepers to 'take a break' from their duties without causing major problems down the line.
Concerns
It's clear that grouse depend heavily on weather conditions for a successful breeding season and, quite apart from concerns about the virus, the impact of the prolonged dry period will cast a long shadow into the autumn.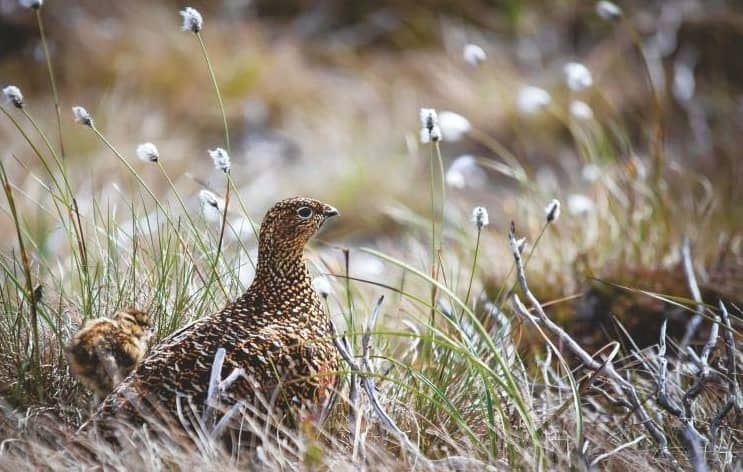 The first signs of concern came in March when grouse hens were trying to put on condition before laying their eggs. A persistently cold easterly wind meant that the all-important moss crop was delayed in many places. When it did finally emerge, it seemed patchy. Moss crop is the local name for cotton grass shoots that are packed with sugar and minerals. Grouse depend upon this early boost to lay down energy and resources.
You can read up to 3 premium stories before you subscribe to Magzter GOLD
Log in, if you are already a subscriber
Get unlimited access to thousands of curated premium stories and 5,000+ magazines
READ THE ENTIRE ISSUE
June 17, 2020