Every Day's A School Day
Shooting Times & Country|November 27, 2019
Having turned 60 acres into a successful driven shoot, a headmaster is now investing in the next generation discovers Patrick Galbraith
We were huddled together in an old Dumfriesshire farmhouse kitchen, with rain bouncing off the windows. "Whether we hit 10 birds today or 100 matters not," announced 14-year-old Charlie Hattam, who was standing at the front with a broken arm, "but what does matter is safety."
Dotted round the room, hanging on every word of the shoot briefing, were children as young as 11. The Lagg Farm shoot, which was started only five years ago, is the sort of thing lots of us dream of creating but, for one reason or another, most of us never quite find the time or the energy.
When Charlie's father, Chris, bought Lagg Farm, it consisted of 60 acres; admittedly a much smaller plot than most shoots are run on. But having worked alongside Shooting Times's expert on modest shoot management, Laurence Catlow, when they were masters at Sedbergh, Chris knew "what could be achieved on a smallish patch".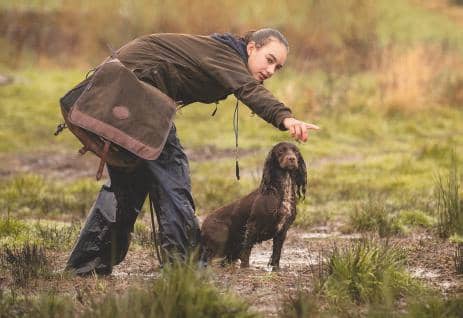 On the first drive , I was standing a little down the hill from 11-yearold Archie Scarbrough, who was shooting with a borrowed .410 under the watchful eye of his father Dan. Those of you who follow rugby will remember seeing Dan flying down the wing for England in the early 2000s, with a mop of bright curly blond hair.
Almost as soon as the beaters entered the cover crop in front of us, a large covey of partridges took to the grey sky. I picked one out over my right shoulder and then — breaking one of the most important rules of good shooting — I changed my mind at the last minute and fluffed a shot at another bird, which flicked slightly as if it were glanced by a pellet.
Watching the covey disappear into the fog, I spotted a lone hen pheasant flying straight for Archie, who had seen it too and had his .410 at the ready as though he was about to go on a bayonet charge. He mounted the gun, fired, then fired again. Neither shot found its mark and I, too, missed the bird with both barrels.
On the way to the second drive, I fell into step with Iain Howatt, who looks after the shoot in tandem with his father Geordie — an experienced local keeper — when Chris is doing his day job as headmaster at The Elms prep school in Malvern.
You can read up to 3 premium stories before you subscribe to Magzter GOLD
Log in, if you are already a subscriber
Get unlimited access to thousands of curated premium stories and 5,000+ magazines
READ THE ENTIRE ISSUE
November 27, 2019