Enjoying mist opportunities
Shooting Times & Country
|
September 23, 2020
Disappointment turns to elation for Ed Wills on his first grouse shoot of the season
Baking in 29-degree heat in Northumberland on the Glorious Twelfth with a tepid glass of whisky in my hand, I had high hopes for fantastic weather for the next day when I would be walking up onto the moor for a day of grouse shooting.
The landscape was breathtakingly beautiful. I was staying in a valley made up of grass paddocks, with some docile sheep and cattle lying lazily under lone trees.
I was chatting with head keeper Alan Prewitt about the numbers of grouse we could expect. "We've had a fairly good spring and, hopefully, we will see good numbers of grouse. Just make sure you don't shoot a black grouse."
This last bit of information caught me off guard and, seeing the surprise on my face, he beckoned me over to one of the grass paddocks that stood adjacent to the house we were staying in. He pointed to the far corner of the field next to a drystone wall and said: "If they look like that, don't shoot."
I squinted to where he was pointing and I could see five black shapes waddling across the grass. I had seen blackcock before but never this many in one place at one time. I went to sleep dreaming of rolling hills covered in pink heather and grouse, both red and black, curling quickly in the wind towards me.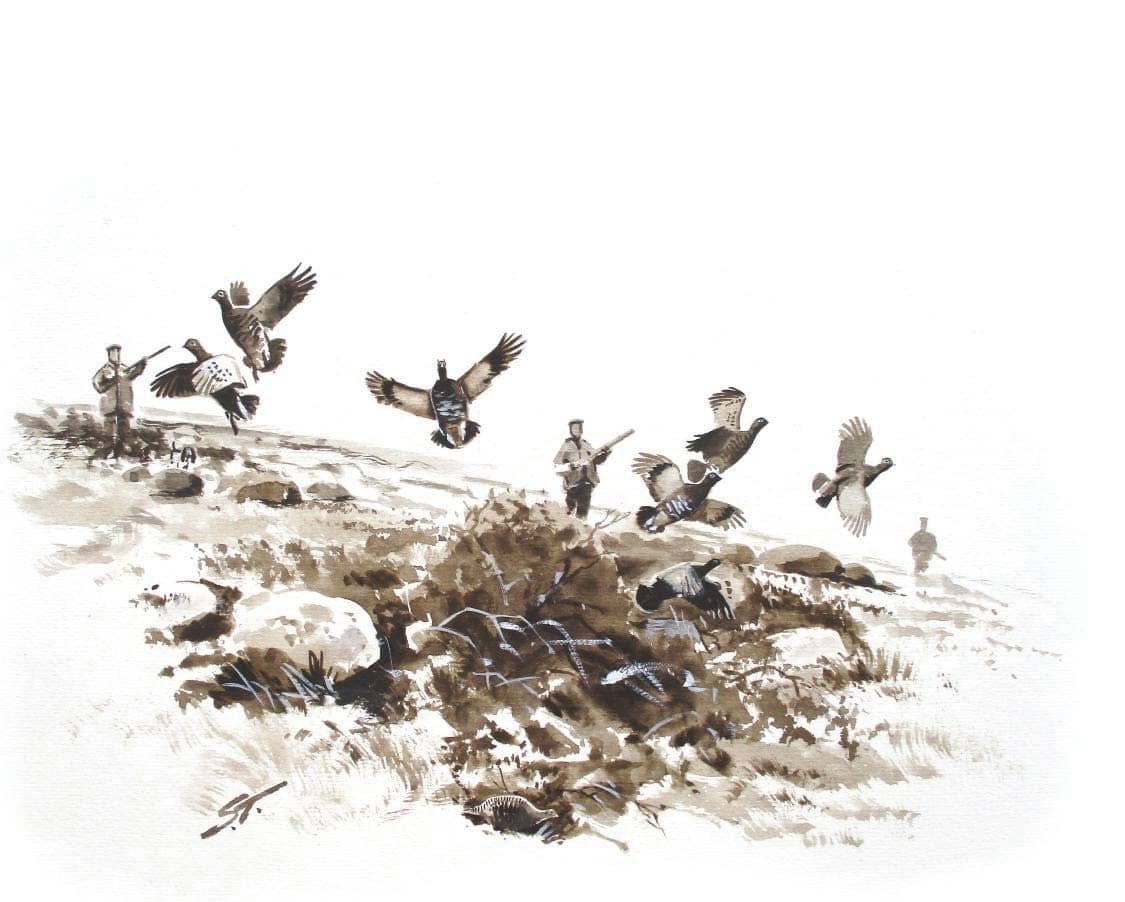 Carpet of fog
The next morning, the guests pulled back their curtains to a carpet of fog that obscured the beautiful valley that had shone the day before. At breakfast, it was decided to make a try for it and see whether it might clear. We walked up to the top of the moor, startling the odd lapwing that disappeared off into the mist with a shrill "peewit". Sitting in a lunch hut at just under 2,000ft, we stared at the white blanket in front of our faces and waited for something to happen. It wasn't until five hours — and several card games — later that it was announced there was nothing to be gained, and we trudged back down the hill, feeling disheartened.
Generous offer
You can read up to 3 premium stories before you subscribe to Magzter GOLD
Log in, if you are already a subscriber
Get unlimited access to thousands of curated premium stories, newspapers and 5,000+ magazines
READ THE ENTIRE ISSUE
September 23, 2020