Dogger fisher
Shooting Times & Country
|
August 05, 2020
Every dog has its day but which breed catches the biggest trout? Armed with an array of dog fur flies, Richard Negus sets forth
The Roman author and teacher Claudius Aelianus is credited with being the first to record the use of artificial flies in angling. Writing towards the end of the second century, he described the practices of Macedonian anglers on the Astraeus River comprehensively: "They have planned a snare for the fish, and get the better of them by their fisherman's craft. They fasten red wool round a hook, and fit on to the wool two feathers which grow under a cock's wattles, which in colour are like wax."
Claudius, sadly, does not note if the Macedonians included any dog fur in their flies. Dog hair has been used in fly-tying for generations. This is hardly surprising because as any angler who keeps their dog in the house knows, an endless supply is always ready to hand — on the sofa, armchairs, carpet, spare room bed and 1,000 other places.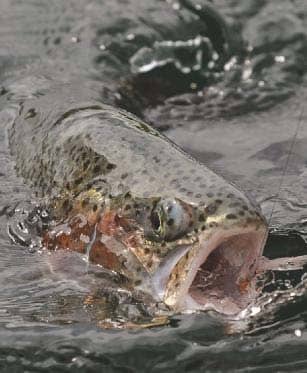 Roguish genius
The roguish genius Hugh Falkus famously fashioned a winning seatrout pattern using hairs he pilfered from a sleeping retriever, owned by an acquaintance with whom he was staying for the night. Allegedly, he added extra movement to the lure by using a wisp of human tresses. The lustrous locks he tied had adorned the head of his host's attractive wife until she carelessly left the strands on Falkus's pillow having silently slunk from his guest room before dawn.
Ask a group of anglers for their favoured killing fly pattern and a rancorous debate is guaranteed, much in the same way as if one enquires of a group of Guns which gundog breed they believe to be superior. To tie these two thorny issues together, I returned to Falkusian canine flies.
I decided it was high time to find a definitive answer to a question that has plagued field sportsmen and women for centuries. Namely, which breed of dog catches the biggest trout?
To achieve a truly sporting dog-hair fly, I reasoned, the gundog should be the go-to group. Many breeds are renowned for the water-repelling qualities of their coats and are, if my aquatic cocker Mabel is anything to go by, more fish than dog.
You can read up to 3 premium stories before you subscribe to Magzter GOLD
Log in, if you are already a subscriber
Get unlimited access to thousands of curated premium stories, newspapers and 5,000+ magazines
READ THE ENTIRE ISSUE
August 05, 2020