Britain: blessed with the finest grouse?
Shooting Times & Country
|
August 12, 2020
From red to ruffed, the grouse family is extensive — but which of them provides the toughest hunting, wonders David Tomlinson
When we talk about grouse, we are invariably speaking about our native red grouse, Lagopus lagopus, regarded by many as the king of gamebirds.
There are, however, no fewer than 17 species of grouse in the world, all in the northern hemisphere, most of which offer their own special sporting challenge.
Does the red grouse really deserve its number one slot?
Red grouse/willow grouse
The most widely distributed of all the grouse species, the willow grouse can be found in an almost unbroken band right round the northern hemisphere.
Britain's red grouse was once regarded as a full species in its own right, but ornithologists eventually lumped it in with the willow grouse.
The two are virtually identical in every aspect except for plumage. Red grouse remain a shade of red in every plumage, but the willow grouse turns white in winter and retains white wings even in summer.
Of all the grouse species, this is the one that is most widely hunted. Here in Britain the annual bag may be as high as half a million birds, though this is considerably fewer than the 2.5 million shot in 1911, when driven grouse shooting reached its zenith. What is significant about the British bag is that these birds, all of them wild, are harvested from a relatively small area.
In Russia, the annual bag of willow grouse is measured in the millions, with some estimates putting the figure as high as eight million. However, these are shot over a vast area and bags are always small.
Only in the UK does the high density of birds allow driven shooting, making it a uniquely British sport. Elsewhere, willow grouse are usually hunted with pointing dogs.
Rock ptarmigan and white-tailed ptarmigan
Almost as widely distributed as the willow grouse, the rock ptarmigan is a true arctic species — no bird lives further north than this.
There are, however, relict populations as far south as the Pyrenees and Alps, and even the Japanese Alps in central Honshu.
Ptarmigan have long been subsistence-hunted by the native people of the high arctic, but the challenge of shooting them comes from the difficult terrain in which they live, rather than from the birds themselves, which are typically tame and approachable.
The same is true of the very similar white-tailed ptarmigan, a North American species found from Alaska south to New Mexico.
You can hunt these ptarmigan in Colorado, but be prepared to hike to 12,000ft before you see your first bird.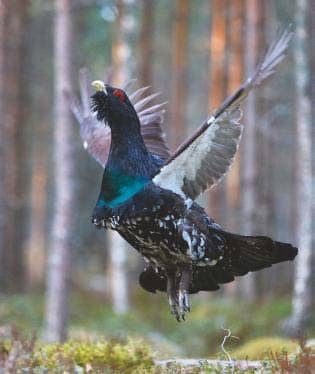 Western capercaillie and black-billed capercaillie
You can read up to 3 premium stories before you subscribe to Magzter GOLD
Log in, if you are already a subscriber
Get unlimited access to thousands of curated premium stories, newspapers and 5,000+ magazines
READ THE ENTIRE ISSUE
August 12, 2020