Be brave: go exotic
Shooting Times & Country|July 01, 2020
David Tomlinson suggests some unusual gundog breeds for the adventurous Gun who fancies something a little bit different
A couple of years ago I went to photograph dogs on a local shoot. All but one of the Guns arrived in a Range Rover, Discovery or similar modern 4x4: the one exception drove up in a Series I Land Rover. It was a 1958 SWB model, and had been beautifully restored. It looked tiny when parked alongside the latest crop of off-roaders, and I was fascinated to see its owner open the back door to reveal a handsome pair of flat-coated retrievers. While working flat-coats may not be rarities, they are sufficiently unusual to be noteworthy.
I later chatted to the Land Rover man, who told me that he had owned his machine for more than 30 years and had restored it himself. He went on say that he used to have labradors, but had switched to flat-coats as he fancied something different that would complement the Land Rover. There are many similarities between a classic car and one of the less common breeds of gundog, he explained. They both require a great deal of work, but the satisfaction of ownership is the reward.
It's a sentiment that makes a great deal of sense to me as I've long argued that there is a connection between the two. Owners of classic cars tend to be enthusiasts. Early Land Rovers, for example, are noisy, cramped and uncomfortable, but they ooze charm. Our rarer breeds of gundogs generally appeal to a similar sort of enthusiast, prepared to overlook the dog's shortcomings because it is different — and most likely good-looking, too. You may have to be brave to be different, but there's no doubt that for a wildfowler a Chesapeake makes much more sense than a springer. Similarly, cockers — the currently fashionable do-everything dogs — do not like sitting at pegs: if you are principally a driven shooter, a flat coat would certainly be a better bet. Many labradors go rough shooting, but Clumbers are great hedgerow hunters, as good a reason as any to give one a try.
Of course most of the more exotic breeds are rare for a reason. It may be because that many generations have been bred for show or as pets, rather than for work, so it takes time to reignite the working instinct. Another reason may be that a particular breed is simply hard to train or slow to mature.
Just as restoring and maintaining a classic car is a challenge, so too is training and handling a classic or exotic gundog, but the rewards are many. If you fancy giving it a try, here's my guide to the best breeds to consider.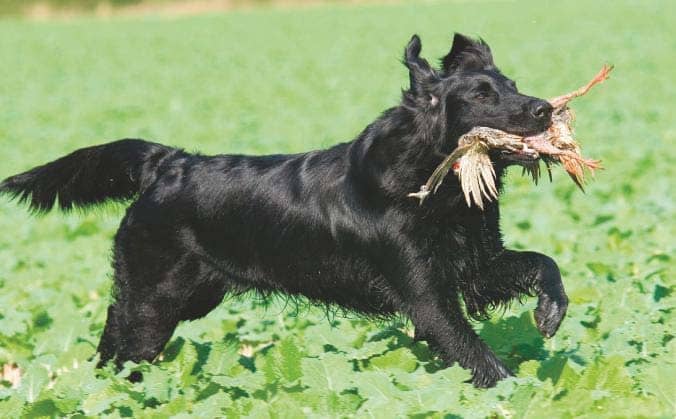 Flatcoated retriever
A breed that reached its peak of popularity before the First World War. By the time that Archduke Franz Ferdinand has been assassinated in Sarajevo, the flatcoat was already in decline. Today it remains a remarkably popular breed in the show ring, but good workers are in short supply.
Often described as the Peter Pan of the gundog world because they are notoriously slow to mature, flatcoats are renowned for good noses and soft mouths, and a well-trained individual can make the perfect peg dog, or a brace or trio an impeccable picking-up team.
You can read up to 3 premium stories before you subscribe to Magzter GOLD
Log in, if you are already a subscriber
Get unlimited access to thousands of curated premium stories and 5,000+ magazines
READ THE ENTIRE ISSUE
July 01, 2020