A captive audience
Shooting Times & Country|May 20, 2020
The sanctuary at Peakirk provides an education in wildfowl, says Petrel, while the Borough Fen duck decoy is a nostalgic reminder of times past
On the first Saturday of May, the bulk of the heavier traffic on the A1 was moving south, loaded to the gunwales with favour-decked supporters of Leicester City football team speeding to join a madding crowd packed cheek by jowl around the Wembley greensward.
Four of us headed north for more peaceful lawns. Our goal was the Peakirk Waterfowl Gardens, on the northern side of Peterborough, 11 acres of wildfowl sanctuary, where artist fowler Noel Dudley looks after 550 duck, geese and swans for the Wildfowl Trust.
Five years ago this site was a withy bed and council tip. Today the only link with its ugly past is the occasional piece of a perambulator that may come to light in the course of pond clearance. In the place of rubbish, tangled acres of bramble and the withies, terraced streams, linking a succession of ponds, glide slowly between close-trimmed lawns and banks. On them shrubs and nettly long grass combine to relieve the tidiness and, at the same time, provide nesting cover for the fowl that live within the surrounding wire fence.
Close to the road on two sides, the sanctuary needs a wire fence to keep out intruders and this, with its loose hanging anti-fox climbing overlay, has been constructed entirely by the two men and a boy employed.
Small boys on egging bent have at times been known to attempt a pincer raid from without — and have been caught in possession by policemen, who have patted their pockets with messy results within. But the curator admitted to me that he was not entirely happy about weasels, which, he was certain, could gain access through the half-inch wire employed for the bottom 2ft of the fence.
With this I could only concur and wondered that no tunnel traps were kept set around the perimeter. Equally I was surprised that no drastic action of the sort common on most game preserves was taken against the crows seen floating above the gardens, even when some 20 visitors were walking round the collection.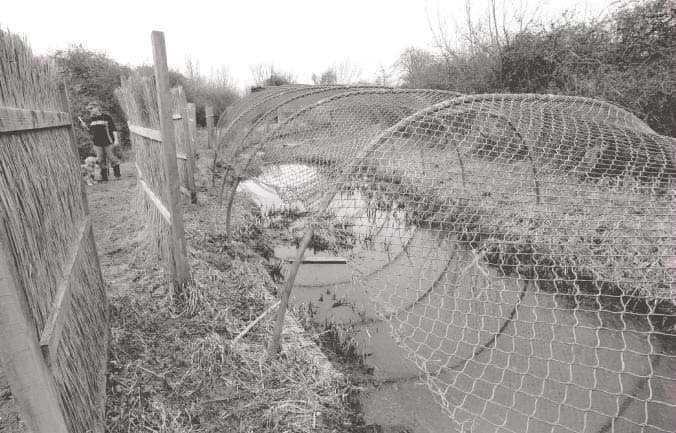 Vigilance
You can read up to 3 premium stories before you subscribe to Magzter GOLD
Log in, if you are already a subscriber
Get unlimited access to thousands of curated premium stories and 5,000+ magazines
READ THE ENTIRE ISSUE
May 20, 2020