A Plague Of Spiders
Shooting Times & Country|June 24, 2020
Delicious spider crabs are found in abundance off the coast of the UK, so why does nobody eat them any more?
To be perfectly honest, 20 years ago, before I moved to West Dorset, I'd never even heard of spider crabs. Now they are so much a part of my recreational crab-potting and family-feeding fishing life that when talking to others about them, we only ever refer to them as 'spiders'.
The irony is that, although the south coast of England is pretty much plagued with spider crabs at this time of year, practically nobody ever eats them, which is insane because they are delicious.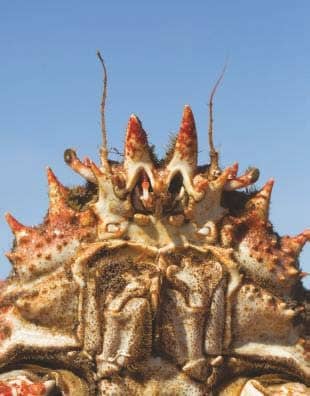 They're like a beautiful mongrel cross between a brown crab and a lobster, having Tim Burton-monster cartoon-like spindly long legs and elongated claws, packed with lobster-like white meat. Inside their dinosaur-Esque spiky armored body shell, they have a sumptuous mixture of soft brown meat and even thicker chunky white muscle meat.
The claws and legs are thick-shelled and take some welly with a hammer to crack open. And the porcupine-like prickly shell makes them a pain to handle when they're alive and even more precarious to yank open after boiling. But the effort and the odd spiked finger or hammer thumped thumb is more than worth it.
Especially if you make spider crab spaghetti or linguini using all the brown and white meat mixed together. Gently warm it in a knob of salty farmhouse butter with some crushed chili and garlic, then fold it into the freshly cooked pasta and serve with fresh parsley and a cold beer or a big glass of white wine.
But I'm getting way ahead of myself here. Before any eating can happen, I have to catch my own big spider crab. And, although there is much talk of a plague of spider crabs in the English Channel during early summer, translating a plague into legal-sized spiders in your boiling pot is not necessarily an easy thing to do.
Abandoned orphan
First, I begged a loan of an inkwell pot from my mate Matt, charter skipper, commercial fisherman, and all-around font of sea-fishing knowledge. He left it sitting on the harbor wall like an abandoned orphan for me to collect.
You can read up to 3 premium stories before you subscribe to Magzter GOLD
Log in, if you are already a subscriber
Get unlimited access to thousands of curated premium stories and 5,000+ magazines
READ THE ENTIRE ISSUE
June 24, 2020