High-tech Trolling
Musky Hunter
|
December 2018/January 2019
Trolling is all about efficiency, and new sonar offerings can take your efforts to a whole new musky-catching level.
What is the hardest part about trolling for muskies? Not getting follows! Without getting any type of feedback until you actually get bit, it can be hard to stick to your guns and trust the method, especially when trying something new.
However, there are new technologies available that can answer your on-the-water trolling questions in real time, maximizing your efficiency while on the water. New electronics will take the guesswork out of the equation and you can leave your gut feelings at home. Garmin's new Panoptix can deliver information to you in ways that simply weren't possible before.
One of the limits of traditional sonar, as well as down imaging and side imaging, is they are only capable of displaying historical data — the only way to scan an area would be to either drive over it or drive past it. The images being displayed on your screen are things you have already passed by. The critical feature that sets Panoptix apart from other technologies is the ability to point the transducer toward what ever you want to look at, and to be able to see images of the desired area in real time.
Think of it as the difference between a series of still pictures and a video. Traditional sonar and side imaging essentially take a series of pictures as you pass by an area and display them one after another very quickly. This gives you a series of accurate readings of what was below or to the side of you at the time your transducer passed over or past it. Therefore, as you drive over a drop-off, the line indicating the bottom appears to be sloping downward. However these images are all historical — they are only showing what was inside the sonar beam at the time they were taken. Panoptix gives you the ability to point your transducer in whatever direction you desire and show you a real time video-like image of the area.
Let's say you are targeting post-spawn muskies that are feeding on schools of Cisco's or whitefish over open water. You are trolling along when your side imaging marks multiple balls of bait fish off to the right of your boat. They show up as white clouds with scattered little marks around a dense inner "ball." Side imaging can be a great tool for locating schools of bait fish like this but the information gained can be somewhat limited. For example, unless you drive directly over the school and manage to get them inside your down imaging cone, the majority of the time you have no indication of their location in the water column. Sometimes with harder returns given off by larger fish, you can get a distinct shadow behind the initial whitish return that will give you an indication as to how far it is holding off the bottom. The farther away the shadow is from the return, the higher off the bottom the object. However, this only gives you a vague idea of where the object is in the water column and tends to only work with larger objects in shallower water. A school of bait fish suspended 10 feet below the surface in 35 feet of water will almost never show a shadow behind the original white returns.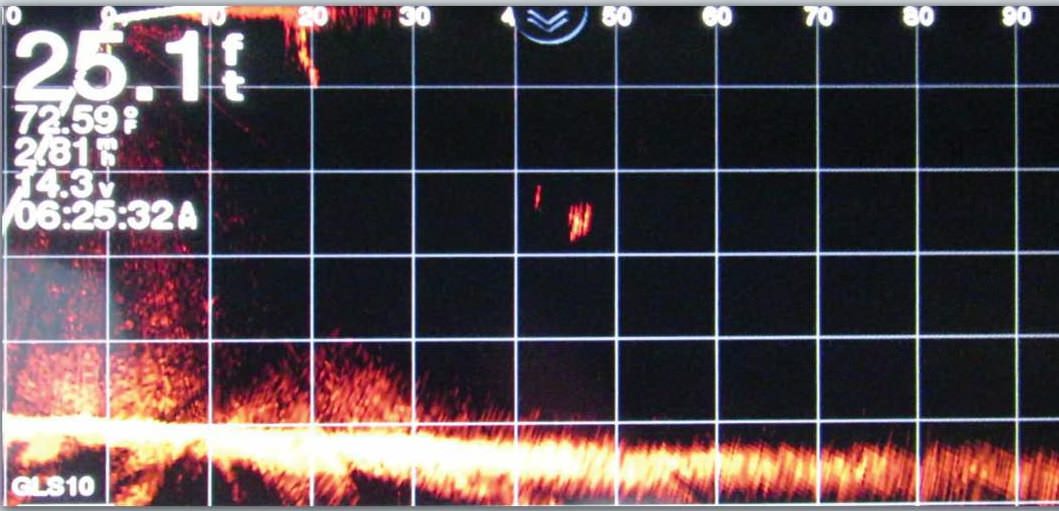 Live Feed
You can read up to 3 premium stories before you subscribe to Magzter GOLD
Log in, if you are already a subscriber
Get unlimited access to thousands of curated premium stories, newspapers and 5,000+ magazines
READ THE ENTIRE ISSUE
December 2018/January 2019