Basin Brutes
Musky Hunter|June/July 2020
CRACK THE CODE OF OPEN WATER BEASTS
Targeting muskies suspended over open water has gained a lot of attention and popularity among musky anglers in recent years. There is a common misconception that these tactics are only effective on lakes with large populations of ciscoes, whitefish or shad, while lakes where muskies rely primarily on panfish tend to get overlooked.
I've spent a lot of time patterning the seasonal movements of muskies and their prey in an effort to gain a better understanding of why fish are frequenting certain areas, and how to use these patterns to put more fish in the boat. There's no question muskies spend a significant amount of time suspended over deep water throughout the summer in the majority of the lakes I fish in northern Wisconsin and Minnesota. Whether it's a deep, clear, Canadian Shield-type lake loaded with ciscoes and whitefish, or a shallow, stained chain of lakes full of perch and crappies, year after year I continue to put fish in the boat from mid June through early August over the main lake basins.
A few key questions come to mind when targeting basin brutes. Why are they seemingly out in the middle of nowhere? Why are the baitfish there? What makes baitfish and muskies continue to use the same spots year after year even though there's seemingly nothing to hold them on those specific spots? Answer these questions and you'll be well on your way to cracking the code of mid lake basins.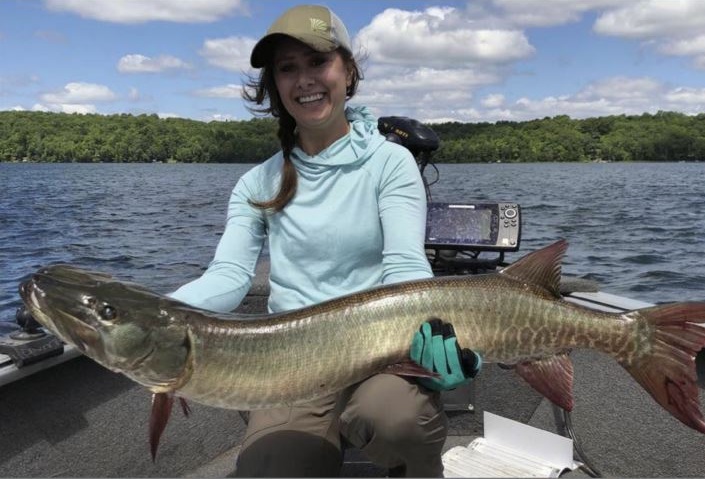 Basin Basics
Let's start with why muskies suspend in open water basins. There are actually several answers to this question, but first and foremost they are looking for food. Every year after they spawn, most muskies immediately take off for the closest deep water they can find. This means for a brief window they can be found suspending over deep water directly adjacent to spawning areas, which makes them a little easier to locate by simply looking at a lake map.
Another big reason they suspend is because in the spring and early summer the weather is still fairly volatile and there can be major temperature fluctuations daily. On any given day the surface temperatures can increase or decrease by as much as 10 degrees, and the areas with the most stable, consistent temperatures are going to be over the deepest parts of the lake — four to 10 feet below the surface. Large swings in temperature are a shock to muskies' systems, and I think that during the post-spawn recovery period they are simply seeking areas with the most stable temperatures.
You can read up to 3 premium stories before you subscribe to Magzter GOLD
Log in, if you are already a subscriber
Get unlimited access to thousands of curated premium stories and 5,000+ magazines
READ THE ENTIRE ISSUE
June/July 2020