Four Top Guides Reveal What Worked And What Didn't During Last Season
How was your musky fishing in 2019? Some of you caught your personal best musky, many caught lots of fish, and some of you struggled — especially early in the season when unstable weather and cooler-than-normal air and water temperatures seemed to be the rule.
To help you prepare for 2020, Musky Hunter asked four top guides from popular musky areas to discuss what they experienced in 2019 and the techniques they used to make their season successful. Learn from their experiences and use their techniques if you face similar conditions in the coming season.
Northern Wisconsin Roller Coaster
By Matt Raley
A late ice-out coupled with cold spring temperatures kept water temperatures down and weed growth minimal on many lakes to start the 2019 season in the Vilas and Oneida county region of Wisconsin where I fish. It could best be described as a roller coaster of a year.
Small baits worked over newly-forming weeds and wood was a key to getting musky action when the season opened. Windows of opportunity were short, but afternoon periods when the water temperature was the warmest seemed to produce a few more bites. Success was seen with small twitchbaits, gliders and bucktails.
When trolling before the water stratifies in the early season, muskies can be anywhere and everywhere. I had some success with net-worthy muskies trolling smaller four- to six-inch baits high in the water column. Such early season patterns persisted well into the middle of June.
Our summer patterns started to show up around the third week of June, but it took some lakes well into July to fire up to their full potential. The summer "bite" is my favorite time of year in this area because of its consistency. No matter the day, the water is warm and muskies have to eat due to their metabolism cranking full speed. During this time, I like to fish large baits quickly and erratically.
The key to making muskies predictable on most lakes is finding an edge. As water starts to stratify it pushes the fish out of the shallow haunts, and in turn pushes the open water roamers to a more specific water depth. Many of the lakes during summer have weed edges in the eight- to 12-foot range, which is a perfect depth for muskies during the warm summer months. You can eliminate a lot of water even if it's your first time on that particular waterbody.
One reason the season was such a roller coster is because the summer bite was late to develop. When it did, water temperatures shot up quickly which in turn put muskies in a sluggish mood. Once it cooled slightly, within a couple weeks the bottom dropped out and then the water temperatures fell fast. Change is good but too much change in a short period will not allow patterns to develop, or maintain those that have.
There typically is a good open water trolling bite in the summer when water stratifies and the thermocline develops. You can see the thermocline on many graphs which gives a starting point of the depth you want your bait running. The key to remember is to troll above the fish and not below.
When cooling nights start to happen in mid to late August, it marks the start of early fall patterns. The muskies start to move up on structure. They will still be on edges early in the period during the day and slide up at low light. As early fall progresses you will find more fish staying shallow throughout the day. This lasts all the way until the turnover period which usually takes place in early October.
Overall I would rate this season as a 5 out of 10. There were several good peaks in the season for me while fishing and guiding, but there were also plenty of periods of tough fishing given the conditions. I was fortunate to win both the Spring Classic and PMTT qualifier on the Eagle River Chain in June with my fishing partner, Nate Osfar, something which I don't think has been done before. We have won each tournament in the past but never in the same season. I also boated the largest musky I have ever caught from Vilas County, measuring 50 inches. On the downside, I had a few days with zero action.
The nice thing about where I guide is there are many options available to fish. There are several hundred lakes to choose from within an hour's radius, including trophy lakes and action water. Even in bad weather or wind, you can find lakes where you can manufacture some musky bites on just about any given day.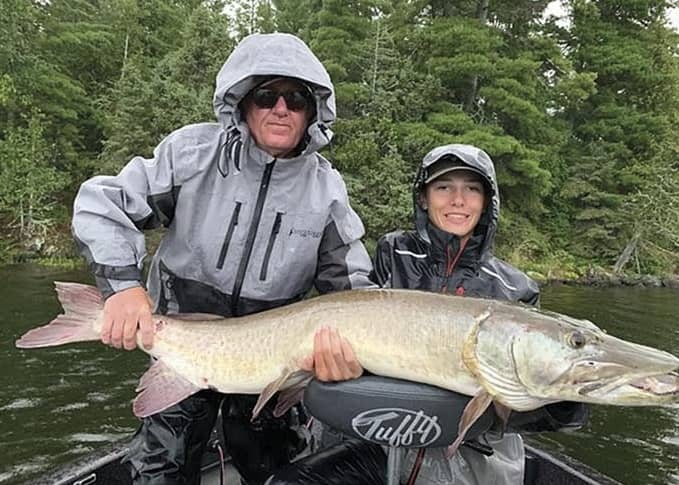 An Offbeat Year On Eagle Lake
By Steve Herbeck
The season started off much better than anticipated with many big musky catches and some of the biggest fish in recent years showing themselves. Fishing was consistent from the opener in June through early August. Mid August through mid September — normally an excellent big fish time on Eagle — was definitely up and down. Finally, by the last half of September and moving through October, Eagle returned to her normal self with lots of catches daily and the big girls asking to dance.
The 2019 season can best be described as excellent at times, then off and on and a bit weird, challenging, and for the most part predictably unpredictable for likely the same reasons some/many experienced elsewhere throughout musky country. First, a colder-than-normal early June stymied spawning a bit in some sections of the lake which threw off the early and recently-discovered early suspended bite. Also, the weed growth, which ended up being the best in years, started out on the slow side which sent many of the muskies following walleyes to deeper water than fished by many anglers. I believe that 70 percent or more of the bigger muskies were in 25 to 35 feet for much of the warm water period.
Continue Reading with Magzter GOLD
Log-in, if you are already a subscriber
Get unlimited access to thousands of curated premium stories and 5,000+ magazines
READ THE ENTIRE ISSUE
December 2019/January 2020