Why Do Fish Do What They Do?
Bob Izumi's Real Fishing
|
Summer 2019
Why do fish do certain things at certain times? Why? I'm asking because I've got a two-year-old granddaughter who's always asking me, "Why?" When I take her out to my pond fishing, or for a walk to show her nature, she's always asking, "Why"?
All through my life I've wondered why you catch fish sometimes and sometimes you don't. Why is that? As I get older I'm finding out more of the reasons but I know I'll never find out all of them.
WEATHER
Years ago I was lucky enough to have some mentors teach me things about the ways of wildlife. I remember once driving to go fishing with an older guy and we saw a bunch of cows in a field that were all standing in a circle on a hill. The weather was changing, and they were all droopy and facing each.
The old guy said, "It's going to be a tough day fishing, it's highly unlikely we'll catch much of anything." I said, "Why did you say that?" He replied, "Well, anytime you go fishing and you see the cows and the other animals really active and feeding the fish are going to be feeding too."
Sure enough, we ended up having a really tough day of fishing.
As I went on in life I was fortunate enough to go to the north a lot and I started asking the native guides questions. They seemed to know whether it would be a good bite or a bad bite. Little things like hearing the birds singing like crazy when you're out there – that's always a good indication; watch the birds.
Just recently in Mexico we were on the water and a guy said, "It's going to be a good bite today because of the bubbles on the water."
They weren't bubbles from gas escaping from the lake bottom, it was just that there are certain bubbles that form on the water when the humidity is right and there's a little bit of wave action. That was during a front that was conducive to these types of bubbles and he knew that. There are just so many things that you can learn from nature.
All through my life I've been a nature watcher and I've been trying to figure out why fish bite. It's easy to figure out or determine a front coming through. The classic is clear, blue skies when maybe it would be better to do the "Honey-do" list and cut the lawn rather than going out fishing. Just before the cold front, or before the lightning starts in the summer, you get that high humidity and you can see the fish going crazy, feeding and moving around.
So, the question is, how do you try to catch fish when that cold front comes. How can you determine their different peaks; when they're going to be aggressive or when they're going to be passive? When are you going to have to force-feed them or make them hit out of anger or instinct rather than out of pure hunger? That's been a lifelong passion of mine, trying to figure that out.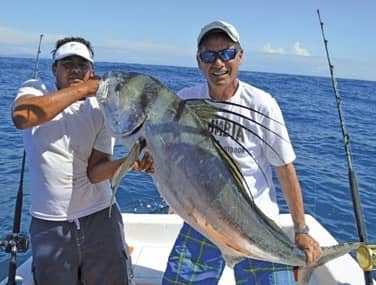 I was recently talking to a guy who was trapping minnows in the St. Lawrence River with glass minnow traps. He said that sometimes you can put the traps down with a little bit of food in them and they're full within minutes. At other times you'll put the trap down, the fish are active, but you pull the trap and you don't have anything in it - even though the conditions are the same. It's not like they disappear under a cold front and move deep or something. Why? Why are they doing that? He doesn't know and I don't know. The minnows still look very active, but they're not feeding. I guess it's sometimes like with humans, sometimes you're really hungry and sometimes you're not.
Here's another thing about humans. My wife is a psychiatric nurse and she said that quite often they have to put on extra shifts when there is a full moon. I do know that if you want to catch a big fish, plan your trips around a full moon. When I look at my historical big fish catches, whether it's a bass or a saltwater roosterfish, my biggest fish have always come around a full moon. I do know that on a full moon you're not going to catch big numbers of fish; if you want to catch a pile of fish the full moon doesn't seem to work.
Old-timers used to tell me that the fish feed at night on a full moon, and I know that a lot of animals will feed at night under a full moon, but why do you have a better chance of catching a monster fish during the daytime of a full moon period. What is it that's different?
My wife's patients become more active and aggressive on a full moon, but it's not at night when this happens, it's during the day of the full moon. I do know, and it can be historically checked when you look at a lot of world record fish catches, the full moon is one of the keys.
Even commercially farmed fish, that you think would eat all the time, are subject to weather changes. At my fish farm, the folks feeding the fish have noticed that the fish eat a lot less under certain conditions. They monitor the volume of food the fish are eating and it goes up and down depending on the type of day. On cold front days they don't have to feed the fish as much.
You can even see this happening to aquarium fish. When I was young I had a small, 10-inch long bass in an aquarium in my basement that I would use as an indicator. When there was a cold front I could put crayfish, minnows or worms into the tank and the bass would not touch them. Before the front hit though, I couldn't put enough food into the tank. That bass would eat so much food that it would literally bulge out at the sides. Even though it was in an unlit basement, surrounded by a concrete foundation, that fish was influenced by the weather outside.
Why do fronts affect fish so much? Is it because they eat so much before the front that they're literally full and don't need to eat for a couple of days afterwards? Or is it something in the front itself? Well, if you ate like a pig on a big holiday weekend, on the Monday you'd be much less likely to eat so much. After that your appetite gradually ramps up and by mid-week you're back to normal.
The real question when it comes to fishing is what triggered the fish to binge feed in the first place. For humans it's usually a big holiday or event but for a fish, what is it about an approaching front that makes them put on the feedbag? After a front a lot of fish will go deeper or into weeds and their strike zone narrows. You have to get a bait right in front of their face before they'll eat.
Is it high pressure? Maybe. If you were full and had somebody pushing on your stomach with high pressure, you probably wouldn't want to eat anything either.
Is it light penetration? A cold front also brings bright sun and clear skies so light penetration could have an effect on fish too. They don't have sunglasses. If you were a walleye with those big eyes you certainly wouldn't want to be in the bright sun so you'd go deeper or tuck into some cover where there was some shade. On a warm front with overcast skies and low light, or rain, you don't need sunglasses and it's likely that fish feel more comfortable moving around and feeding too.
Are fish like humans in how they react to weather? My best days fishing docks have always come when there are a lot of people out on their docks or shorelines actively doing things. When the people are out, the fish seem to be more active as well. I'm not saying to go and fish shorelines or docks where there are people, but if you see lots of folks outside enjoying the day there's a pretty good chance that the fish will be more active too. On the other hand, when the humans disappear and it's a decent day, the fishing usually isn't as good. There seems to be a definite correlation and I've seen it over and over again through my fishing career.
So what do fish and humans have in common that makes them react in similar ways? I guess it's something in the brain but who knows exactly what. As my granddaughter says, "Why?" I guess that's part of fishing. The more you know about these types of behaviours the better a fisherman you'll become because you can respond and react to the conditions as they change.
MIND GAMES
You can read up to 3 premium stories before you subscribe to Magzter GOLD
Log in, if you are already a subscriber
Get unlimited access to thousands of curated premium stories, newspapers and 5,000+ magazines
READ THE ENTIRE ISSUE
Summer 2019