Wall Eye Through The Winter
Bob Izumi's Real Fishing
|
Winter 2019
There's no question that walleye are one of the most popular gamefish in Canada, regardless of the season. However, winter presents a number of unique challenges and in order to be successful you need to know where to look for fish at various times during the winter.
Walleye make predictable seasonal migrations in the winter just like they do during the open-water seasons. They move about under the ice and utilize different parts of the lake and different types of structure at various times as the hard-water season progresses. In general, the ice fishing season can be broken down into three separate time frames: first ice, mid-winter and last ice. Each one requires different strategies for the best chance of locating and catching fish. Before looking at the three distinct time frames, there are some general things to keep in mind when you're chasing walleyes this winter.
General Winter Strategies
Knowing the type of lake you're going to be fishing is important for success. In shallow, weedy lakes walleyes are likely to be found in and around the weeds for most of the hard-water season. Conversely, if your destination is a deep, rocky lake your strategy should include fishing reefs or rock points near main lake basins. However, this is not to say you won't catch walleye off weeds in deep rocky lakes and off rock structure in shallower lakes. Use this information as a guideline to start your search for high percentage areas for the type of lake you are fishing but don't get stuck in a rut. If the fish aren't cooperating, be versatile and switch baits, presentations or locations until you solve the puzzle.
Scouting the lakes you plan to fish in the winter before the ice forms is probably the most important thing any ice angler can do to ensure a successful hard water season. One of the best ways to do this is to use a GPS to mark areas where you catch fish during the open water season. It's a good idea to also mark waypoints on any reefs, weedlines, sandbars, humps, steep dropoffs, sand to rock transition areas or any other fish holding structure that you find in the soft-water season – regardless of whether they produced fish or not. Walleyes use different areas throughout the winter and good structure is good structure no matter what the season. Some of those spots that didn't produce in the spring or summer just might be fish magnets in the winter. Marking them on your GPS will enable you to easily return to them if your other areas aren't producing.
Being able to move around on the ice and fish different locations, depths and types of structure is critical for success but this concept is lost on far too many people while they are ice fishing. Would you anchor your boat off a point, jig for hours without catching anything and not move while fishing in the summer? Of course not! So why stare down the same unproductive hole in the ice all day long?
Being mobile should be just as much a part of your fishing strategy in the winter as it is in the summer. Snowmobiles and ATVs paired up with portable, flip-up style ice shelters are great tools for covering ground and keeping warm. At the very least, consider using a sled or toboggan to haul your gear from spot to spot. For the ultimate in ice fishing comfort and mobility, a SnoBear can't be beat. These machines are designed for travel on snow and ice, they are heated, they drive like a car and, best of all, they are designed to stay afloat if they should ever break through the ice.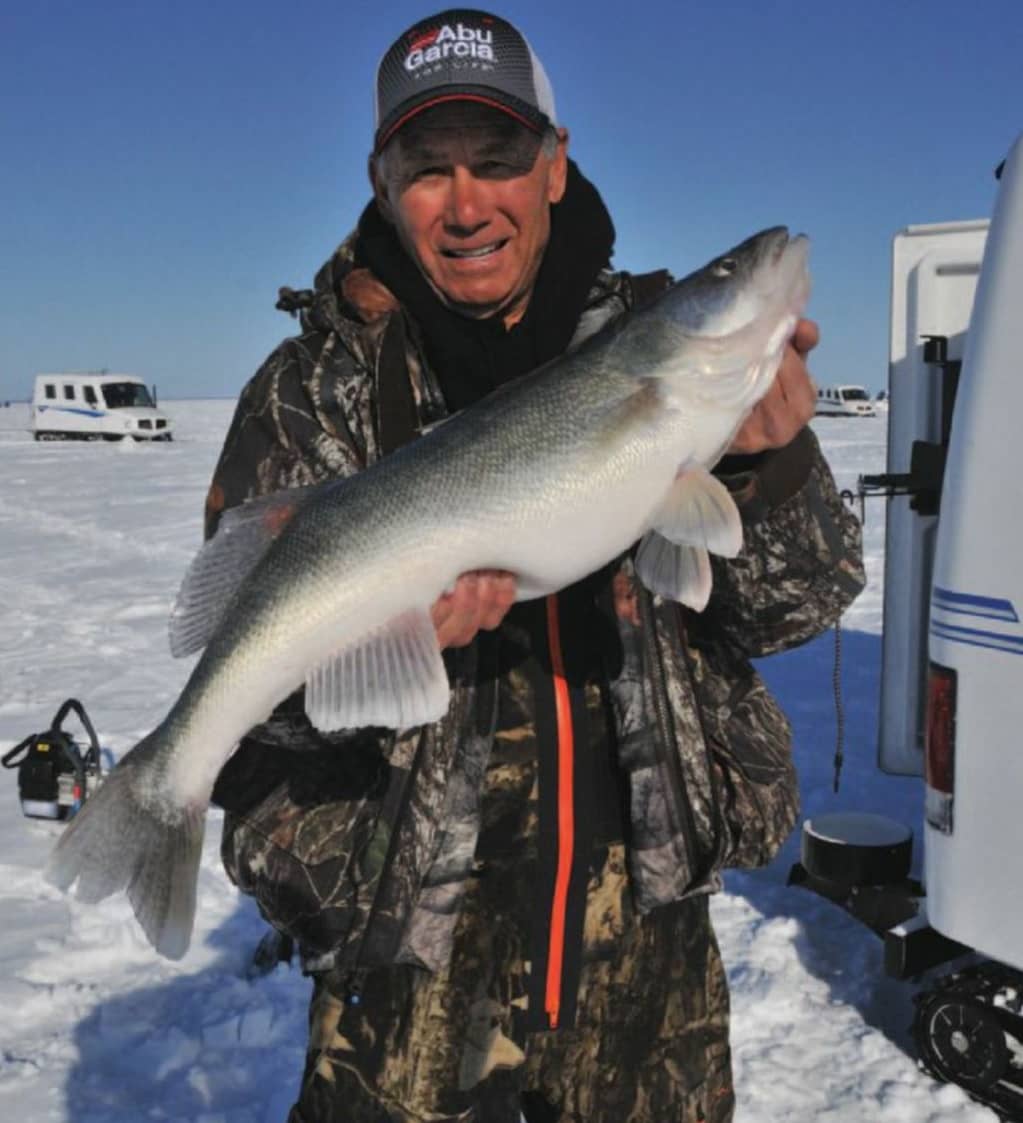 You can read up to 3 premium stories before you subscribe to Magzter GOLD
Log in, if you are already a subscriber
Get unlimited access to thousands of curated premium stories, newspapers and 5,000+ magazines
READ THE ENTIRE ISSUE
Winter 2019