Tales From The Road
Bob Izumi's Real Fishing
|
Fall 2019
Since my last Tales article I've been averaging at least six days a week, sometimes seven, on the road. Road trips are, and have always been, a big part of my life. There's just something about being on the go that I love. In fact, as I wrap up this column I'll be hitting the road again and I can't wait, even though I just got back a day ago. I think it's ingrained in me so much that I don't mind living out of a suitcase. I know it's not for everybody, but I like it.
Speaking of road trips, in the early summer we made a trip to Reid's Birch Island Resort, which is in Minaki, in Northwestern Ontario's Sunset Country, to meet Jim Lacey and his son TJ. TJ reps all of the boat lines for Tracker Marine, including Ranger Boats, who introduced their new VX1888 multi-species aluminum boat this year. We went up there with a couple of things in mind: to shoot a show featuring Reid's Birch Island Resort and to do a photo and video shoot of the new Ranger VX 1888 aluminum boat.
I've been to Reid's a couple of times over the years and I have to say that Phil and Lizanne Reid run a first-class operation. This is a very well-run fishing lodge with gourmet meals, professional guides and excellent fishing. Best of all, you can drive to it.
My friend, Darrin Bohonis, also joined us on this trip. Darrin is a fishing tackle rep from Winnipeg as well as a tournament angler and professional photographer. He brought all of his still photography equipment to get some pictures of the VX 1888 for Ranger to use in their promotions.
It was a good visit up there and during our 2½ day trip we caught smallmouth bass, walleye and pike. On the last morning I got out for a couple of hours with professional guide Kris Gaune and we caught a good bunch of walleyes. Overall it was a down and dirty trip and we got a lot accomplished while we were there.
After finishing up at Reid's we hopped in the truck for the day and a half ride home, then grabbed the Z521L Ranger tournament bass boat and hit the road to the first Renegade Bass qualifier of the year on Mississippi Lake in Carleton Place, near Ottawa.
For some reason we couldn't get any good fish to bite until Darren finally hooked a big smallmouth that was just under four-pounds. While he was fighting it I saw six or seven more bass following and all of them were between 2 ¾ and four-pounds. I couldn't catch any of the followers so I decided to net his fish. Unfortunately, we didn't have anything else good in the livewell; just some small largemouth and that was it for us for the day.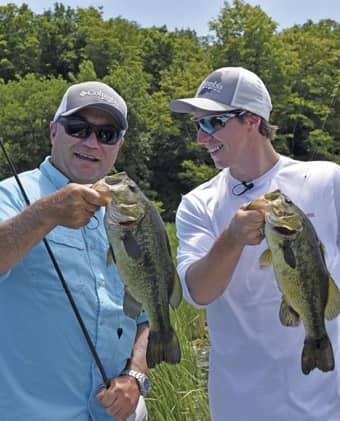 Although we caught about a dozen bass that day we only had one good one and ended up with 10.97-pounds, which put us in 36th place. Not the best way to start off the Renegade series but at least it kept us in the hunt for the top-40 to qualify for the Classic.
Then it was down to Lake Ontario for a smallmouth shoot. I had a sample of the new Berkley Spy, which is a new, subtle hardbait, about 2 ¾-inches long, that I wanted to test out. The Spy has a spinner on each end, and it has a little bit of a wobble as it falls. As you retrieve it, it has just a slight undulating motion while the spinners are turning. If you've never tried these for clear water smallmouth fishing you really should. They're a great search bait and they are definitely fish catching machines. I used eight-pound test Nanofil line with an eight-pound Trilene fluorocarbon leader to fish this little bait. By firing out super-long casts with that ultra-thin diameter Nanofil, I was able to cover a lot of water and catch a number of decent bass. There's something about the subtlety of this bait that makes it an incredible little lure.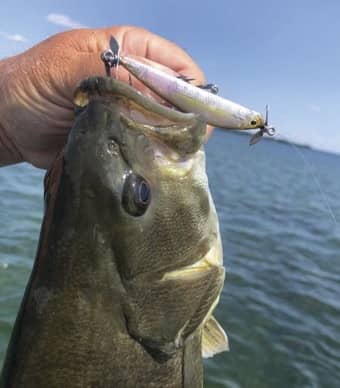 Then it was over to Lake Simcoe for another smallmouth shoot. Judging by the lack of beds on the lake I suspect that a lot of small mouth did not spawn this year on a lot of our lakes, especially the Great Lakes. With all the high water we had this year around Ontario I believe this will probably be one of those years where there was a low percentage of bass that actually spawned - or even attempted to spawn. In a lot of the areas that I go to you will usually see the empty beds, if it's a post-spawn situation, but I saw very few beds that looked like they had been used. There was the odd bass on beds around the lake but for the most part we caught our fish by casting the Berkley Spy as well as by covering water with a Berkley General. If we did see any fish we'd use either a Berkley PowerBait tube or a dropshot rig.
You can read up to 3 premium stories before you subscribe to Magzter GOLD
Log in, if you are already a subscriber
Get unlimited access to thousands of curated premium stories, newspapers and 5,000+ magazines
READ THE ENTIRE ISSUE
Fall 2019