Taking Down GRIZZ
Bear Hunting Magazine
|
November - December 2020
A veteran Alaskan hunter sheds light on the mythical grizzly, their lore & how to take them down.
Arguably there is no animal in North America that instills such strong feelings, that is the subject of more folklore, or that is as misunderstood as the grizzly bear
. The mere mentioning them is almost sure to spark a conversation with just about anyone. If you believed everything you heard about them, they would be larger than life, both hero and villain, and with a strength, cunning, and toughness that borders on the supernatural. Although tales and perceptions about grizzly bears have woven themselves into the very fabric of our DNA as North American hunters, and much of this is rooted in truth, just as much of it is fiction. Sure, the grizzly bear is a tough, tenacious, and sometimes cunning animal, but he is just that, an animal. If we believed everything we heard about these bears, returning from any trip into the country they occupy would be a miracle in itself. The truth, although much less exciting, is that the grizzly bear needs to be respected, not feared, and a few simple choices when it comes to hunting equipment and strategy will allow you to hunt these animals safely and with confidence.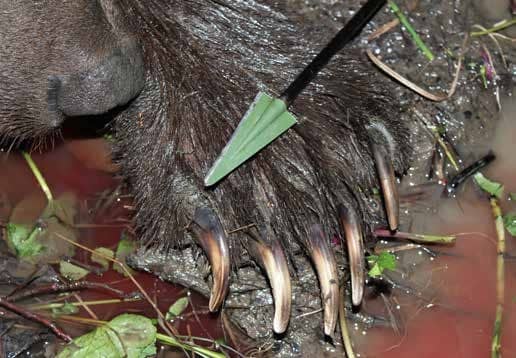 Truth and Fiction
Yarns have been spun about grizzly bears for as long as people have been interacting with them, and one only needs to look at a few of the legendary bears of the past to understand how they might become inflated beyond reality. Many of the stories documenting the almost immortal toughness of grizzly and brown bears are true or based in truth, but usually there is either information missing, or logical reasons why a situation unfolded the way it did.
Make no bones about it, grizzlies and brown bears can be extremely tough to kill in certain situations, but there is almost always a reasonable explanation as to why. Stories of bears soaking up boxes of bullets at point blank while making their last stand in some God-forsaken alder patch can be the makings of nightmares, and it does happen, but it's likely always going to be a combination of poor shooting, and the bear having a chance to get his adrenaline pumping.
A bear can definitely be harder to kill if he becomes aware of your presence and gets his adrenaline amped up, but a poorly placed shot is one of the best ways to make a dangerous and emotion-taxing situation. When this happens, all bets are off, and the adrenaline will keep a bear in the fight long after it should have expired. I can't think of a single bona fide alder patch standoff that I've had or heard of that wasn't instigated by a non-lethal first shot. A wounded bear is in a fight or flight situation, and their superb strength and speed, combined with claws and teeth make it a scenario that you should strive to avoid at all costs.
Understanding the Anatomy
You can read up to 3 premium stories before you subscribe to Magzter GOLD
Log in, if you are already a subscriber
Get unlimited access to thousands of curated premium stories, newspapers and 5,000+ magazines
READ THE ENTIRE ISSUE
November - December 2020