October in New Mexico
Bear Hunting Magazine
|
September - October 2020
Freecasting hounds in the west & riding mules is a classic way to hunt bears - and it ain't easy.
We cut the hounds loose with the rising sun as the late-October air turned our breath into visible vapor. Calling each hound by name out of the box, Strait put the collars on the dogs with nary a lead strap ever touching them. We'd saddled the mules in the dark before we left, but my mule, Izzie, had thrown a youngster-mule fit, the bucking kind, for no good reason. Luckily, I wasn't on her back. Now, standing tied outside the trailer, though calmer, her feet shuffled nervously. This was her first morning in New Mexico.
Strait's mules are seasoned western saddle mules and they stood like granite monuments eroded into shape by hundreds of mornings of the same routine. It was late in the year to be bear hunting, but Strait Sedillo, a lifelong New Mexico resident said, "It's a good time to catch a good boar." We'd give it a try. Strait is 25-years old, he's six-foot-six-inches tall and built as tough as a ponderosa pine. He's a man of few words, but the ones he speaks are substantial. Wearing leather chaps, with the stock of his 30.30 protruding from the scabbard, Strait can't hide his Western roots. He once dunked a basketball after a fast-break steal at a high school game despite his no-nonsense coach forbidding such flagrant showmanship. Like many of us, he's driven by an unexplainable connection to his dogs that defies modern logic, but makes sense in the light of deep human history. Humans hunting with dogs is as primitive and natural as our attraction to fire. The partnership between man and dog is older than recorded history can recount. Using them for protection and gathering meat, the biological success of the human species has been propped up by the domestication of dogs. It's anthropology, not showmanship.
Brent Reaves and I made the 12-hour trip from Arkansas the day before and planned to hunt for five days. The New Mexican landscaped stretched out in flat, shrubby expanses interrupted only by chains of island-like mountains rising from a sea of juniper brambles, most of which were public land. This is some of the best elk hunting in the country, and they've got big mule deer, too. Wherever you have good ungulate populations in the West, you usually have cougars. In the winter, Strait's pack of bear hounds becomes a dry ground-lion-catching mob. He likes a dual-purpose pack. It gives the hounds a lot of exposure in learning to trail in tough conditions, and he likes catching both cats and bears.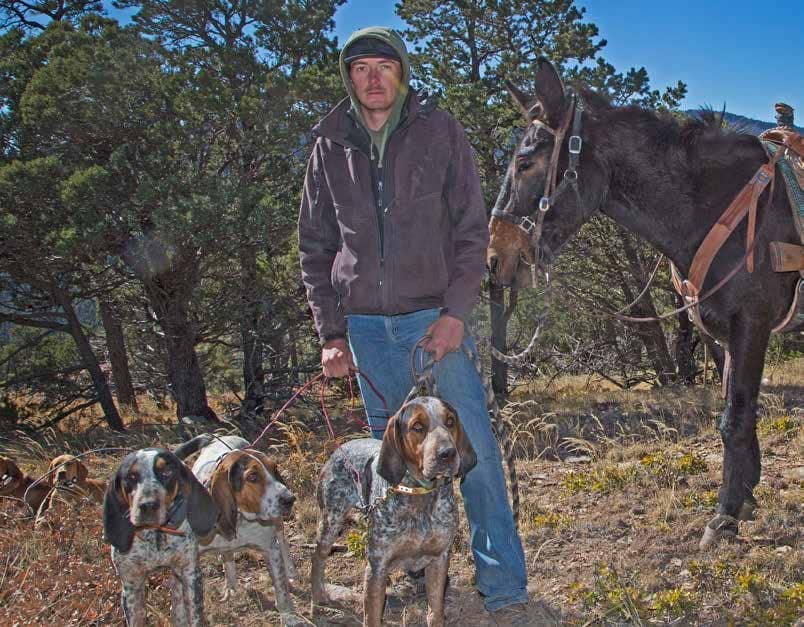 Bear races are usually fast and furious, but a bruin will try to outrun the dogs by traveling great distances - sometimes you get lucky and catch them quick. A "race" is simply when the dogs are barking in pursuit of the animal. Cougar races are usually colder (an older scent trail), with longer periods of "trailing" ending in a short "jump race." The "trailing" section of the race is when the dogs pursue scent left by the game on its natural travel pattern. An animal is considered "jumped" when it knows it's being pursued and tries to escape. For the next five days we'd be pulled into the drama of the race, as if our very existence depended on its outcome. The illogical excitement felt when we hear a full-cry race is only explained in this way – there's a place in the human brain that equates a barking dog with food for our family. It goes way back.
You can read up to 3 premium stories before you subscribe to Magzter GOLD
Log in, if you are already a subscriber
Get unlimited access to thousands of curated premium stories, newspapers and 5,000+ magazines
READ THE ENTIRE ISSUE
September - October 2020