Legendary Bear Hounds: part 30 - CH. IRWIN'S TREESOLID OJO
Sometimes the most effective things in life are those that simply do what they were intended to do, be it man, machine or in our case, beast.
The crossing guard that faithfully and unceremoniously crosses school children at a busy city intersection through rain, sleet or snow. The mechanic, by simply turning a screw, keeps the delivery fleet moving smoothly to its appointed stops throughout the busy day. And, for our purposes, the hound, though not the flashiest member of the pack, that puts the essential elements of striking, trailing, catching and treeing together consistently to produce game, benefits those in the realm of its existence immensely. Our story this month involves one such dog and the hunter that preserves his memory by the telling of his exploits in one of the nation's most beautiful hound-hunting settings, the mountains and river valleys of New England.
Kelly and Jared Irwin, who now live in New Hampshire, were each born in neighboring Vermont, he in St. Johnsbury and she in Newport. Kelly was working as a herd manager at a dairy farm when Jared stopped by to talk to the farmer about running the bears out of his cornfields along the Connecticut River. As Kelly remembers, "There I was. I didn't even know that people ran bears with dogs," she confides. Theirs is the classic girl-meets-bear-hunter story and the couple was married in 2003, the year the hound of our story was born. Jared now works as a fish culturist for the New Hampshire Department of Fish and Game and Kelly is a stay-at-home mom, homeschooling their six-year-old son Reid and bear hunting either alone or with Jared at every opportunity.
Jared obviously had hounds when he and Kelly met. Kelly, however, did not get her first hound until a local litter of purebred Treeing Walkers was born out of a male named Gunner and his half-sister named Missy. Missy and her brother Treelo, owned by Tom Parker, were out of Burlock's Bo, a hound that in turn was out of Yadkin River Bo, a son of a famous Treeing Walker stud dog named Yadkin River Jeff. The Yadkin River in western North Carolina is famous in coon hunting circles for the line of hounds that bears its name. When choosing a name for his dog, Parker had turned to the then-popular Disney children's television show Bear In The Big Blue House. Treelo was the name given to a character on the show. Treelo had a friend, a red bear cub named Ojo. Kelly, thinking that Treelo was a great hound, named her pup Ojo. It was a natural fit.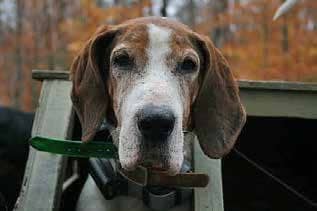 "Ojo was a locally-bred pup that went back to the Yadkin River line," she said. "Burlock's Gunner was sold to a hunter in Maine. Gunner was stone silent on track," she said meaning that the dog did not give tongue when running as most hounds when chasing game. "He treed many, many bears before the GPS systems came into vogue. He was hard to hunt," she said. In that day, hunters would drive around with rudimentary telemetry systems, which emitted a "beep" that was captured by a bulky receiver and antenna setup, in order to determine the location of the dog. As a further explanation of Ojo's breeding, Kelly said, "His mother Missy's dam was a registered Treeing Walker out of the famous Gold Creek Mundo. Gunner's dam, Queenie was double-bred on
House's Lipper, the most prolific stud dog in coonhound history with more than five thousand pups sired. As is often the case, bear hunters turn to the coonhound breeders for stock to develop into bear catching hounds. Kelly confides that her dogs today are better, mainly due to her own growth as a hound person and perhaps to their breeding, but she would like to get some of the old breeding back due to Ojo being such a "sweet and reliable dog." The hounds she now hunts are a little different style.
You can read upto 3 premium stories before you subscribe to Magzter GOLD
Log-in, if you are already a subscriber
Get unlimited access to thousands of curated premium stories and 5,000+ magazines
READ THE ENTIRE ISSUE
March - April 2020