Hunting Bears using Llamas
Bear Hunting Magazine|July - August 2020
USING LLAMAS IN MONTANA, THESE GUYS EXTEND THEIR RANGE & SAVE THEIR BACKS.
"Man, these elk tracks weren't here yesterday when we hiked in," I whispered excitedly to my hunting companion.
"They literally walked right on top of our footprints last night. Crazy!"
Patrick shot me a look. "Those," he said, "those are llama tracks, Kevin."
More specifically, they were our llamas, well, Patrick's llamas, that we both hiked in with the night before.
Some hunter I was.
Clearly, this was my first time hunting with llamas. Moments later I redeemed myself when I spotted what we were searching for: a chocolate colored black bear feeding on an open hillside about three quarters of a mile away.
"He's all yours if you want him," I told Patrick.
Llama Antibodies
As much as we want to ignore it – and even with such welcome distractions as spring turkeys, sheds, morels and black bears – we can't. COVID-19 is on everyone's minds. And believe it or not, it's how I found myself finally embarking on an adventure I've been wanting to experience for years: a backcountry hunt with llamas.
Research on super, covid-fighting llama antibodies has been in the news lately. Turns out, llamas have smaller, more stable antibodies than humans called nanobodies. Being tinier, these antibodies are able to bring their little virus defenses to much smaller micro-battlefields, thereby better-shielding organisms from the coronavirus. Sounds promising. I was convinced; I needed to spend some time with llamas.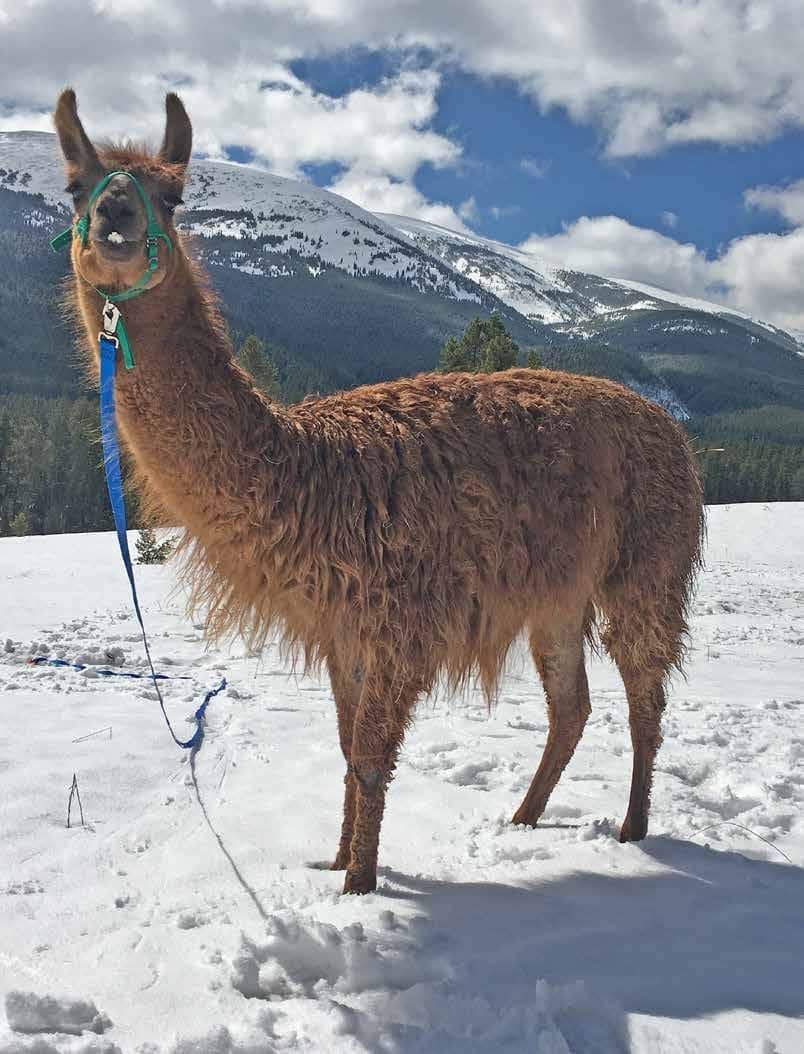 So I took a leap of faith and headed into the mountains with a friend-of-a-friend and his three trusty pack animals, Milton, Paco and Gus Gus. At the very least, hiking miles into the backcountry where we wouldn't see another soul would definitely satisfy social distancing guidelines; and if I got lucky, I might be the recipient of a wad of super antibody llama spit. Plus, as my wife has reminded me repeatedly in the last few months, we were running dangerously low on bear fat. And with both of us working from home, I think she was ready for me to spend some time in the woods.
In what felt like a blind date, my new friend Patrick Sievert and I officially met for the first time about a mile from the onX shared waypoint that marked our preferred trailhead. There was so much fresh snow that we couldn't access the parking area; our backcountry adventure would have to start a bit lower in elevation than we'd planned.
You can read up to 3 premium stories before you subscribe to Magzter GOLD
Log in, if you are already a subscriber
Get unlimited access to thousands of curated premium stories and 5,000+ magazines
READ THE ENTIRE ISSUE
July - August 2020