How Big?
Bear Hunting Magazine
|
September - October 2020
Judging Bears from Trail Camera Pictures
It's the age-old bear hunting question, "How much does it weigh?" I assume 99% of hunters who've ever seen a bear in the woods have wondered how much it. Trail cameras give us some good intel that can be studied and later compared to harvested animals for some solid facts. Over the years, I've gotten better at judging the weight of a bear from a trail camera picture--it's kind of a necessary art. Judging the size of bears based on trail camera pictures is helpful for targeting the right bear...and it's just fun.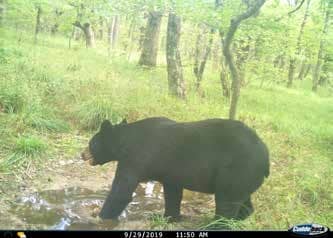 Judging A Bear's Weight from a Photo
No one should ever write an article about judging bear weight based off of camera pictures. Here's why – it's just guessing. It's subjective, tricky, and it doesn't really accomplish much. Every year I send my pictures to friends that are bear hunting veterans with years of experience of killing and weighing bears, and every year we scratch our heads guessing the weight. Often, we're wrong. It is, however, fun and can help you pick a target bear. Getting pictures and guessing weights and size is one of the most enjoyable parts of baiting bears. Understanding the basics is key to being accurate and not be disappointed. Knowing the pitfalls will keep you out of the "liar" category amongst your friends. The difference between a bad judge of weights and a liar is a fine line, you know.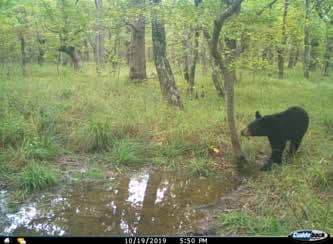 Guessing bear weight is like satellites triangulating on your GPS unit to pinpoint your location. If you've only got one satellite, your exact position will be less accurate. If you've got multiple satellites, your location is more accurate. In judging a bear's weight, using multiple independent factors is key. The more factors you have the more accurate you can be. The three biggest factors I use are: height at the shoulder, distance of the belly from the ground, and what we'll call "maturity features." Many outfitters talk about bear length, but I've never really keyed on that too much, though it is valuable.
Know the Bear's Height
Knowing a bear's height at the shoulders is the most important thing to me. When you think about it, an inch of height adds a significant amount of body mass. In humans, the difference between someone who is 5'10" and 6' can be significant in terms of weight. Two inches stretched over an entire body can make a big difference. A slender guy that is 6'2" can weigh more than a chubbier guy that is 5'5."
When using a standard 55-gallon drum (36-inches tall), a bear whose shoulder blades are as tall as the barrel is a large bear ANYWHERE. Please note, that I am talking about the actual shoulder blades of the bear, not the top of his fur. If you can't use barrels, distinctly mark a tree at 36 inches for reference. The truth is that few mature adult bears will actually be 36 inches at the shoulder. However, many will have fur that extends to that mark. A bear can have over three-inch guard hairs (3.25 is the longest I've actually measured off the shoulder), massively exaggerating his size. Also note, the bear is in front of the barrel making him look bigger than he actually is.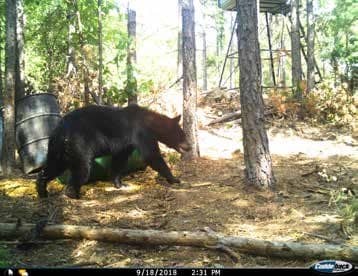 You can read up to 3 premium stories before you subscribe to Magzter GOLD
Log in, if you are already a subscriber
Get unlimited access to thousands of curated premium stories, newspapers and 5,000+ magazines
READ THE ENTIRE ISSUE
September - October 2020