Hunting The High Basins Of California For Black Bear
As I walked back to my Jeep after another failure, I felt beaten. It was a long hunt and I hadn't even seen a bear. As I trudged along closer to the vehicle, movement caught my eye. I looked ahead and saw a black bear approximately 100 yards ahead of me! My blood pumped and my mind raced. The woods were dark and the bear was charcoal black. The sights on my 30-30 were dark steel. I tried to get a sight picture in the limited lighting and fired. The bear ran deeper in the woods unscathed. I searched the area that night and the next day, but found no signs of blood.
This failure sparked an obsession not only with bear hunting but bears in general. After the season ended, I spent most of my free time reading every bear book I could find, even one about the extinct California Grizzly. The more I learned, the more I respected bears and began to view them as a majestic animal. The next three years of bear hunting were also failures. However, the experience I gained and knowledge of the land I hunted had greatly increased.
I started looking at Google maps for hours, searching for open areas where I could hunt with my eyes and not my feet. I found several places like this and picked one close to the area I was familiar with. However, it was a roadless region, and you could only get there by horse or walking. It was several miles over rough terrain, and we would have to backpack in. I spoke with my hunting partner Jordan about my idea of backpacking into the wilderness. He was all for it, however, he wanted to kill a large buck not a bear. We struck a deal that if we saw a buck it was his and if we saw a bear it was mine.
We left the morning of Sep 20, 2019, and began hiking up a ridge that would lead us to a location next to a small pond where we would set up camp. The hike was harder and slower moving that we had expected. There was no path so we were trailblazing through the woods with 50-pound backpacks and rifles slung over our necks.
We finally reached the top of the ridge and were met with a beautiful view. From the top of the ridge we could see a deep granite canyon below us. It appeared to have been cut by a glacier and looked similar to something you may see if you went to Yosemite. At the bottom of the canyon we could see a rushing river, which pooled every quarter mile or so into small ponds which swirled in an eddy then continued to flow downstream. My mind wandered off track of bears, considering if there could be trout in those small ponds and how hard they would be to catch.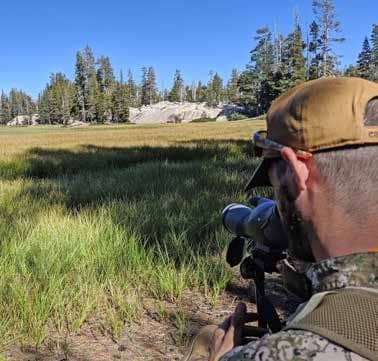 We slowly trail blazed on the ridge top for approximately three miles until we could see a huge granite basin to our right. We began to descend the ridge, slightly paralleling a dense forest that grew at the bottom of the basin. As we descended, we stepped onto a giant wide-open granite rock face that stretched for miles.
Continue Reading with Magzter GOLD
Log-in, if you are already a subscriber
Get unlimited access to thousands of curated premium stories and 5,000+ magazines
READ THE ENTIRE ISSUE
January - February 2020